Used Jeff's basic meatloaf recipe with some tweaks
2+ lbs ground chuck
1 small onion chopped
2 poblano peppers chopped
3 cloves of gralic chopped
1 cup bread crumbs
2 eggs
1/4 cup milk
3/4 cup ketchup.
mixed, formed a loaf, and put it in the smoker. Sorry no pics of the smoker in action as it is raining.
I am alos smoking a head of garlic for some smoked garlic mashed potatoes, and I am going to be stuffing some halved avaocados with fresh mozz, & sauteed capicola before putting the halves back together, wrapping with bacon, and then smoking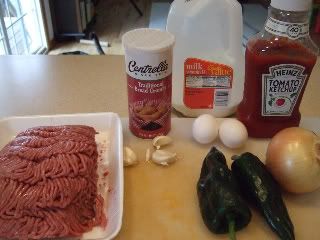 more pics to follow as the day progreses.