Found some full spares 1/2 price and trimmed up.I use a tablespoon with thin edges to scrape alot of the fat pockets down on the top of ribs.
I like this rub on my ribs
Paul Kirks Basic Kansas City Style RUB
1 cup Cane Sugar............. ...2 tablespoons fine grind black pepper
1/4 cup onion salt............. ...1 teaspoon poultry seasoning
1/4 cup celery salt............... 1 teaspoon allspice(fresh toasted and ground)
1/4 cup seasoned salt ...........1 teaspoon celery seed
1/4 cup garlic salt................ 1 teaspoon dry mustard
1/2 cup paprika................... 1 teaspoon cayene
2 tablespoons chili powder
I use 1/3 cup of the salts.I used 2 tablespoons of my pure chimayo pepper for chile powder.I used 1 cup of my Paprika instead of 1/2 cup.1 teaspoon of my mirasol pepper instead of cayene.
Ground up rub. First layer of flavor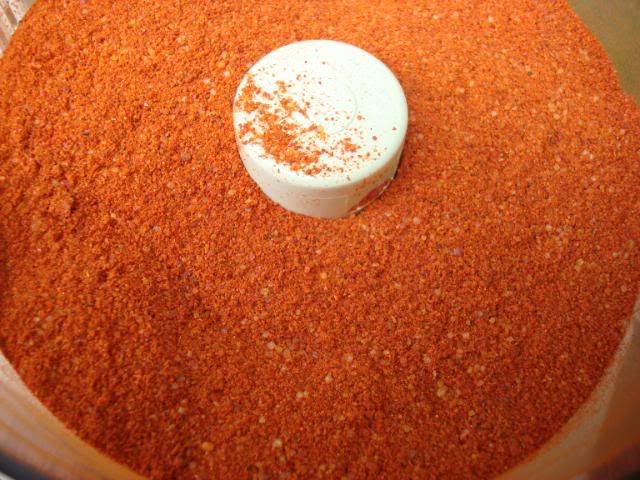 Ribs are slathered with peanut oil and rubbed 1 hour befor hitting smoker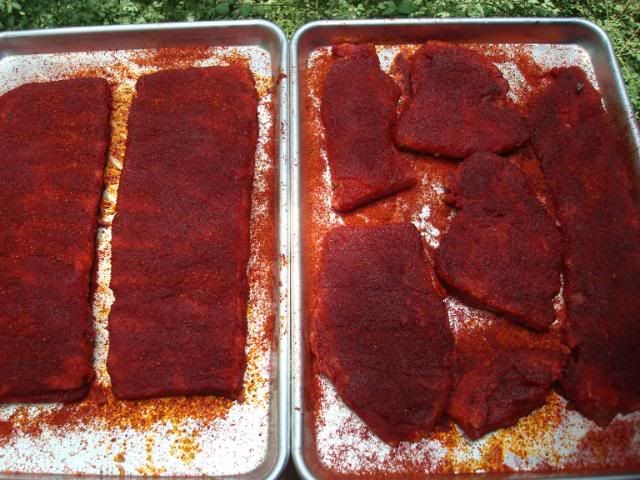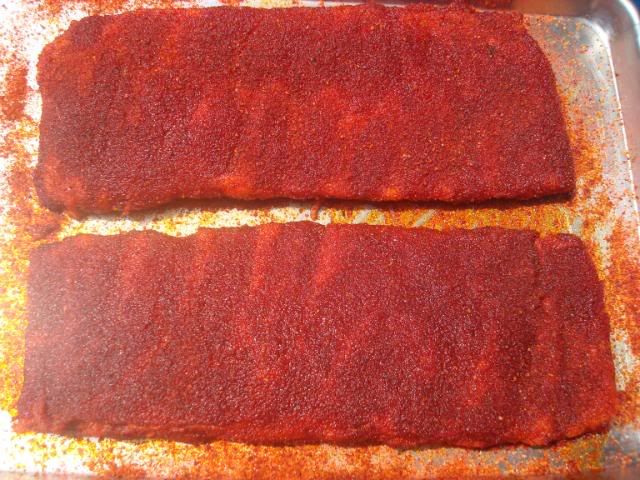 Onto smoker at 235.I spritzed with warm butter at 1.5 hour mark
After 2.5 hours in red oak,cherry and pecan wood i foil.
Second layer of flavor.Brown sugar,my neighbors Honey,some fermented pepper sauce and Onion flakes.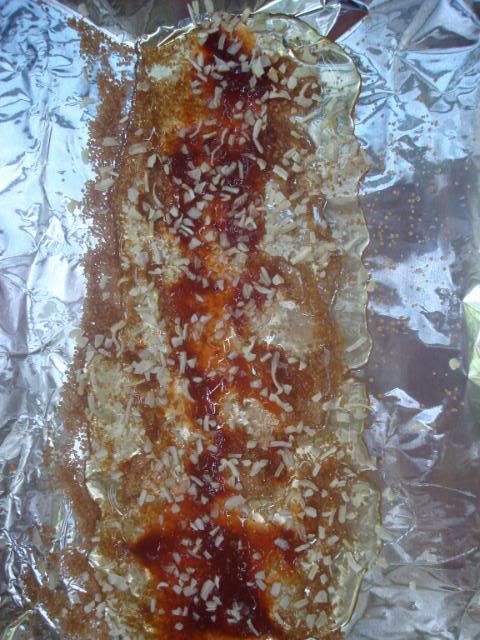 Foiled meat side down for 45 minutes.The trimmed ribs only weighed 1.75 pounds each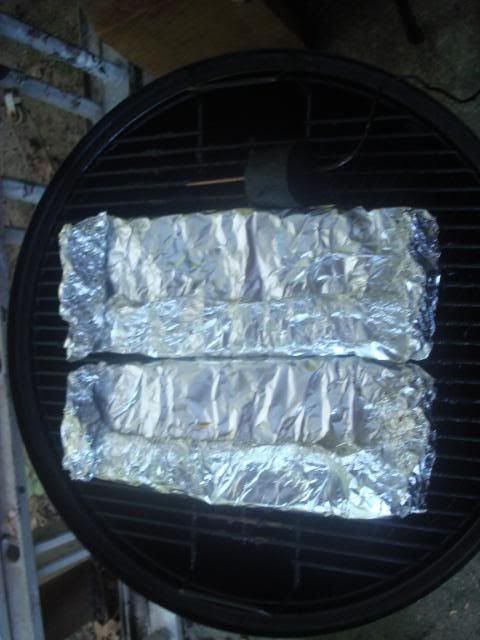 Unwrapped and cooked thirty more minutes
Put Homemade sauce on and let cook 20 minutes more
Third Layer of flavor-Sauce
2 onions carmalized w/garlic
1 quart homemade tomato squish
Worchstshire sauce -to your liking
Molases- to your liking
Apple cider Vinegar(2-3 tablespoons or to taste)
Tablespoon of the rib rub
Apricot preserves at very end to the consistency you like
Honey-to your liking
Finished and sauced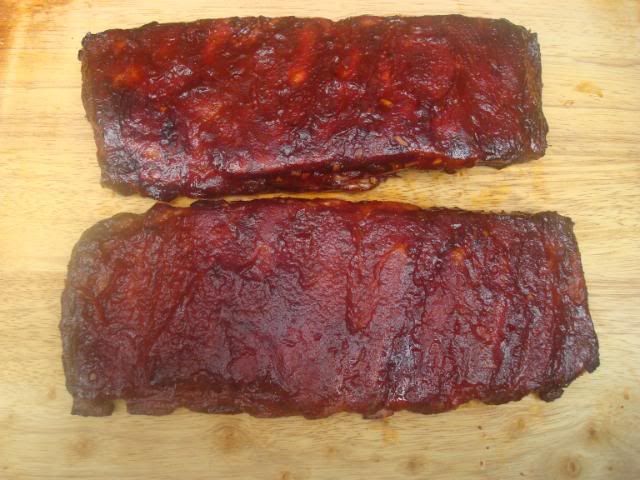 Served with Homemade Macaroni and Cheese with my garden roasted green chiles
Smoke was 2.5-45 minutes foiled-30 minutes to tighten-20 minutes to set sauce=4hrs 5 minutes
Tasty, if i say so myself....I like my ribs with a little tug.Not using any juice cuts the chance of mushy in my opinion.I will toothpick test thru top of foil and when i find the resistance i like i unfoil.....