This is FMCowboy's Southwest Chili Rellenos
Fattie.
This is what I submitted as my secret ingredient submission. Wish me luck. :) With the help of you folks, I am really getting into this smoking thing since I got a smoker for Father's day. So thanks! Some pics may be out of sequence. Sorry.
Ok the gist:
a) I seasoned ground pork myself (cajun seasonings n such) Came out so tasty, I may use instead of buying sausage fromnow on.
b)I put a layer of jack cheese down
C) Layer of sauteed onions, jalepeno, and chorizo sausage (OMG)
D) Herbed Goat cheese, cream cheese, green onion filling to stuff a pablano pepper in the middle.
E) bacon weave
Tatse matters most and everyone agreed this fattie was the bomb!!! If you use good ingredients, it must come out good right? This is a keeper recipe for us. Notice my Blue catfish potholder with the secret word. LOL It said to have the WORD blue, so I figured I'd double blue with the catfish. I have a cow pot holder too
. We had fun with the pot holder, even put the pepper ring in its mouth a few timew for the shot.
I used
all
3 secret ingredient types. Goat cheese, 2 peppers on the scale over 100 (jalepeno & poblano), and root vegetables (onion & green onion
That something extra, my daughter with her 2 slices :) Like the "blue" ?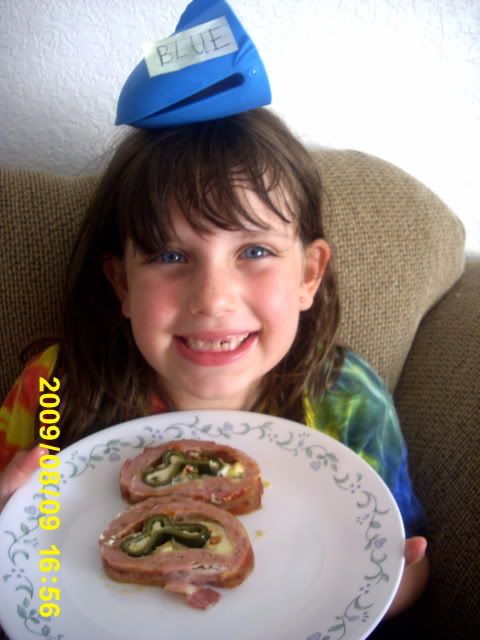 Sliced & Half view
fattie
(yummm)
Smoker Cam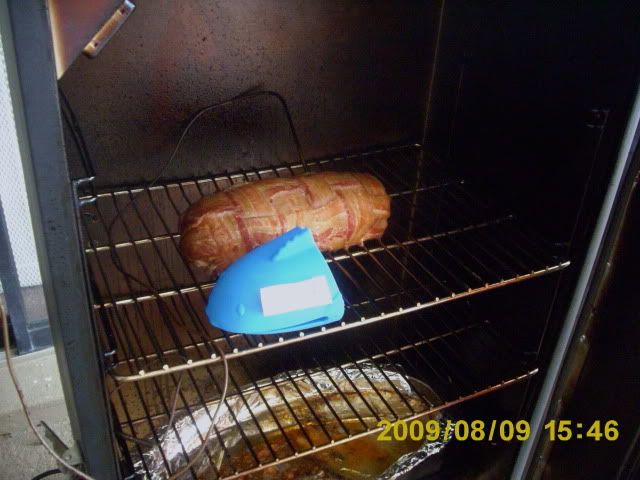 Wrapped n ready to smoke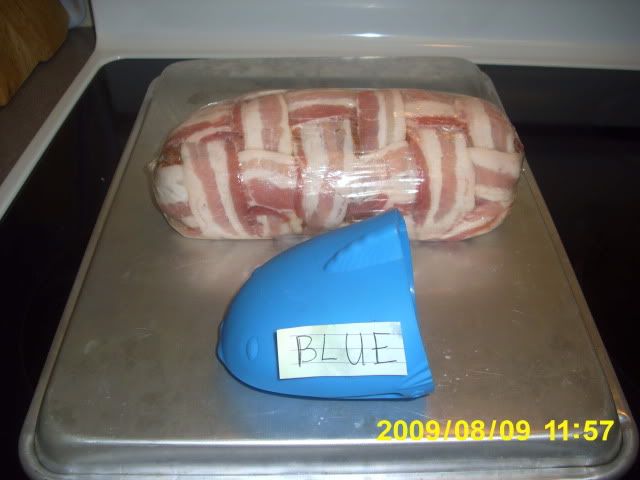 Bacon lattice
Smoked
fatty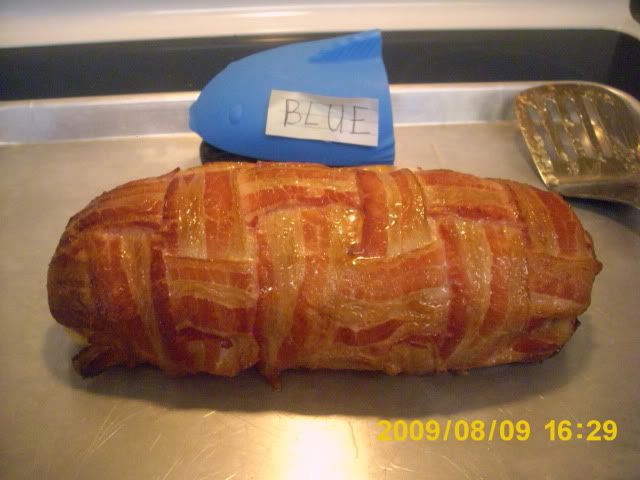 Half a fattie (didn't last long, was all ate in minutes LOL)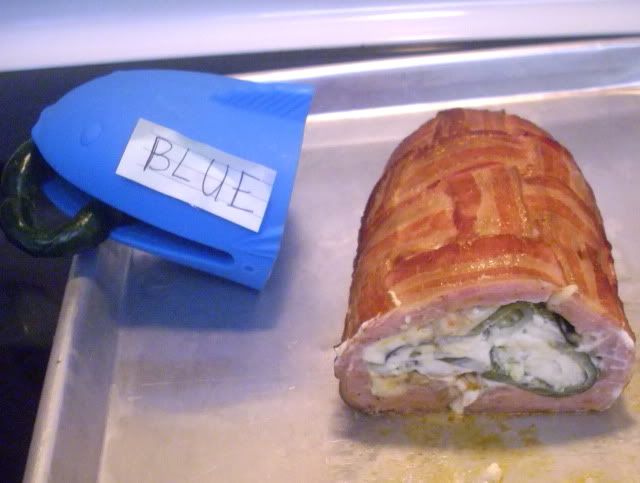 Sautee ingredients (onions, jalepenos, and chorizo)
sliced, chopped, ready for the pan (the smell was amazing while cooking, taste even better, great little invention I threw together)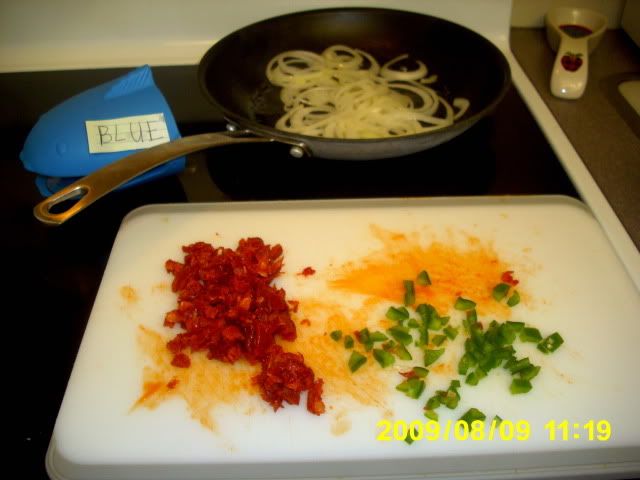 Sauteeing Onions, jalepeno's & Chorizo sausage
Ready to stuff no roll.
Sauteed goodness layer (I kept nibbling on it, colorful and yummy)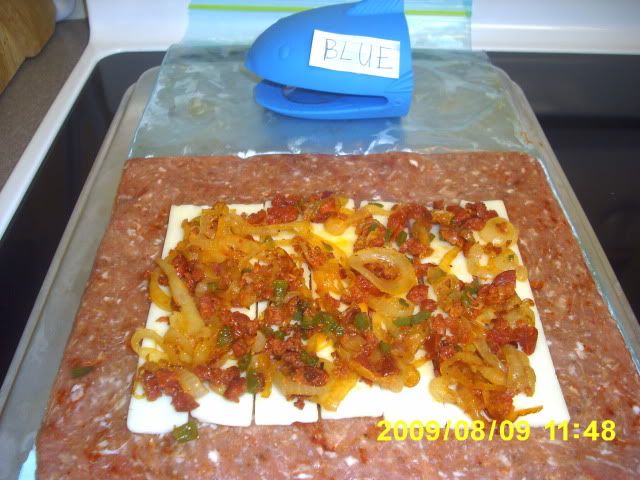 Ready to roll ( I softened up the pepper a bit by heating)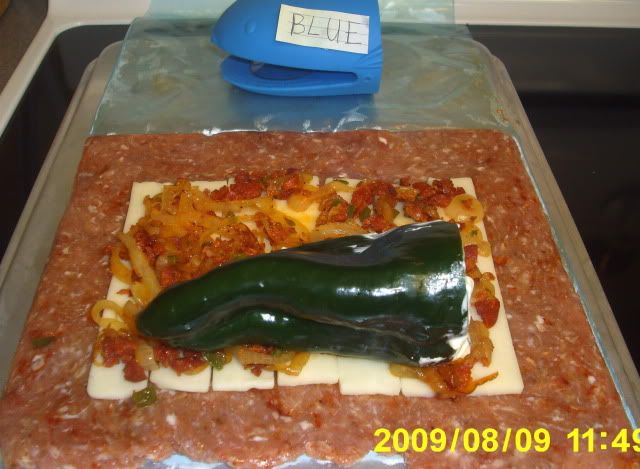 Goat cheese, creame cheese, green onions, herb mixture (stuffing for pablano pepper)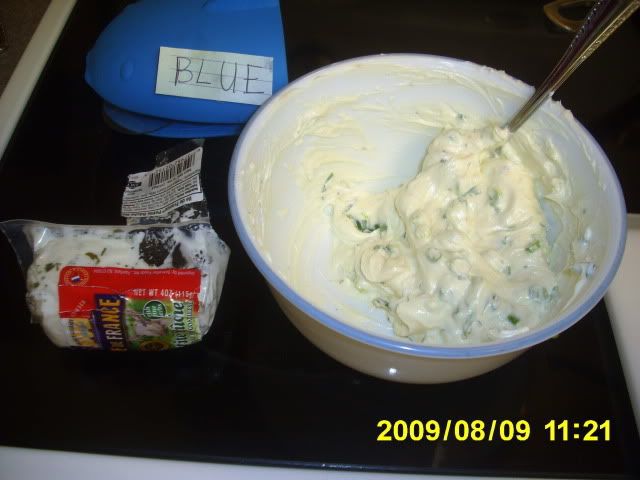 Secret ingredients (goat cheese, jalepeno, onion) Poblano pepper was on bottom and in other ingredient shot as well as green onions too.
Ingredients shot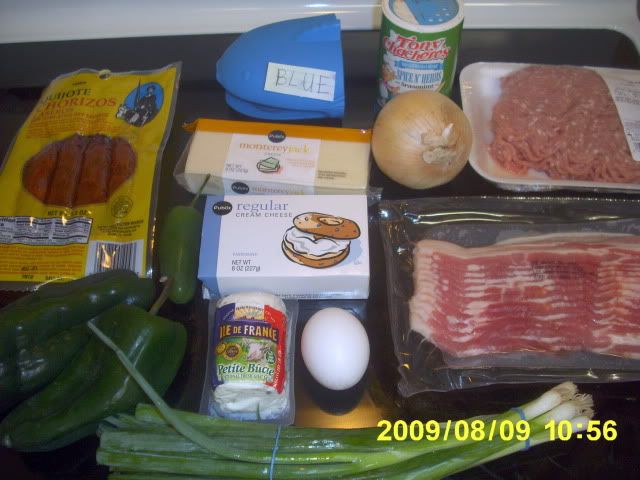 __________________
Charbroil Grill
Little Big Chief Smoker