Having done my fair share of bought corned beef smoked into pastrami I decided it was time to try my hand at curing a brisket into corned beef and then into pastrami all from scratch (plus corned beef is average $4.49lb here).
I searched and searched and decided on a pastrami to follow, it was the most involved so I figured why not give it a shot.
Link to the original page (thanks randyq, whoever you are)
http://www.randyq.addr.com/recipes/pastrami.htm
I won't go over every single step since it is listed on the webpage, but up until the final seasoning stages before smoking I followed the recipe pretty much exactly.
I started off by boiling some water, going to inject the brisket with a solution and I wanted the water to be clean. I then mixed up the ingredients to be injected into the brisket, I decided to see how the point would taste if instead of regular pastrami I tried to make a chipotle pastrami, so chipotle powder went in with the mixture on the right.
Had a 14# brisket that I nicknamed Alferd Packer. Those of you who live in Colorado should know the legend of Alferd Packer, or if you have seen the movie Cannibal! The Musical...
After I seperated the flat and point, trimmed all but about 1/4" of fat I injected them with all the cooled solution I could fit, seasoned them up (flat was by directions, point had chipotle rub added into cure mixture) then vacuum sealed, into the fridge for a week turning and massaging twice a day.
Was only planning on curing 5 days, the brisket had been sitting for 2 weeks, bad weather and my Brother had a tooth pulled, and I promised I wouldn't smoke this until he was able to try some, so a week later...
Out of the fridge, rinsed and made up another rub.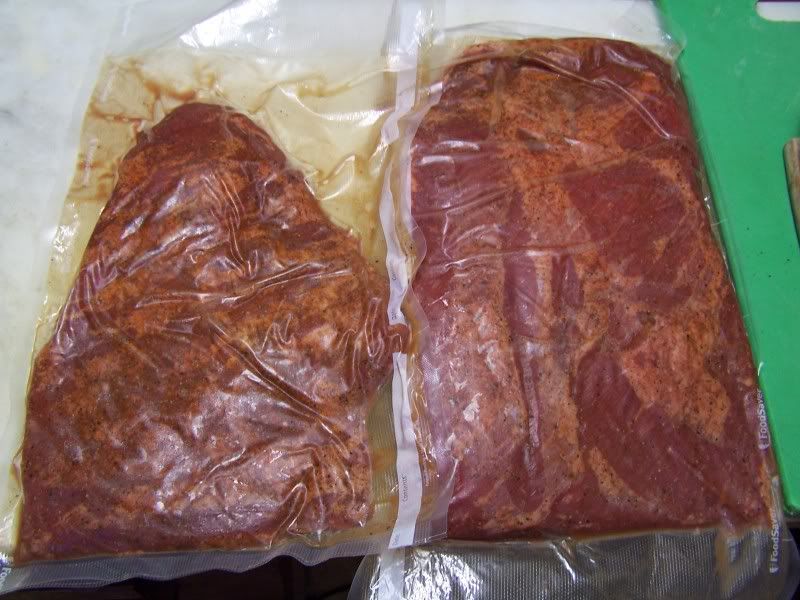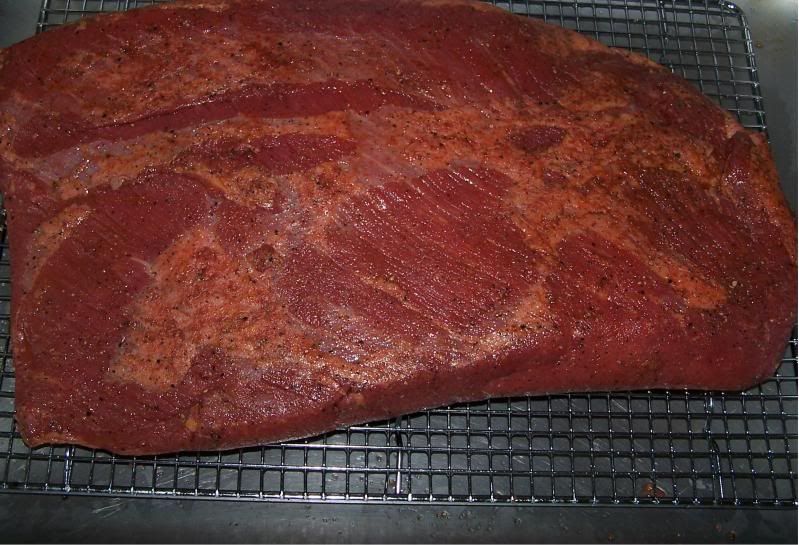 Before coating in the final rub I did the fry pan test and everything was good to go
Now here is where I went askiew of the directions and made my own rubs for the outside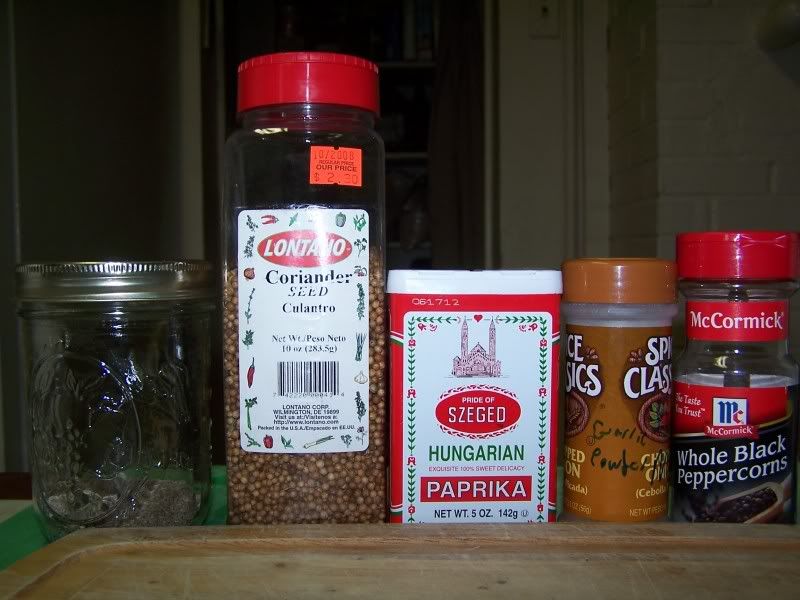 Toasted 3T black pepper and 1T coriander, added with the remainder of rub #1 with 1 1/2t paprika, 1t garlic powder and 1 1/2t black mustard seed, split in half and added a few good shakes of chipotle rub to the points rub.
Rubbed them up and into the smoker over cherry and apple, 225 spritzing with apple juice every hour after the first hour. Took about 10 hours to come to 170, was shooting for a bit higher, about 180ish but it was around 7am and I was done.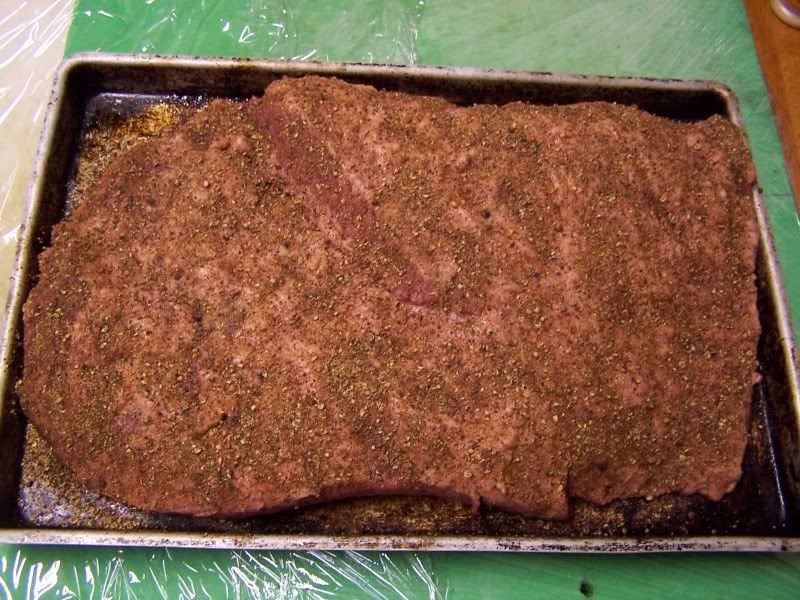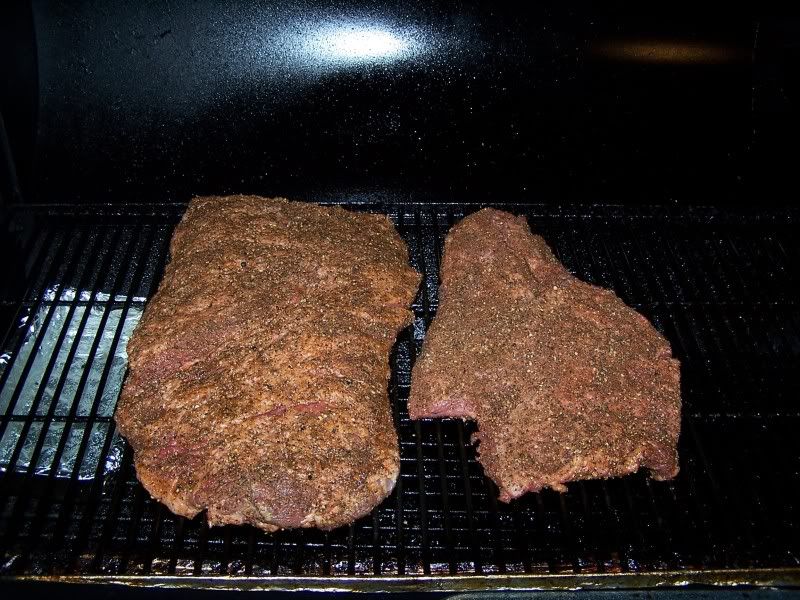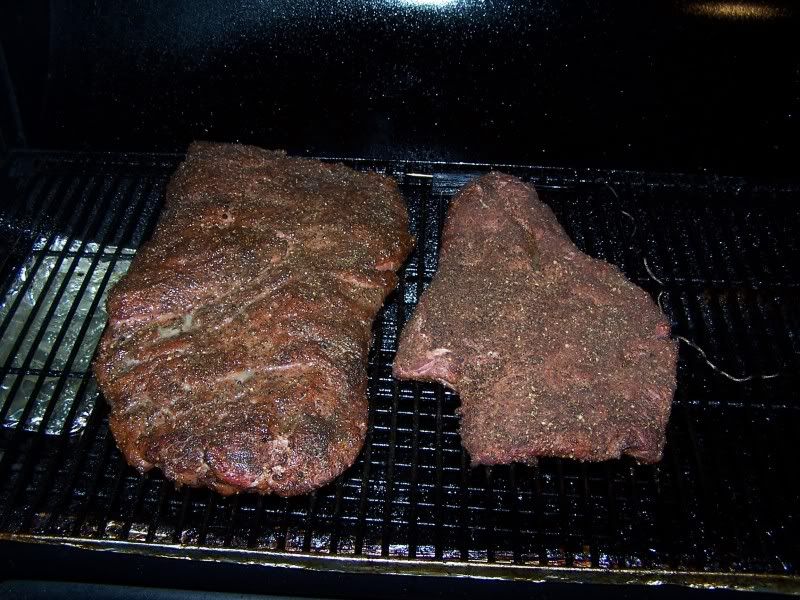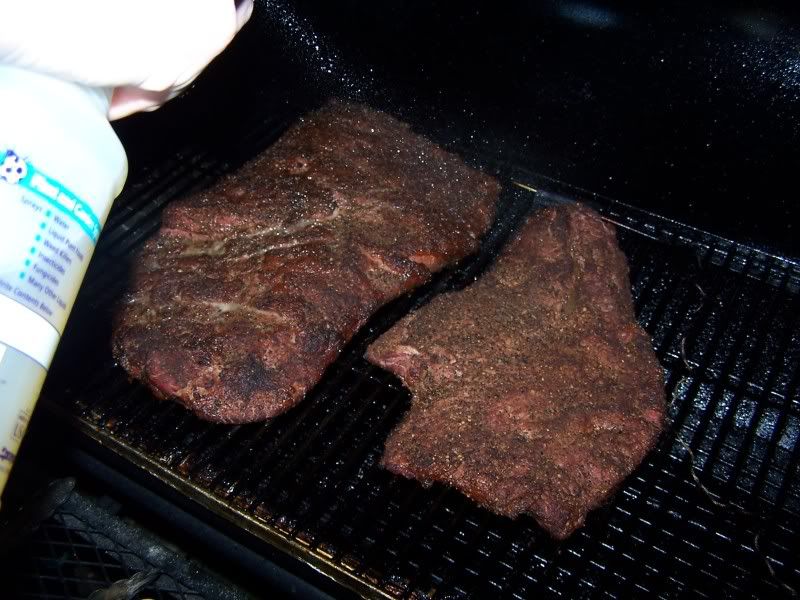 Wrapped in a towel, rested for a few hours then into the fridge to rest for a day.
Next day out of the fridge and ready to steam (in a pan over low heat covered tightly with foil). Did the point for 45 minutes, should have gone a bit longer.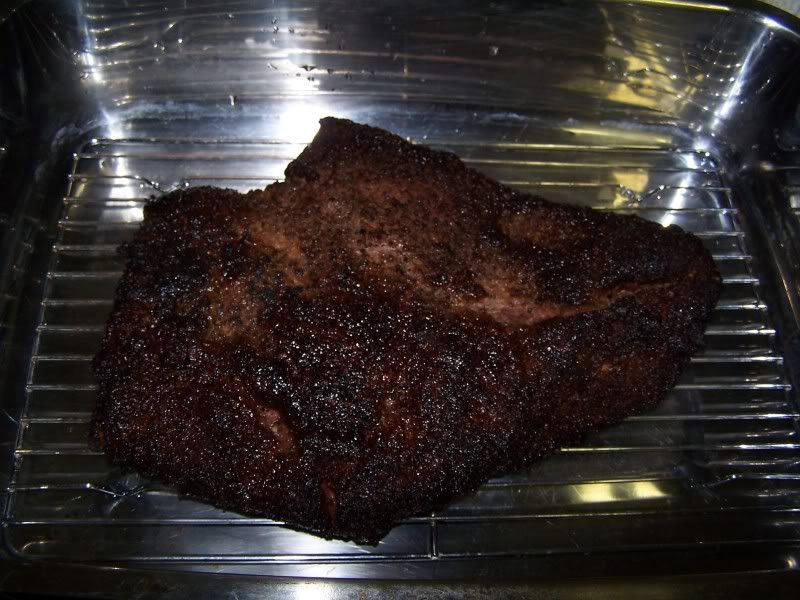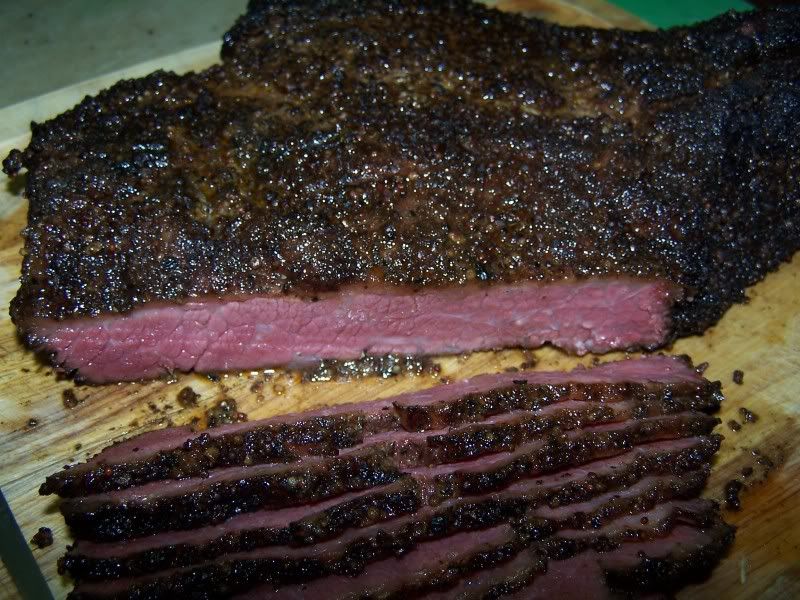 Steamed the flat for 2 1/2 hours and sliced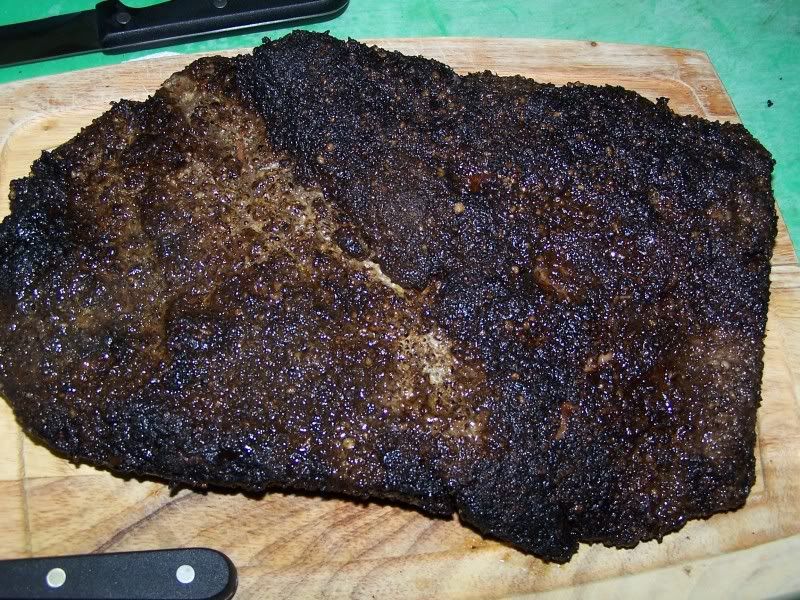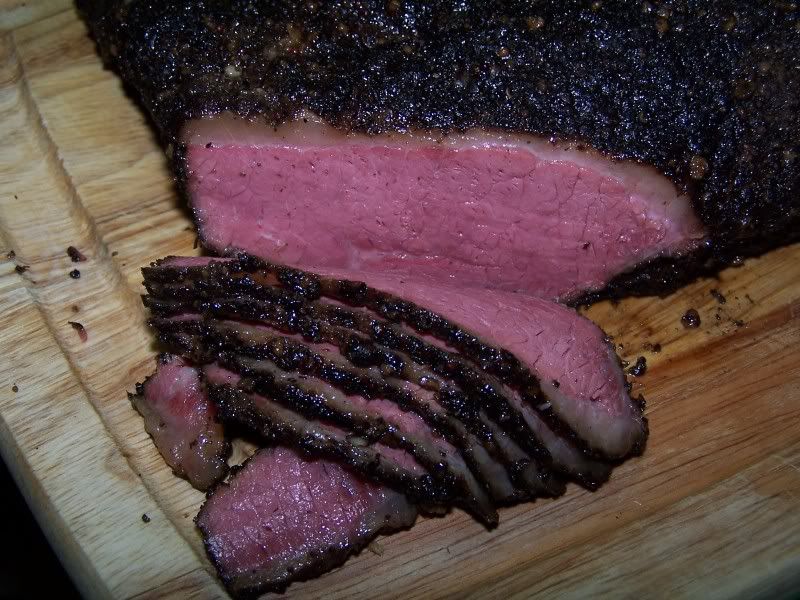 Grilled up some rye bread, tabasco spicy brown mustard, pickled onions and peppers with provolone and pepper jack cheese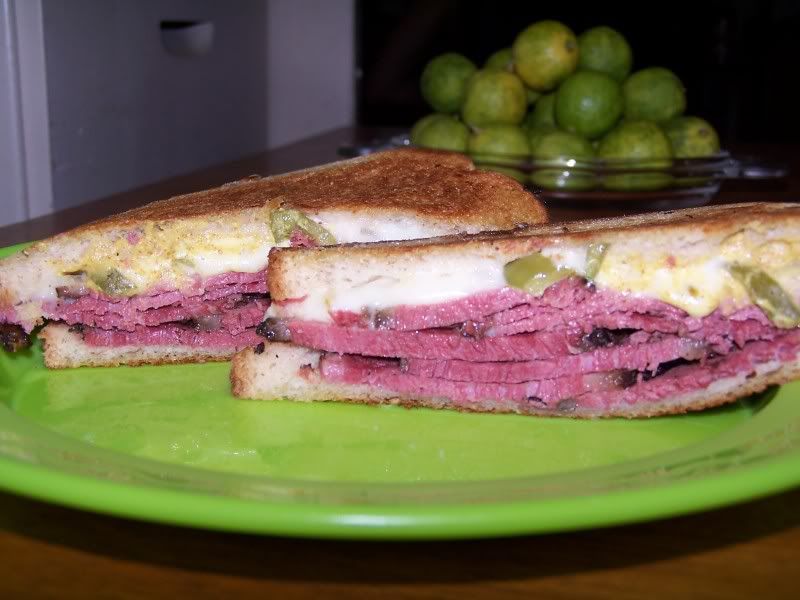 It was definitely worth all the work, the chipotle pastrami was fantastic, made the regular taste plain in comparison so I think all my pastrami from now on will be chipotle. They were both incredible tender, the flat just melts in your mouth. I would have liked to bring them up to 180 or even 190 next time so the connective tissues will break down even more but for the flavor you can't buy something this good in the stores.
Thanks for checking out my first try at pastrami from scratch, sure won't be my last.