I have a list of all the things I am wanting to smoke, and I am trying to not do any one thing twice before I get to my list. Today I have checked off pulled pork!!!! I have done chicken aa few times but it is always really good and it gets done pretty quick so i have been throwing it on with all my smokes so i can have lunch while waiting on dinner to be done.
This a Pic of all the meat I am smoking rubbed, wrapped, and resting in the fridge over night.
Here are the to roats I am smoking. The bottom is a 2.5lb picnic. i bought a small on for my 1st time. The top is a pork sirloin roast that my mom brought over when she found out I was doing pulled pork. She wanted me to smokei t for her since I had the smoker fired up. I didn't know if a sirloin roast would pull very good or not but I gave it a shot since that was what she bought.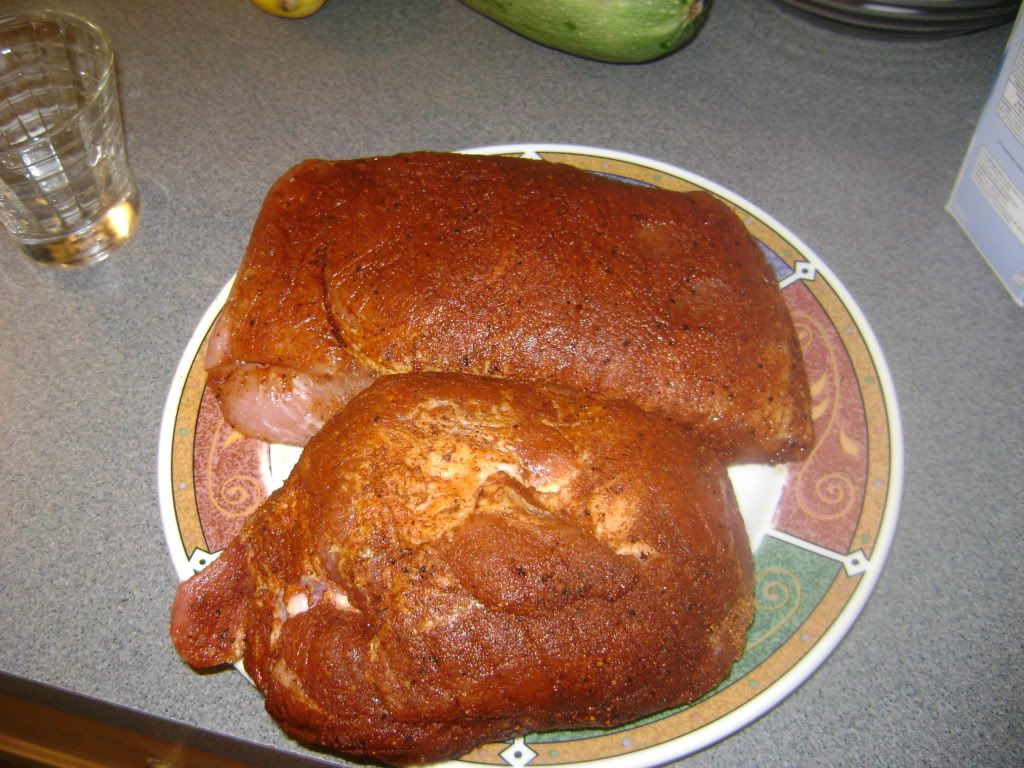 Here is the spread on the grill. Two roasts, two chicken thighs, 3 chicken drums, 3 bacon wrapped zuccinni kabobs.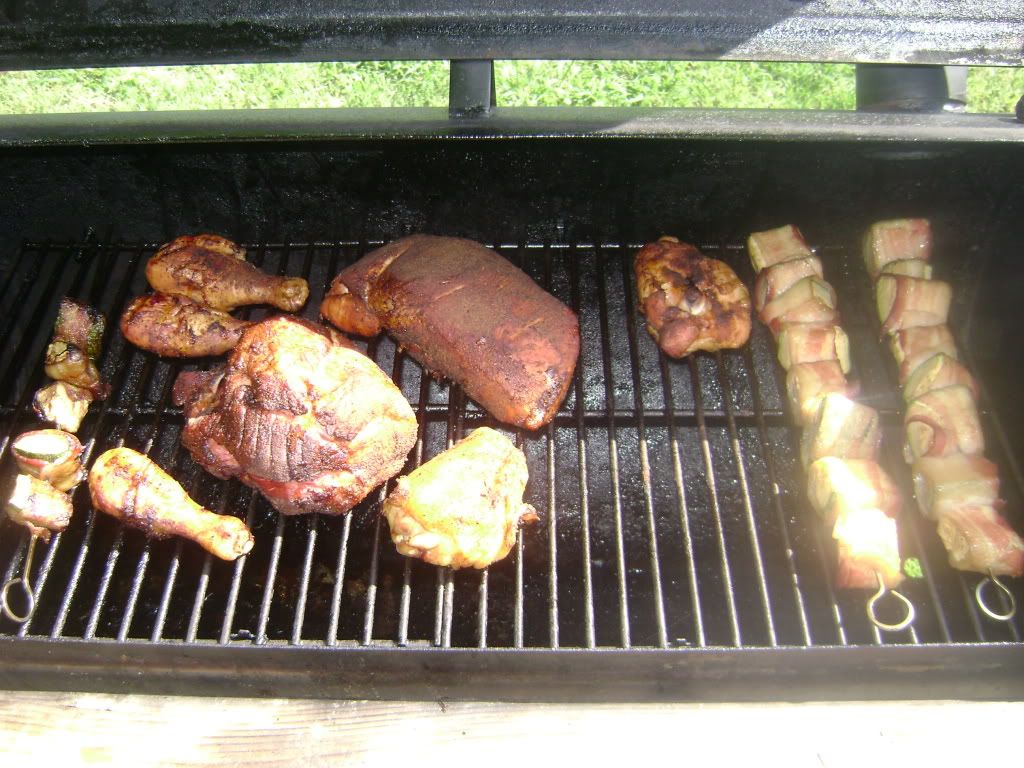 Here is the chicken and kabobs finished just in time for lunch. You will also see some smoked onions there. Those will be chopped and eaten on the pulled pork sandwichs.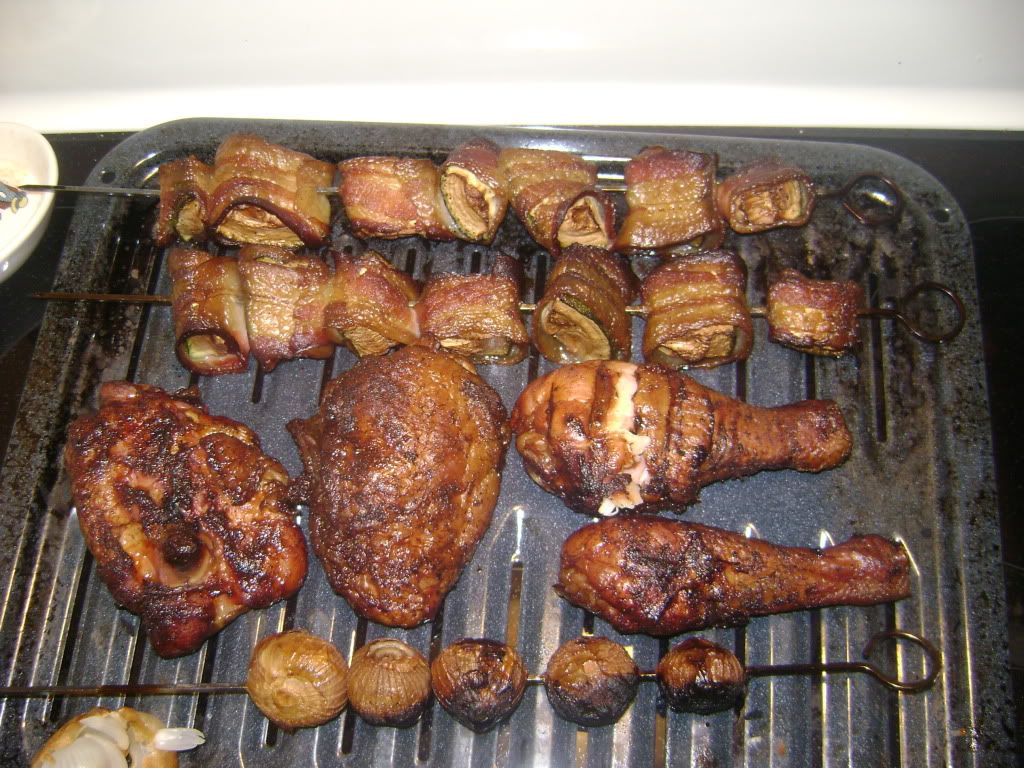 Here you can see lunch plated. Chicken drum and thigh, few bacon wrapped zuccinni and some mashed taters.
Here is the small picnic. Pulled it from the smoker @ 195. It stalled at 180 for a long time.
Here is the sirloin roast. pulled it @ 195 also. Both roast got done at the same time.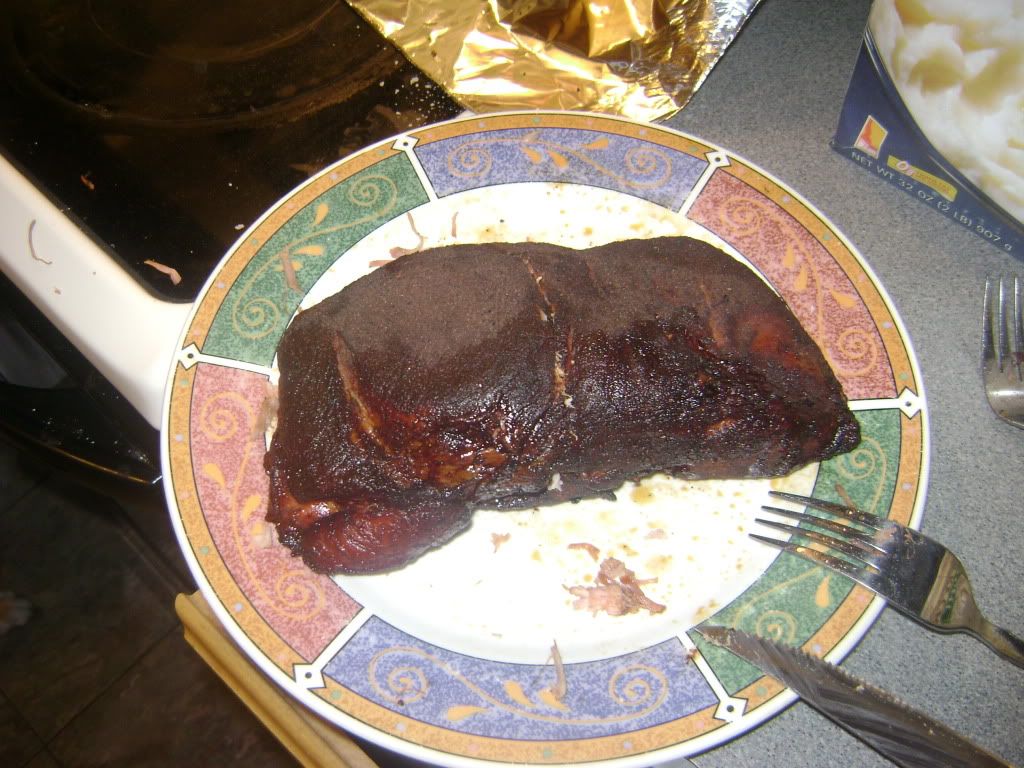 Here they are pulled. The sirloin is on the left and and picnic on the right. The sirloin pulled really easy. It seemed to be more lean than the picnic. It also was soft and kind of fell apart where the picnic was more stringy and pulled apart. I think the picnic is better but the sirloin wasn't bad at all.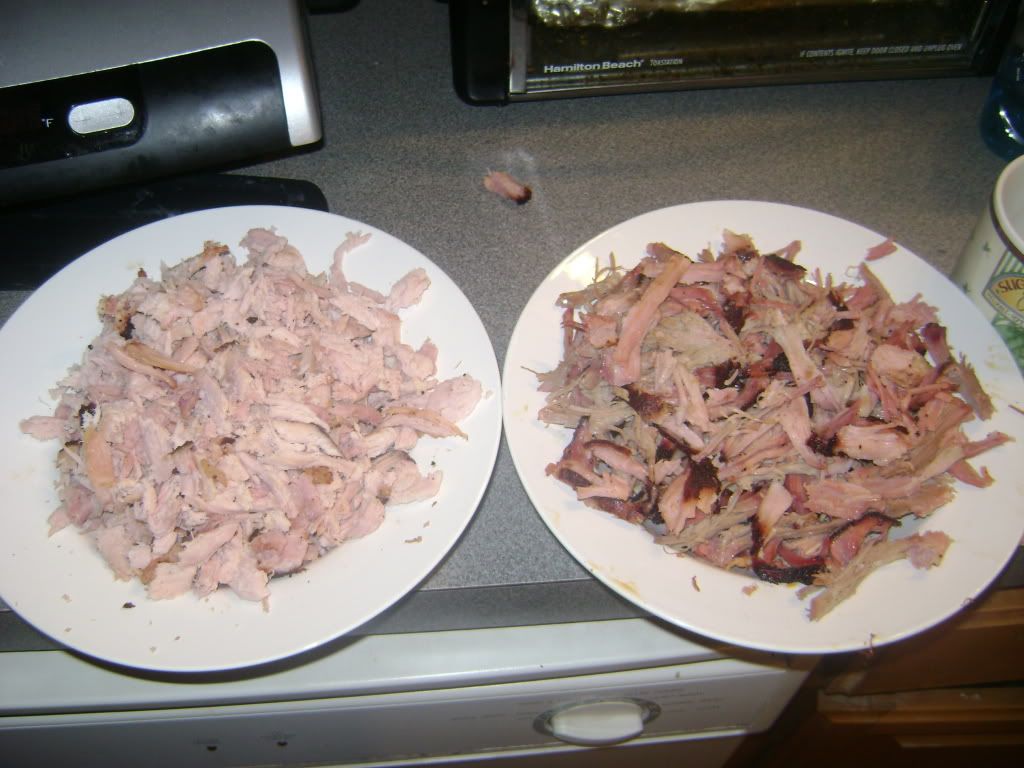 It was all vey good and thanks for looking. The 1st time I have ever smoked anything was on the 4th of july. Only 1 month ago. Pretty amazing thinking back on it. just in this past month I have smoked 1 pork loin, 2 whole chickens, 1 beef brisket, 36 chicken wings, 2 meatloafs, 4 chicken thighs, 3 chicken drums, 2 rabbits, 5 bacon zuccinnic kabobs, 2 small salmon fillets, 3 bacon wrapped water chestnut kabobs, and 2 pork roasts. I didn't even realize I had smoked this much stuff in the last month. You should know that it isn't just me and my wife eating all this, i have had company over for each smoke. I think I am hooked!!!