Had a heck of a time locating any Pork Butt Locally but true to the addiction, I managed to score two 8 lbrs. in a twin pack from a local caterer who buys them buy the case in Anchorage (175 miles away)...
Still can't believe no one else in town carries them on a regular basis.
So I defrosted, injected and dry rubbed one and let it marinate over night and then palced it in the smoker at 6am.
(SORRY FOR THE SMALL PIC SIZE....APPARENTLY PHOTO BUCKET WENT ROGUE & CHANGED MY DEFAULT PHOTO SIZE)
Smoked it till internal temp reached 165.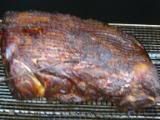 Foiled it and whipped uo some of Dutch's Wicked Baked Beans (minus the pineapple) and through them in the smoker.
The wind was blowing pretty steady all day long and I thought my family was going to mutiny before I ever reached 200 internal temp... but after almost 14 hours in the smoker and then allowing it to rest an hour, the Pork was ready to pull.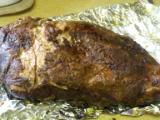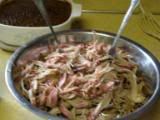 I served it with fresh homemade cole slaw, Dutch's Wicked Baked Beans, and a finishing sauce I found here on the SMF.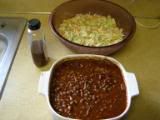 Here is the trio plated just before the vultures descended on the kitchen.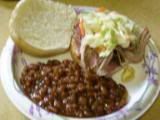 By the copious amounts of pork, beans and cole slaw my family devoured, (one son eats nothing with sauce and he had two helpings of cole slaw....and my youngest daughter never finishes her first plate but went back for seconds on everything), I would venture to say that either this meal was a success or I had better start cooking earlier next time and not feed them so late... or both.
Thanks for looking!