I was cold smoking some more salmon for canning this morning on top of my ccsv and decided why waste the warm smoke so I took a look through the cupboards and modified a stuffed meatloaf recipe that is very popular with my family and cooked up my first fatty.
After much discussion, we decided to call it the
San Francisco Fatty!
I started with 1 lb of moose burger and 1 lb of mild sausage. Mixed them together....Sprayed some Pam on Saran Wrap to help keep the meat from sticking and rolled it out.
I cooked up a box of beef flavored Rice A Roni
("The San Francisco Treat"
.... hence the name
San Francisco Fatty
) .... added 1/2 cup of sour cream (will use more next time to make the rice moister) .... spread it out on a plate and cooled it for a few minutes in the freezer.
Pressed the Rice-A-Roni together for the center....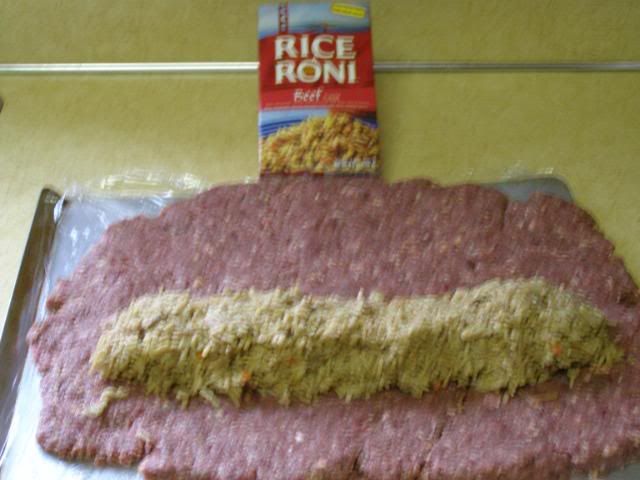 SIDE NOTE: Notice the flat cookie sheet underneath.... this was an afterthought that I slid under after rolling it out....next time, I will Saran Wrap the cookie sheet as this allowed me to turn the fatty easily while I was working as well as served as a platter when I placed it in the freezer to firm up.
While it was chilling in the freezer, I attempted my first bacon weave which I saw posted somewhere on the site.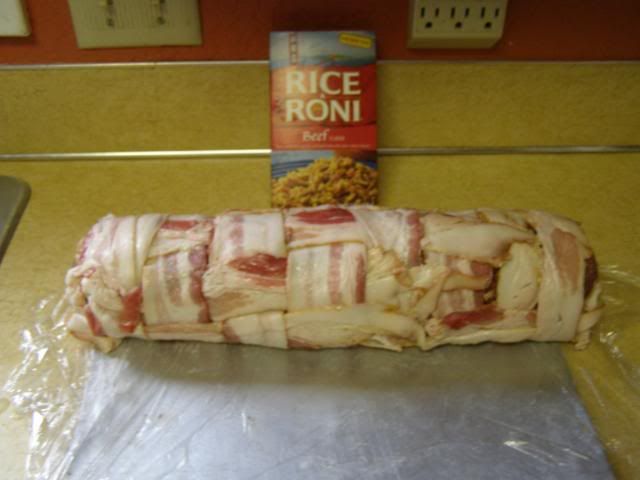 SIDE NOTE: I again laid out Saran Wrap and sprayed it with Pam in order to keep the bacon from sticking. The Saran Wrap was an excellent aid to help roll a perfect fatty on the first try. Being cheap, I had purchased some inexpensive bacon that was on sale. I Will NOT Make That Mistake Twice! It was way to thin and easily broke apart as I tried to weave it. In the future, I will purchase a good quality thick sliced bacon for fatties.
I slid the fatty into the smoker at 250 for 3 hours, then turned the heat up to 375 to crisp the bacon for another 35 minutes. Final internal temp was 185.
The finished product.....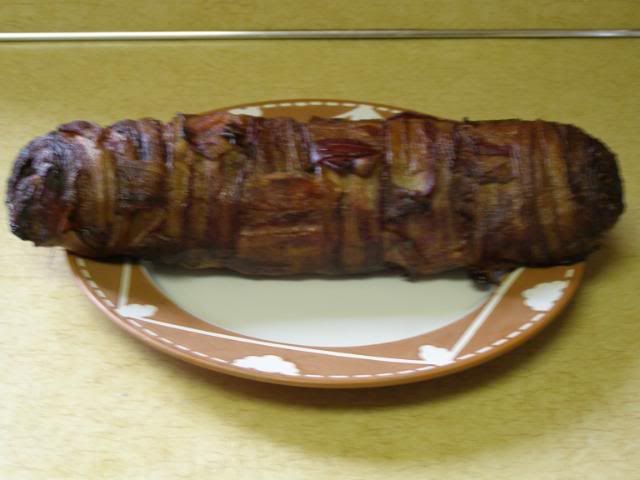 (Last) SIDE NOTE: The flat cookie sheet worked wonderful for removing the fatty from the smoker. I just lifted one end with a long spatula, and slid the cookie sheet under and repeated for the other side.
Some of the side note info may be old hat for some of you but, being new to this process, using the old noodle sure worked out for me and I thought I would pass along some of what I had learned for some of the other newbies!