Well, the truth is that I've smoked spare ribs in the past and never have they come out the way I've wanted them too. They either come out too tough, too undercooked, too...you name it, it's happened to my ribs.
In the interest of getting back on the horse and never giving up, and after seeing and reading into so many successful rib smokes on this website, I finally got it right and they were fall off the bone good! So tender, juicy and delicious!
Unfortunately, I only made one rack because me and the three-year-old are the only ones who really dig ribs. Threw in some ABTs to round out the smoke though.
The spares trimmed and rubbed with a basic rib rub from Cookshack...
Smoked them in a mix of red oak and hickory - my first time mixing woods and it was a nice flavor. Here are the finished ribs, the pieces in the foil were the extras that I trimmed off...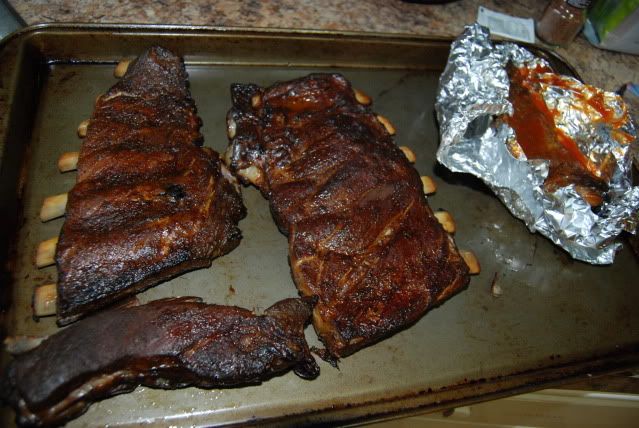 I ate about half my ribs dry and the other half with my homemade sauce, which is a tangy, vinegary sauce. Next time I'm going to try dousing them with SoFlaQuers finishing sauce - I think that would be great! The three-year-old likes her ribs dry, says my sauce is too spicy (it has a little cayenne in it, but not too much)...
Ribs, ABTs, a cubanelle with sauteed onion, bacon and cheese, and some fresh corn...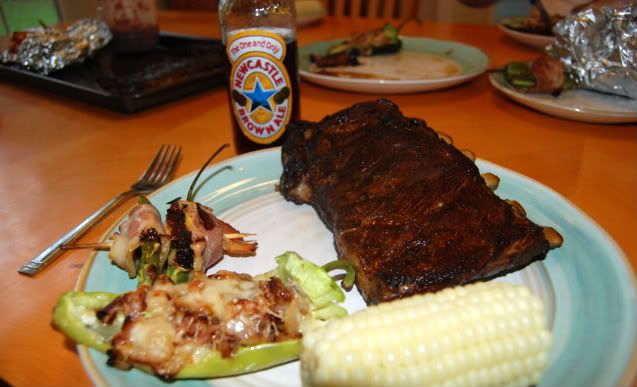 Thanks for checking out the meal and thanks to everyone who has posted their rib adventures here - it helped me make my dream ribs!