We had a family get-together to celebrate my mom's 75th birthday, so I decided to smoke two eight to 8.5-pound pork shoulders for pulled pork. I used my standard rub, a mixture of salt, paprika, garlic powder, onion powder, CBP, dry mustard, and cayenne. I started the smoke at about 7am, thinking they would be done by 5-6pm. The party was the next day, so I planned to reheat the pulled pork before everyone showed up.
The smoker was loaded with lump and a mixture of apple and hickory and was cruising along at 220-235F for several hours. I was spritzing with a mixture of apple juice and bourbon every hour or so, after the first two hours.
It was going fine until I reached the plateau from hell. These things locked in about 156 F for over FOUR hours, and at one point, I got the dreaded DECREASE in temperature to about 145 F. I thought it would never end. The smoker temperatures were steady throughout this nightmare.
It got to the point where I just wanted to get to 170F, so I could foil 'em and stick 'em in the oven to finish. That point finally came at about the 15-hour mark. Four hours after that (2am), they finally reached 200F, and I wrapped them in towels, threw them in a cooler, and went to bed.
The next day, I pulled the pork from the cooler at around noon - the butts were still too hot to touch until I let them cool down a bit.
They pulled beautifully. I applied finishing sauce about an hour before serving, and the results were outstanding. One of my daughters absolutely loves pulled pork, and she said this was the best she had ever had. Many rave reviews from the attendees. I guess good things DO come to those who wait.
So, to prove it actually happened, here's some Q-view:
About four hours in: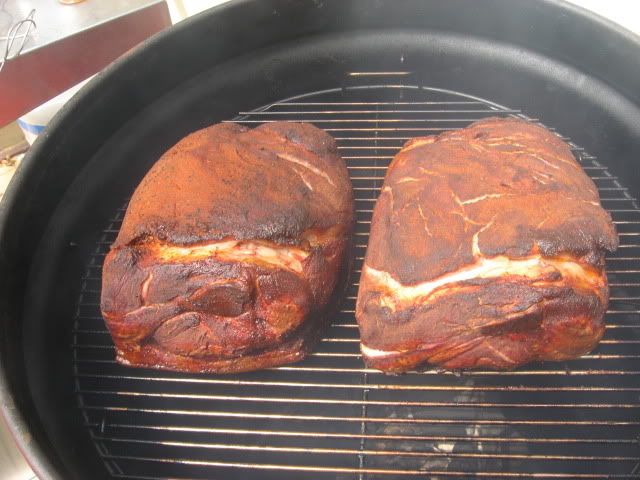 Finished product (one of two):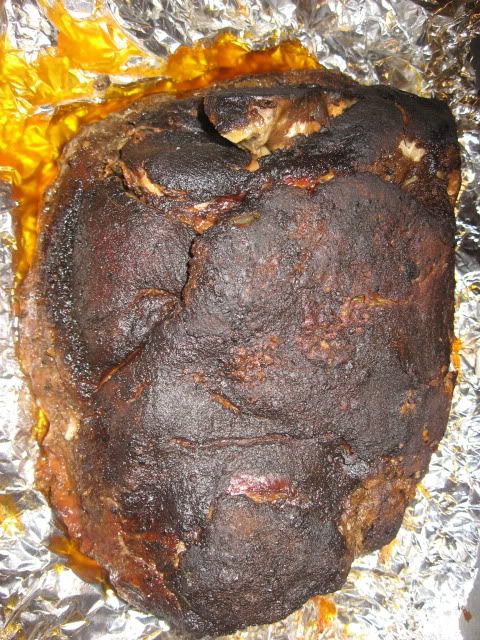 Pulled and ready for sandwiches: