I finally tried to smoke brisket, expecting an all day adventure. But, the two flats I did were done in only 5 hours at 220-230* in the smoker. They were about 3.5 pounds each, which put the cooking time close to the "guideline" of 1.5 hours per pound. I foiled them at 195* and put them in a cooler with towels to rest for several hours, hoping they wouldn't be tough.
They came out fine, but I thought one of the two was a little dry - I'm not sure why. The family disagreed and said I was just being too hard on myself, but I'm not so sure. They tasted good and were not tough at all, but I still would have liked a little more moisture.
Anyway, the rub I used was made up of paprika, kosher salt, garlic powder, CBP, cayenne, chili powder, dry mustard, sugar, and cumin.
For the mop, I used a bottle of Yuengling, cider vinegar, water, olive oil, minced onion, diced garlic, Worcestershire sauce, CBP, kosher salt, and cayenne pepper.
Since the briskets cooked much faster than I thought, I didn't get to mop too many times - maybe three times before they were done.
Here's some Q-view:
One of two flats:
Rub applied and ready to go: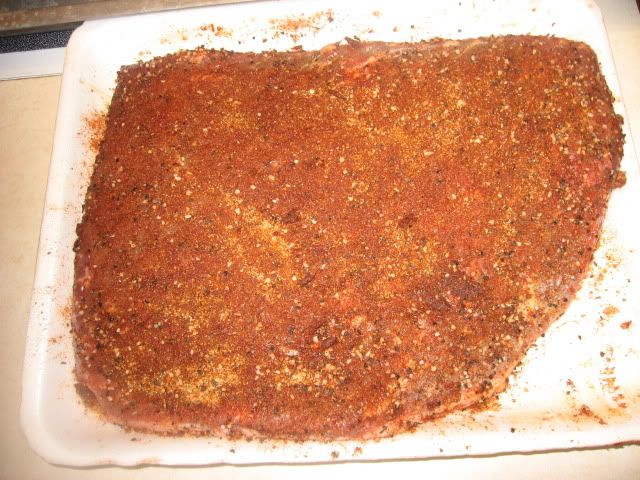 Finished and sliced:
OK for a first attempt, but I hope to improve with a little more experience. I did make a few sammies with provolone and dijon mustard on sub rolls later in the week, and they were quite tasty!!!