Smoked my first Chickens this weekend during UFC 100 so here they are.
Smoked with apple wood and a light rub of mixed spices.
The Birds waiting for the rub.
This is the two birds with there rub sitting and absorbing the flavors.
Now here they are at the start of the smoke in the smoker.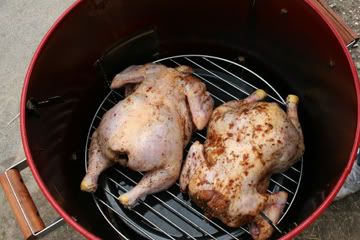 At the two hour mark I added red wine to the water and took a picture to mark how well they were looking.
Then with about a hour and half left in went the beans. Was the wife's own beans she makes for most are BBQs and tasted even better with the smoke flavor.
And now the finished birds which I pulled at 170 degrees.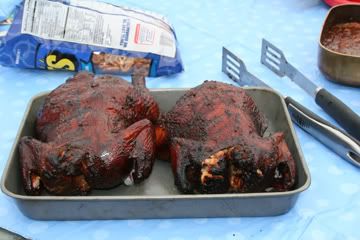 All tho they looked like they may be dry to me and others the meat was extremely moist and very flavorful. Everyone enjoyed it and I have been asked by multiple people if I have any more left overs. Even one try to bribe the wife to bring some to work. So here it is on the plate.
Over all the best chicken I have had so far and would like to thank all of you for your posts of recipes and techniques. I am sure it would not have been near as good without them.
P.s. Dan "Hendo" Henderson had a great knock out of Michael Bisping if you get a chance to watch it.
~Lewis