Well I decided to smoke some wings today on the Weber kettle.
I used Stubbs Briquettes for fuel. seasoned them with Weber KIKN CHIKN seasoning and finished with Stubbs original wicked wing sauce. Smoked for about an hour using apple wood, with the kikn chikn seasoning on then mopped with stubbs wicked wing sauce and fininshed over the grill for that nice coating....
They were good, hot, and the smoke flavor was just enough to take it over the top, now I am a hot kinda guy and I mean hot, and these fit the bill..
Enjoy and thanks,
Chip
A little TBS from the Kettle
Seasoning and sauce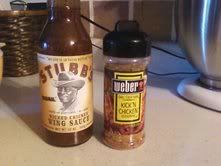 Schmoooooked for an hour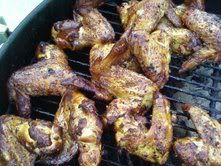 Finished product....