The wife went down with severe back pain and is now on percs and muscle relaxers so what to do this holiday weekend?????? What could me more American and patriotic that making some hot dogs! I've wanted to try this for a while anyway.
Pulled 3.5 lbs of country style ribs and a 3 lb chuckie out of the freezer, let it thaw for a few hours and cut it up while still semi frozen. Then ran it thru a 1/4 in grinding blade and then added the following(a variation from Rytek Kutas-Great Sausage Recipes and Meat Curing).
3.25 T Tenderquick
2T paprika
3T ground mustard
2 t CBP
1t ground celery seeds
1.5t mace
1t garlic powder
2 cups non-fat dry milk
2T powdered dextrose
2 C water
Then ground it again thru the tiniest grinding blade I have that I'd say is about 1/16in. Took quite a while to grind it thru but came out as close to emulsified as I could get it(don't have a large enough food processor). Meat mixture pictured below.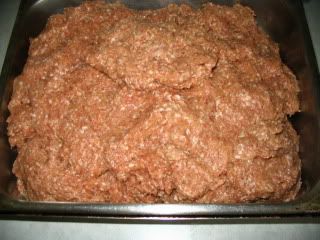 Then stuffed into sheep's casing and into the fridge to cure overnite.
Into the smoker in the morning. 1 hour @ 100o to dry and then up to 170o with apple smoke. for about 4 hours. Gotta say they looked a little gray when I put them in. The large sausage is one I had to stuff into a hog casing cause I ran outta sheep's.
Looked much better coming out.
Pulled them at about 140o and put into 165o hot water to bring them up to 152o then into cold water to bring the temp down below 100o. I've never used this method before but I like the results.
They're ready for the freezer.
Had to cook one up to see how it reacted. Plumped right up and tasted great!
What I would do differently next time is maybe less mace, the taste seems to linger a bit, and use a little bit larger sheep casing. Not sure what size I had but they were a little narrower than I would have liked.
I liked the texture, it is about like a Hebrew National hot dog.
Now just gotta whip up some chili sauce, dice some onion, and shred some cheese, and see if the wife is hungry!
Thanx for looking!
Lou