Happy 4th of July to everyone. We had a mega smoke going on this year. I mad 2 fatties. a 15 puond turkey some armadillo eggs and a few ABT's. My camping buddies made some of Dutch's beans, 2 pork loins a fatty. After an inch of rain on Fiday night and a nice steady drizzle most of the morning on Saturday. We got the smokers fired up around noon and started off with a 15 pound apple brined Turkey I will post the picturs of that in the proper place. Then we got the loins and fatties going. I made what I like to call the red white and blue Fatty and another try at the blueberry pancake fattie. the other one that my buddy Kevin made was a red beans and rice with shrimp. I dont have many pictures of that one but do have plenty of the 2 that I made. So lets start with the Red White and Blue. I used Jimmy Deans Maple flavored sausage cream cheese, brown sugar, freash hand picked Strawberries from the local strawberry farm in Sanborn Iowa (best berries I have ever had) and fresh blueberries. I was going to drizzle a little apple jelly over them but I kind of forgot.
I have lots of Qvue her for some of the newbies.
I started by rolling the sausage in the 1 gallon bag and cutting down the 2 sides to get ready to add the goods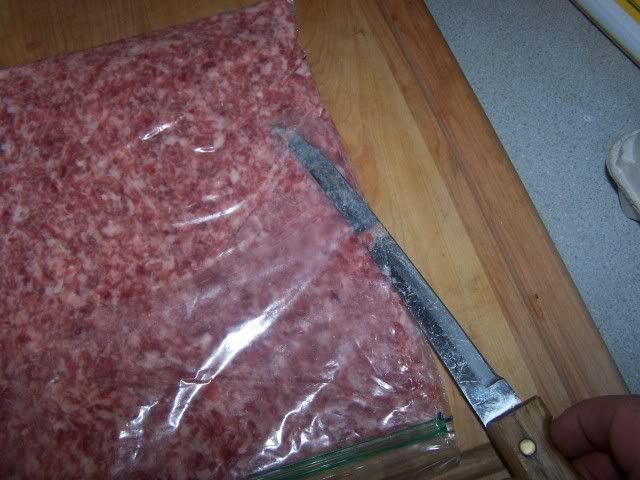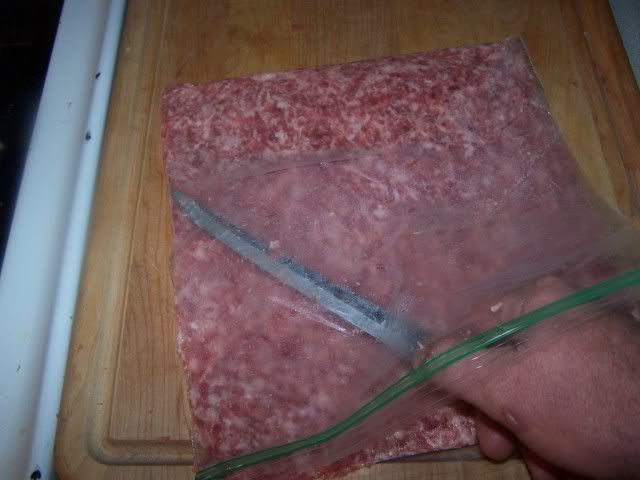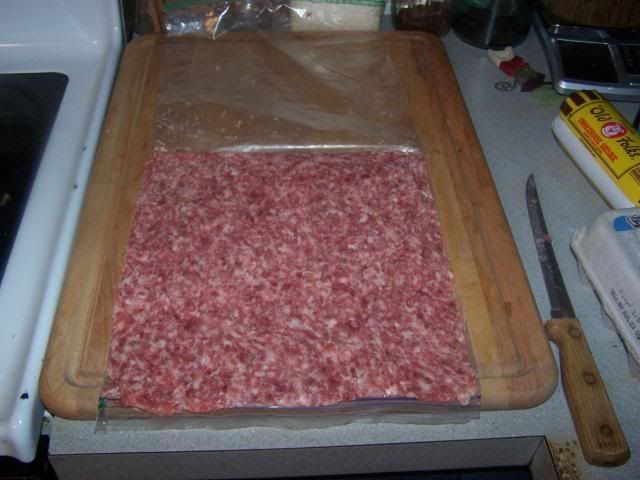 Then a nice layer of cream cheese
added the brown sugar
Then the sliced strawberries and blueberries got layed down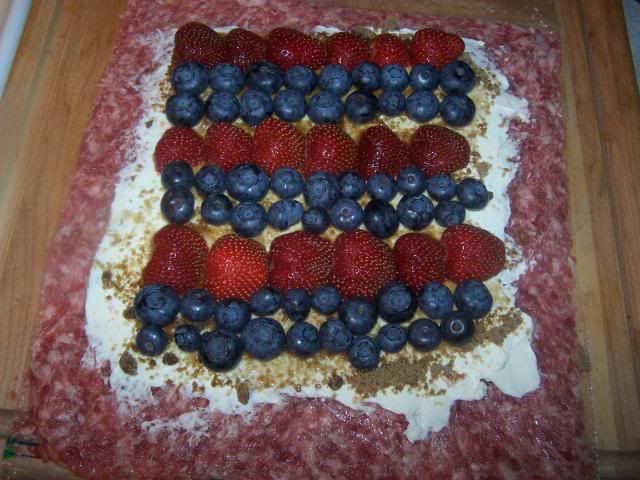 rolled her up in the zip lock baggy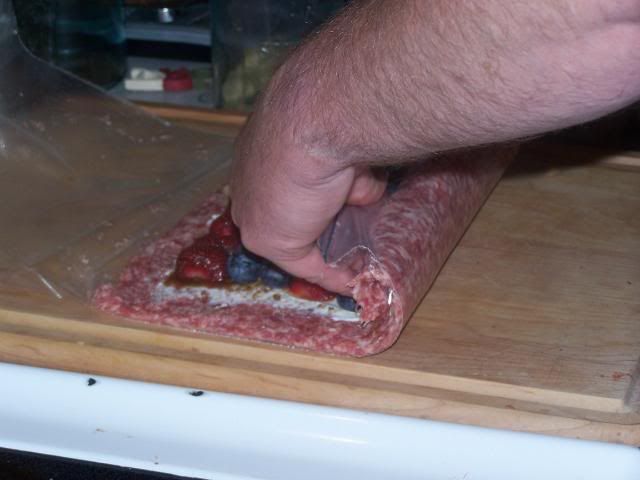 Then on to the saran wrap to roll it up nice and tight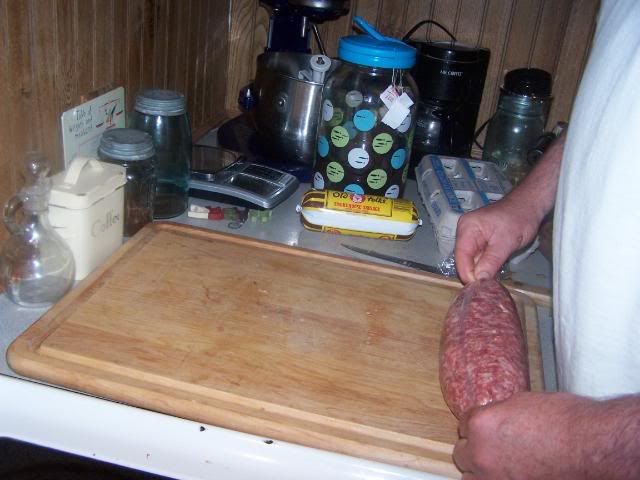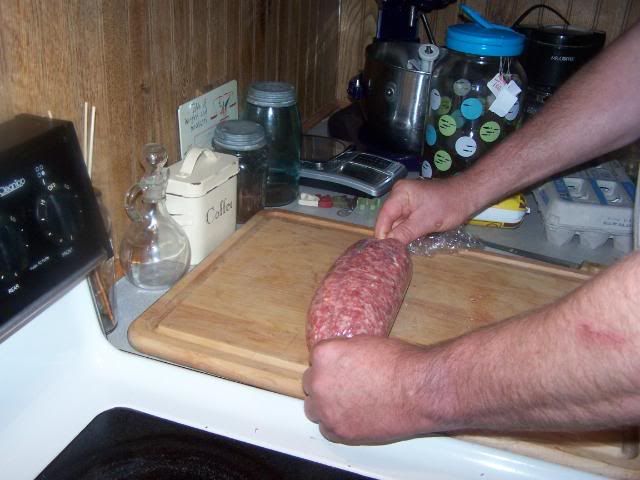 In to the fridge till Saturday
Next is the blueberry pancake fatty For this one I used Johnsonville sweet Italian sausage, Blueberry pie filling and ended up using a 99 cent bag of complete pancake mix just I added a little extra water to the mix to thin it down and then under cooked them just a little so I could roll them in a towel jelley roll style and let them set until I was ready to add the blueberries then a little drizzle of pancake syrup.
A smoker full of goodies and no thats not to much smoke that is a little grease on the camera lense
Did the bacon weave on this one but didn't get any pictures of that part ( there is a nice sticky on doing that)
Off the smoker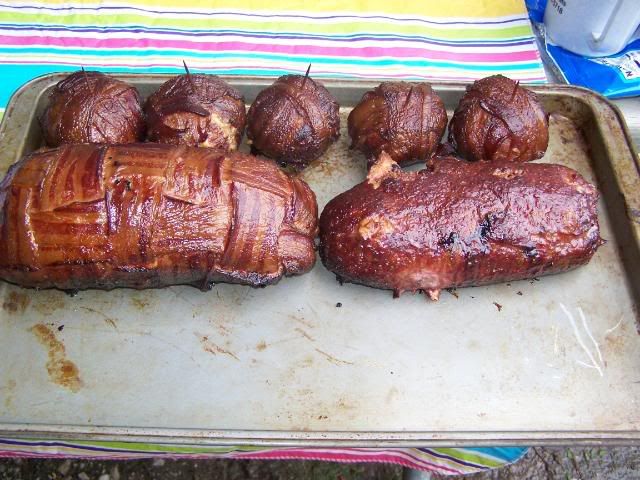 the sliced blueberry fatty I thought I had one of the Red white and Blue but it's not on the camera
then we have the armadillo eggs with some cream cheese a little bit of my rub a hard boiled egg wrapped in sausage and a little bacon around them
and a quick picture of my buddy Kevins red beans and rice and shrimp fatty
And a picture of Kevins smoker full a fatty 2 pork loins and Dutch's beans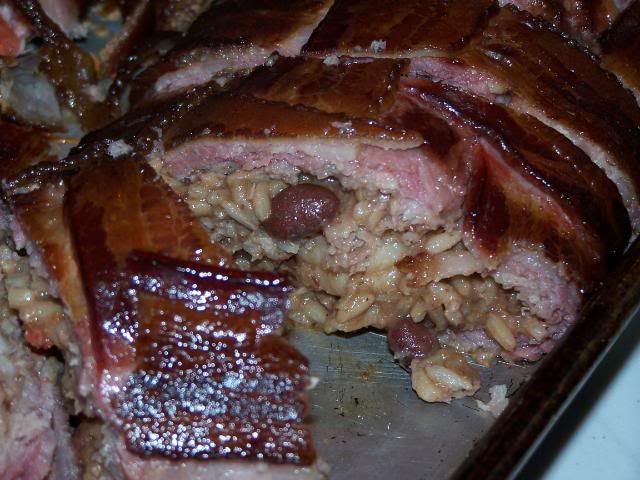 I hope you enjoyed my Qvue Thanks for looking
Mark