First things first...as if it doesn't already require enough time and effort to make perfect pork BBQ, my hat is off to all of you folks who remain diligent with the camera throughout the process!
I am hosting a party on July 3, and decided to prepare some of the food ahead of time once it became evident to me that it was going to require more than one smoking session in my BKSD.
Here are two boneless pork shoulders that I picked up at costco. 16+ lbs. each...
and here they go into the BKSD. I tried to get them near the top since I have found the heat is most even in that part of this particular Brinkmann. Next time I may give them a bit more space from each other...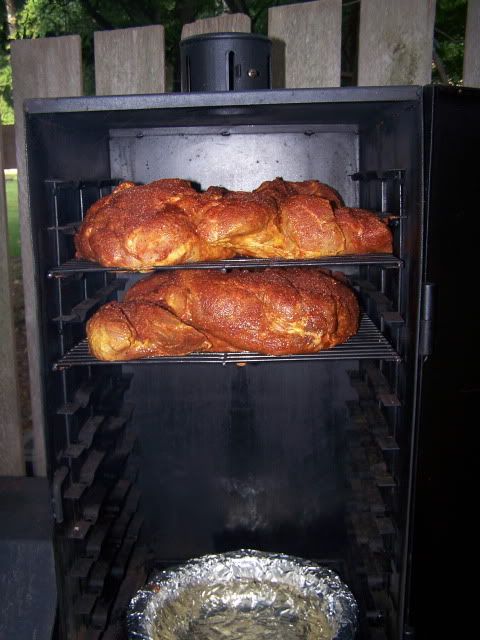 right where I want to be...
this is my sous chef...6 months old...
voila! my newly fabricated charcoal basket. I am jealous of you folks with fancy tools and skills. I wrestled with a hack saw for too long. I hope no one was watching...
loaded up and ready to go. The fire is already lit in the smoker at this point. I got a late start so I fired the smoker up and then went to work on the basket. Little did I know how much it was going to change my life. The BKSD is a well known fuel hog requiring constant feeding and attention, and once I got this basket going via the minion method, I had time to mow my grass AND clean out the garage. That may sound like a bad thing, but trust me, those things needed to be done...
Soon to be foiled...
one of four sections getting a spritz and foil
That's all I have for now. I kinda ran out of gas at the end, and just wanted to get the meat pulled, bagged and in the freezer. FWIW, I did taste it, and I think I will have some extremely satisfied guests. Another thing, I figured that since I got boneless shoulder my yield would be better than usual, but it was just over 50% -- 33 lbs uncooked, 17 lbs cooked.