Hi Everyone,
I smoked up a meatloaf, some au gratin potatoes, and a couple pork steaks the other day. I meant to post the final pics yesterday, but I forgot. It was really, really hot on Tuesday when I did the smoke (and then a big thunderstorm rolled through), so I put everything in my new BDS. I've not smoked anything in it except sausages (which is really why I bought it), but is was pretty mindless. I simply set the temp and smoke time, and then ran back inside to the A/C.
Everyone seemed to enjoy it, so the BDS did its job. My brother, his wife, and their 3 kids are staying w/us for a few weeks, while they wait for the construction on their new home to be completed . . . and the kids just loved it! Put a big 'ol smile on my ugly mug.
I've never done either meatloaf or potatoes before, so thanks much to all of you who offered advise on smoke times! I really appreciate it!
Here goes:
Smoked everything w/hickory at 250.
The loaf (approx):
2 pds burger
1 pd fresh ground pork
5 tbs minced garlic
5 tbs mustard
3 carrots minced and fried in butter to soften
2 celery sticks " " " " "
1 medium oninon " " " "
3 tbs tabasco
3 tbs worchestershire sauce
1/4 cup clamato juice
2 eggs
1/2 cup whole oats (i.e., oatmeal)
1/3 cup Thai chili garlic sauce (1/2 mixed in the meat, and 1/2 on top)
1 package of mozz cheese on top
Sorry, I didn't take a shot of throwing the mirepoix on, but we've all seen carrots, celery and onions before: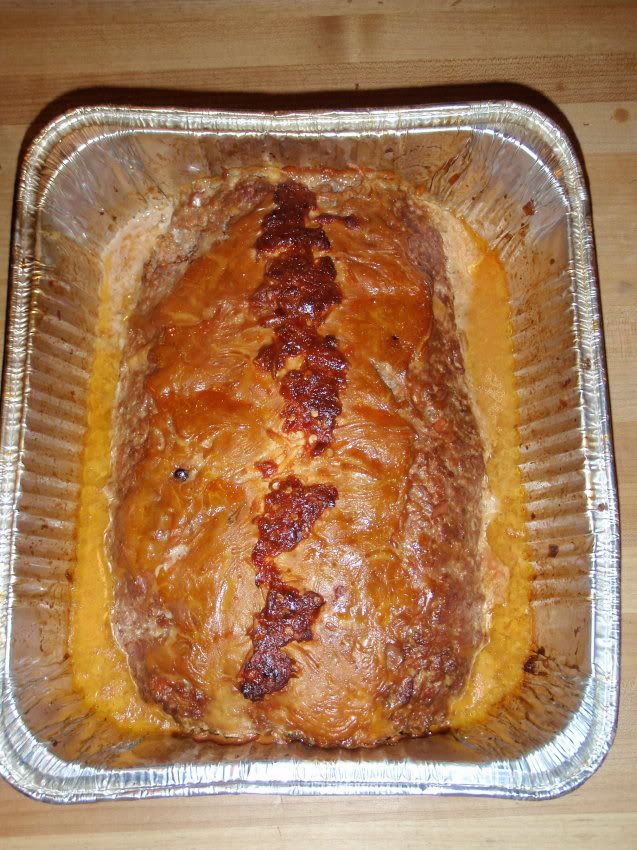 The taters (approx):
1 pd sweet potatoes
2 pds 'regular' potatoes
1 'huge' onion carmelized
Made a roux w/a stick of butter and 1/2 cup of flour
To the roux I added 1 bag of colby jack cheese
When the cheese melted, I added (slowly) 1 box of chicken stock
Layered the potatoes and onions, poured on the cheese sauce, layer, cheese sauce, etc.
When layered, added 1 bag of Mozz and a little fresh chopped parsley to the top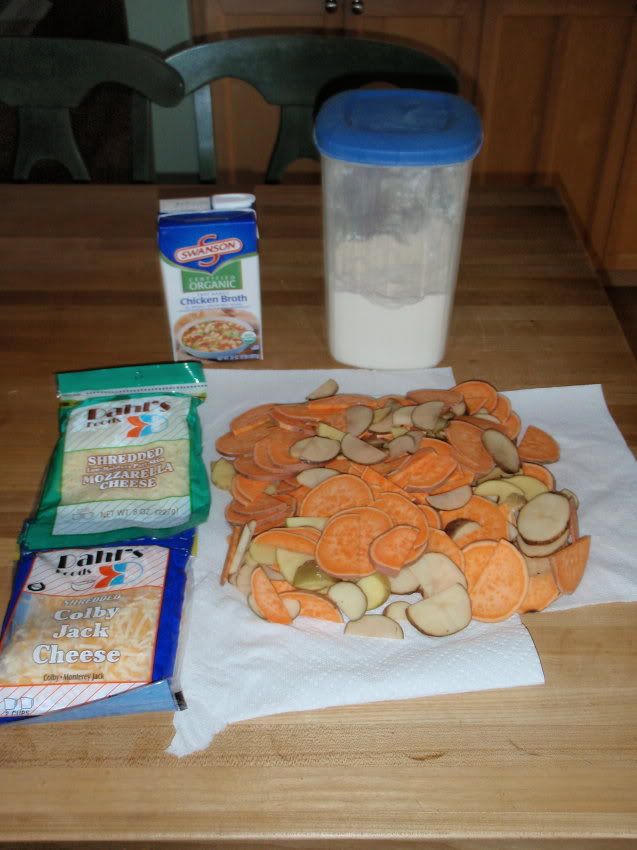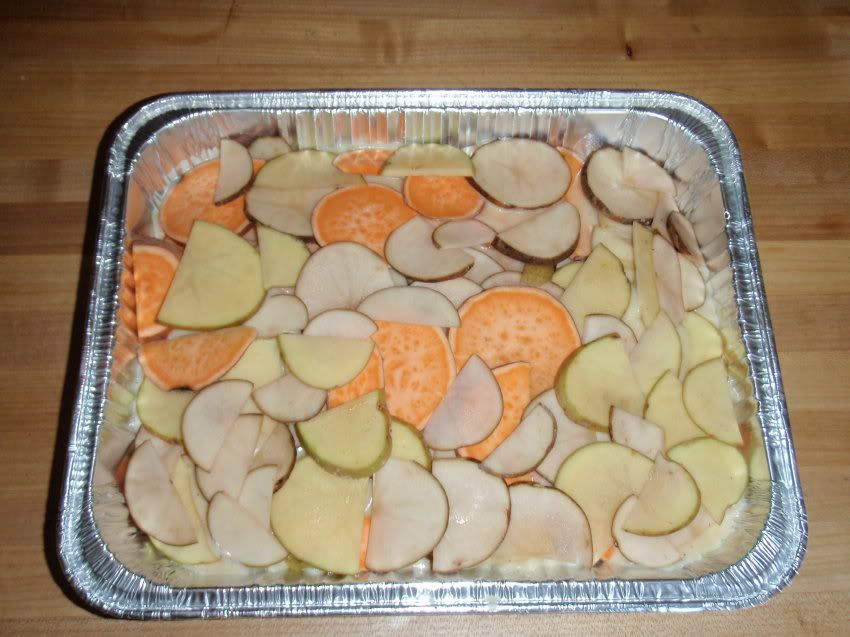 My brother and I were eating the taters on the way into the house, hence the 'hole' on the side. We just couldn't wait!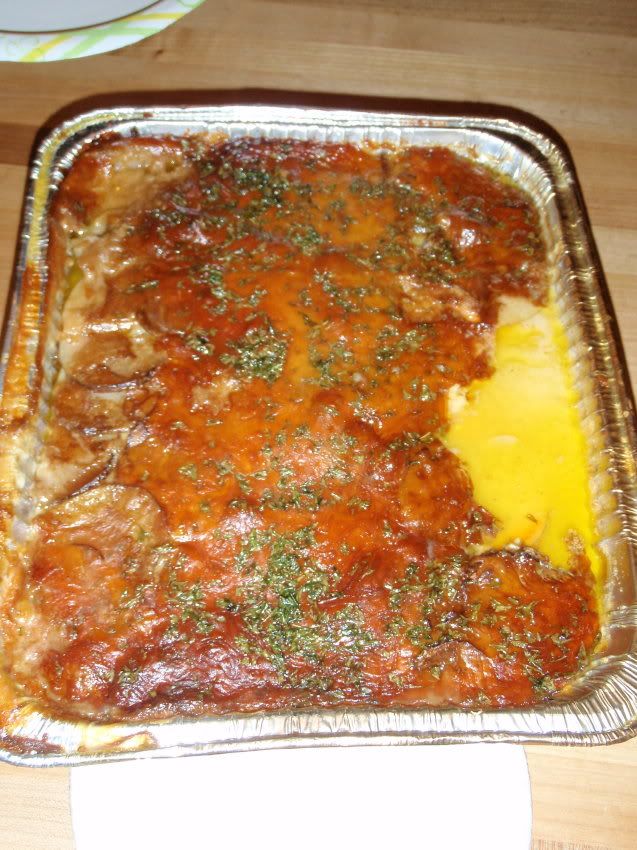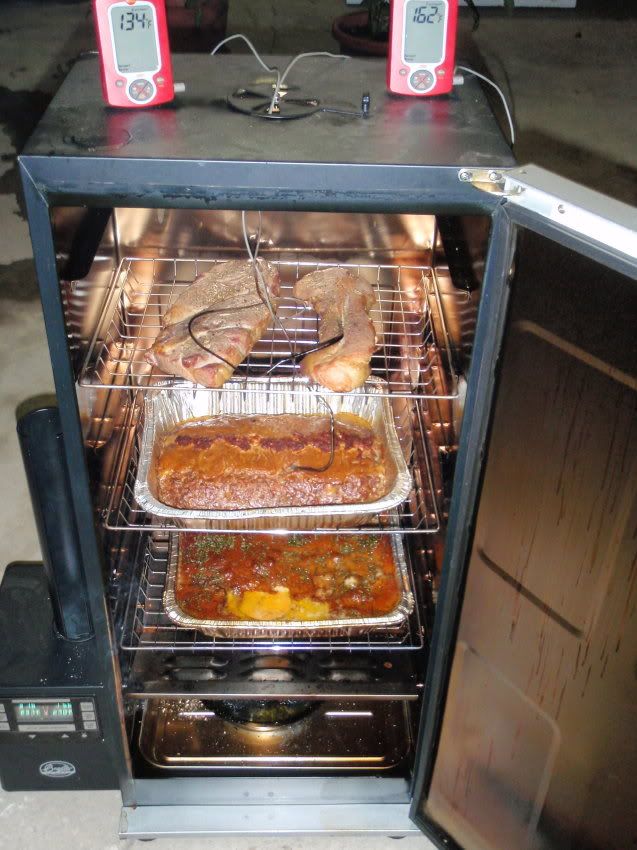 All the meat, taters, and some homemade slaw.
Thanks for lookin'!!
Best,
Trout