Well I jumped in wide open again..
For fathers day I started at 6am lighting my fire in My new Lang 84 (The Smoke Wagon) Cooked on it util 5PM. I thought I had enough to fill her up but I didnt. Heres what I cooked....
57 Pork chops on the top rack
1 8 pound Pork Loin on the Top Rack
11 7-9 pound Butts Botom rack
2 4 pound English Roasts Bottom rack
1 9 pound Sirloin Roast Bottom Rack
Ive read so many different ways to do the butts so heres what I did.
1 Cherry Koolaid rub
1 Apple Cider powder. Kind of like the koolaid
1 I injected with Brown sugar, Apple cider Vinegar, Apple juice
2 Rubbed heavy with that powder Crawfish boil stuff
2 Sugar, Tonys, Oinion, Garlic Powder,
4 The way I like it Salt and Pepper
I spritz all with Apple Juice, Apple cider vinegar, and a special ingredient Caffinated Rum from Mauritous that I got while working there
Smoked at 240ish from 7 until 4 total 9 hours, pulled them at 200 degress.
2 of them was not quite there because they were not as easy to pull but it still was not hard.
Rubbed most of them with Mustard and just a little sugar.
I pulled all the pork butts and put into quart bags. Ended up with 57 pounds finished product with the beef and the pork butts.
Note I hooked up my TV and directv dish and a fan and a lounger. I got the roof put on yesterday and holy cow what a difference not sitting in the direct sun.....
Had an awesome time and just cannot believe how good the Lang cooks. I am so impressed. Everything seems to cook quicker with no flare ups. I held the temps within 10 degrees of where I wanted it for 10 hours and never touched the stack, I only use the vents on teh fire box....
I will honestly say that the only one of the butts that I felt stood out was the the Cherry Koolaid. It was very good and I am going to use it on some ribs next weekend...Im tired and ready for bed so heres the Pics..
Hope everyone had a good Fathersday..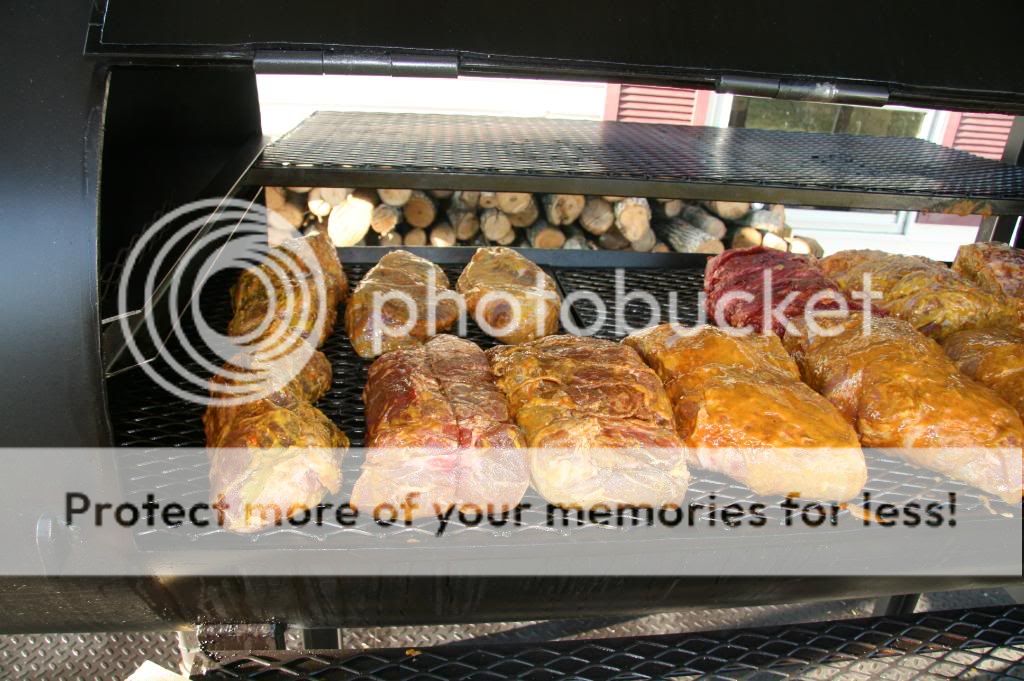 Notice the really RED butt..Its the Koolaid
Notice my one Lonley tomatoe
CHOPS AND MORE CHOPS
ONE OF MY CUSTOMERS