Todays poultry menu includes a turkey breast, some chicken leg quarters and some turkey legs.
Recently found some wood at a local grocery store in the seasonal isle. It was European white birch. Curious as to whether I could use it to smoke or not I check the sticky on here and sure enough...
"BIRCH - Medium-hard wood with a flavor similar to maple. Good with pork and poultry." Excellent, now I can try a new flavor of wood.
I had other things to smoke and having never tried birch I was hesitant to use it so I did my regular hickory and after that did a bit with the birch. On with the show.
First thing was to make a brine for a turkey breast.
Brine recipe:
4C water
1/4C white sugar sugar
1/4C brown sugar
1/2C kosher salt
1 1/2t pickling spice
2T black peppercorns
1T coriander
8 cloves of garlic, crushed
1 bay leaf
1t cloves
1t thyme (or poultry seasoning)
First I toasted the coriander and 1T black pepper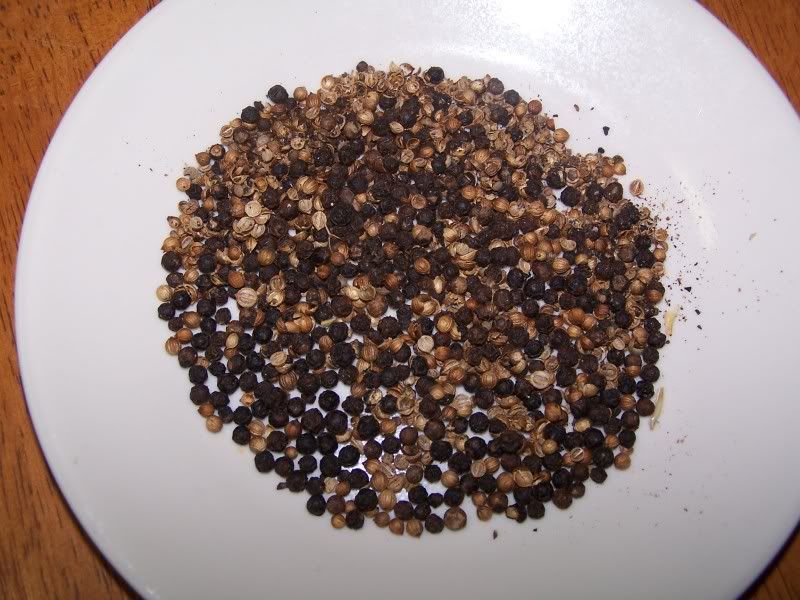 Heat the water, sugar and salt over a medium flame until dissolved.
Turn off the heat and stir in the remaining ingredients.
Cool completely and cover the bird. I use 1 gallon freezer bags for smaller bits and larger food grade buckets for whole birds.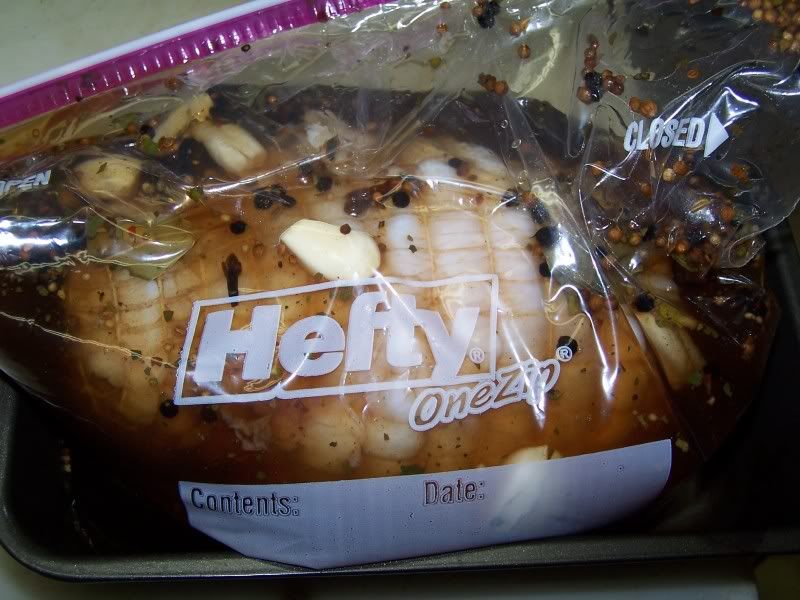 Brined overnight turning at least once.
Also brined some leg quarters. Don't have any measurements for this one because it was one of those "this looks good, I'll just throw it in the mix" type of brines.
These are the spices that made the cut
Also brined overnight.
Next day I pulled them from the fridge, rinsed the turkey off and coated it with olive oil and fresh cracked black pepper. Leg quarters I sprinkled with some cajun seasoning.
Onto the heat, 300 with hickory and pulled when the internal hit 165-170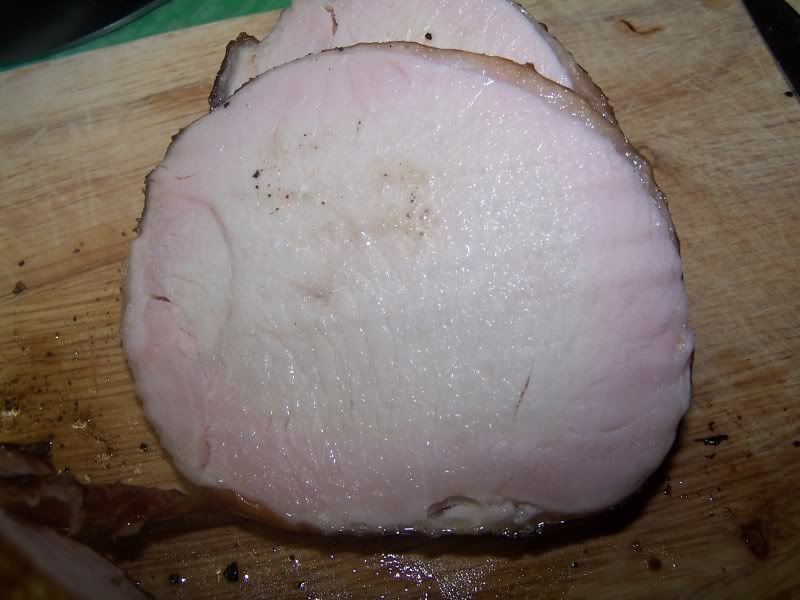 Leg quarters were fantastic, not to take anything away from the turkey but I was actually amazed how good they turned out. Even the skin was tasty, I always pull it off but this time I had to have a little because it was so good. My brother (who doesn't care for chicken) picked one completely clean, skin and all.
So, now that that is over with I pulled out some other quarters and some turkey legs I had brining to go on the birch.
This brine I kept very simple because I wanted to taste the wood flavor.
4C water
1/4C white sugar
1/2C kosher salt
2 cloves minced garlic
After they came out of the brine I rinsed them off, rubbed with some olive oil and fresh ground black pepper.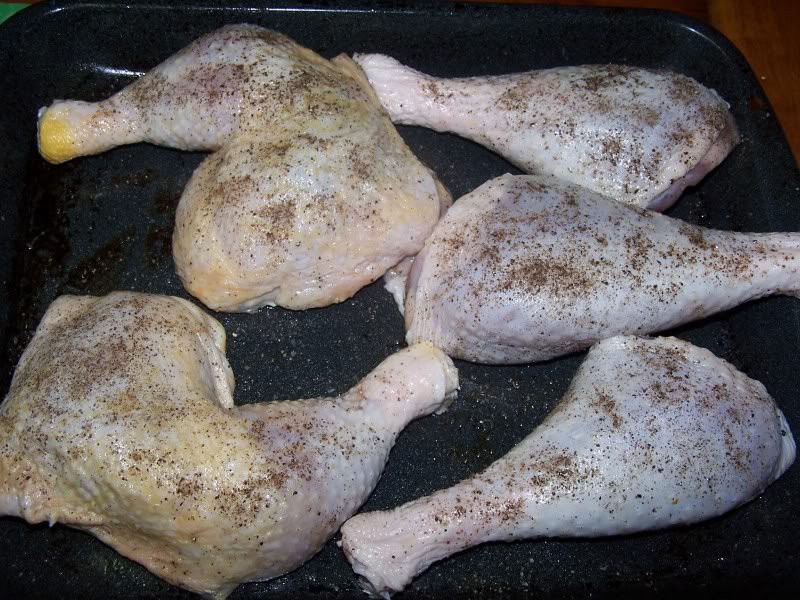 I have heard the bark on birch can be very bitter so I burned it off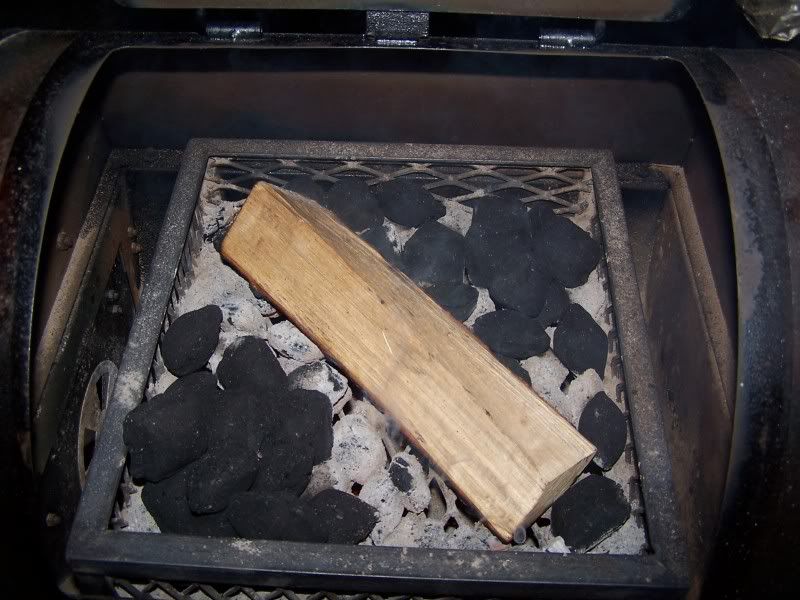 Threw everything on and waited...
While I tended to the smoke I noticed this guy came over to hang out.
Hope some of the bugs he got picked up a bit of smoke flavor.
Again, pulled everything once it hit 165, rested a few minutes and then time to try it.
Quarters made that turkey leg look puny.
chicken
turkey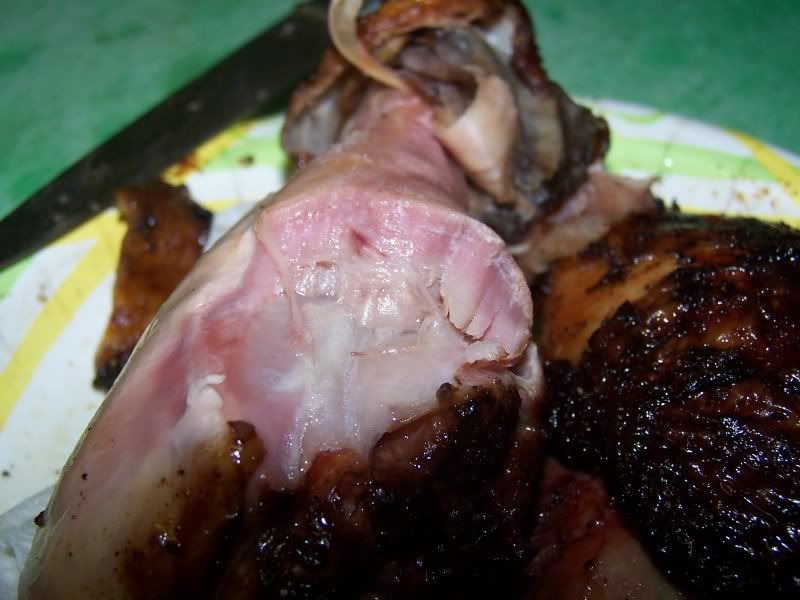 My verdict on birch?
Delicious, it smells great and tastes even better.
A few people asked me to describe it and I did as best I could, but more than anything I would say that it tastes like what you would think a light maple wood would taste like.
I will definitely use it again, and again.
Thanks for looking.
Happy smokes to all you folks.