First off, thanks to BCFishMan, Fire It Up and Forluvofsmoke for their late night help! That was huge, I was actually able to sleep!
So, started with an 8.5# bone-in butt that I got for $.88/lb.! It's for a cookout on Saturday. We'll be grilling some chicken, hot dogs and appetizers to go along with the pulled pork.
Here it is rubbed with mustard and the Rib Rub that came with my cooker. It's good, but I think I'll try Jeff's rub recipe next time out...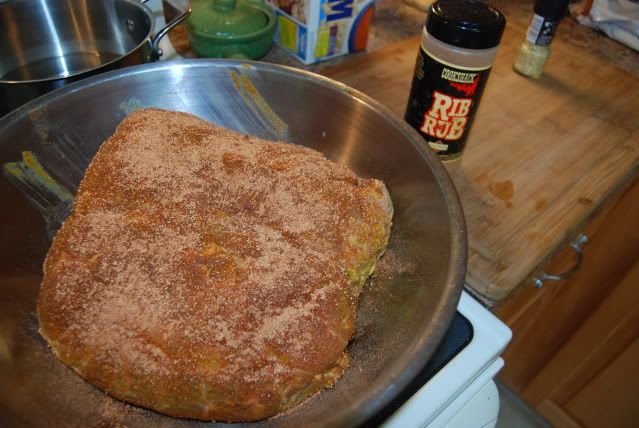 So, set it in the smoker with a panful of apple juice, 2 cloves of garlic and some onion - not sure if it effected the flavor, but this was the best butt I've ever made, so maybe!
First hiccup of the day. I set the smoker to a little above 225* with a couple small hickory chunks and some shag bark I pulled from a hickory tree in Indiana. Well, luckily I was outside near the smoker washing the car. I could smell something a little too strong and I saw thick smoke poring out of the vent. Pulled out my wood box and the wood was on fire! flames!
I was armed and ready with the water since I was washing the car and nothing bad happened, although I was worried about the taste all day!
Here it is at about 150* during one of my spritz fitz - used 1:1 spritz of Sailor Jerry spiced rum and AJ...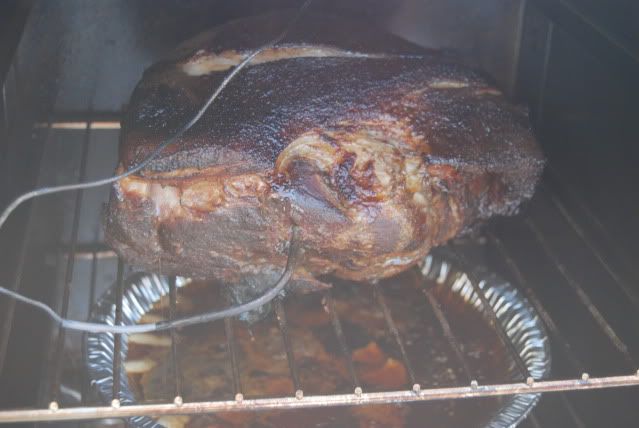 Being foiled..at 167*
Meantime, made these grilled zucchini to go with our steak pizzaiola for dinner...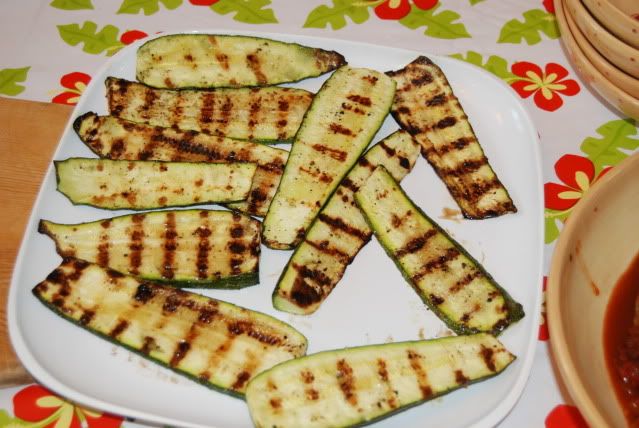 Then it was the long wait. Around midnight it finally hit 200*. I had started it at 9:30ish, but the fire threw things off a bit. At least I was out of the danger zone in the four hours, which was my main concern after the flames. I had to go to bed, so I coolered it and buried it under the towels until 6:30 a.m. and much to my delight it still piping hot and moist, but had a nice bark...Nothing more fun that grabbing that first cup of coffee and pulling a butt, I must say!
End product, finished with SoFlaQuers finishing sauce (first time using it and I love it)...
Now I have to keep my hands and my family's mitts off it until Saturday afternoon and that won't be easy, because I had to taste test this morning and this is the best butt I've ever made! It has a great bark on it. Next time I'll probably remove the fat cap in hopes of it cooking a little faster. Hope everyone at the fiesta enjoys this and maybe I'll throw some party pics up this weekend.