Hi All,
Rubbed a bone in loin last night, and got up early this morning to smoke it. Came out tasty, tender and really, really moist. Mama loved it!
Recipe
2 tbs Cayanne (next time I'll go w/1 tbs. I like 'kick' a lot, but this was a little too 'kickin')
1 tbs garlic powder
1 tbs onion powder
1 tbs oregano (leaf)
1 tbs basil (leaf)
1 tbs kosher salt
1 tbs pepper
Smoked on the little Weber grill w/straight cherry at 200-220 until internal temp hit 140. At that point I foiled it and continued to cook until 150 (in total, about 5 hours). Pulled it, wrapped in Cling Wrap, re-foiled and into a cooler for about an hour. Coated it w/the wife's sauce once out of the cooler and enjoyed!
I didn't take but a couple pictures today.
A little closer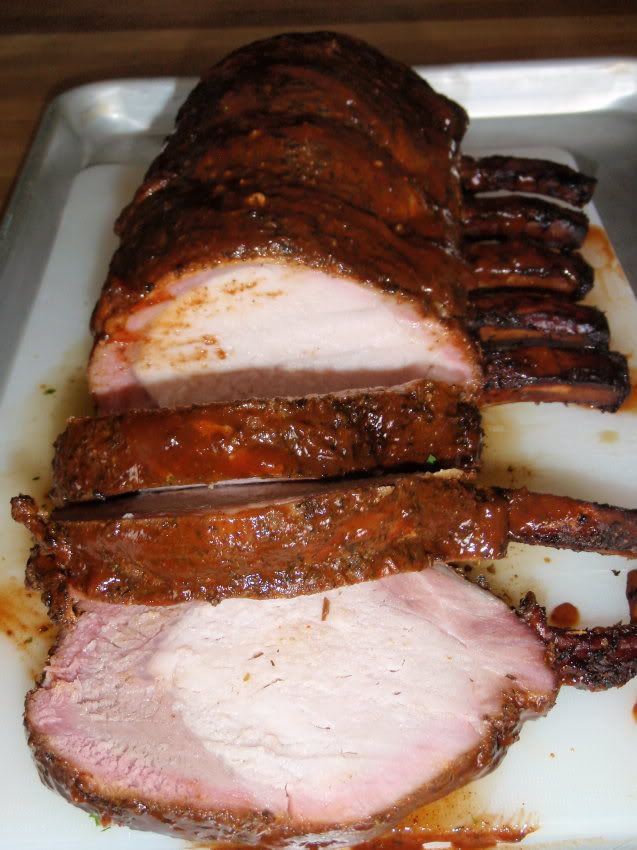 Thanks for lookin'!!
Best,
Trout