Recently I was browsing the meat section and found a great deal at Pathmark.
$.99lb corned beef so you know what that means...pastrami time!
Picked up 5 briskets weighing 14.73lbs, so not 15 but close enough.
I didn't even know Nathan's made corned beef until recently.
The Nathan's had 1870mg sodium and the other only 660mg so I soaked the Nathan's overnight changing the water out once and the next morning added the others for 6 hours.
I decided I would try 3 different ways of complete cooking to see which I liked the best. Instead of explaining them now I'll just go in order and describe the method as the pics progress.
Rubbed with 3 different rubs.
One was nothing more than coriander and black pepper that I toasted, cooled and ground up.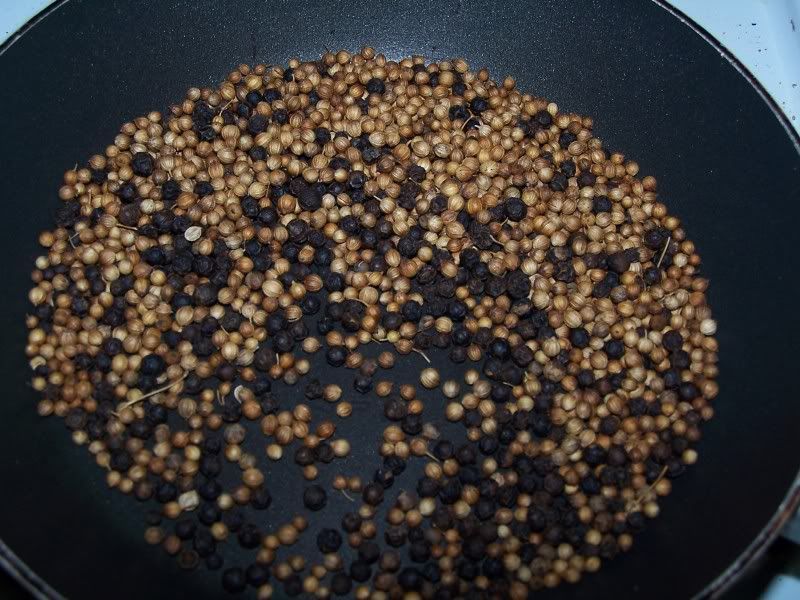 I did 2 with that rub, 2 with a rub consisting of coriander, paprika, black pepper, garlic powder, brown sugar and kosher salt. The I did one with the seasoning packet that came with it.
Threw them on the smoker over hickory at 225.
About an hour in I began spritzing with apple juice every 45 minutes to an hour.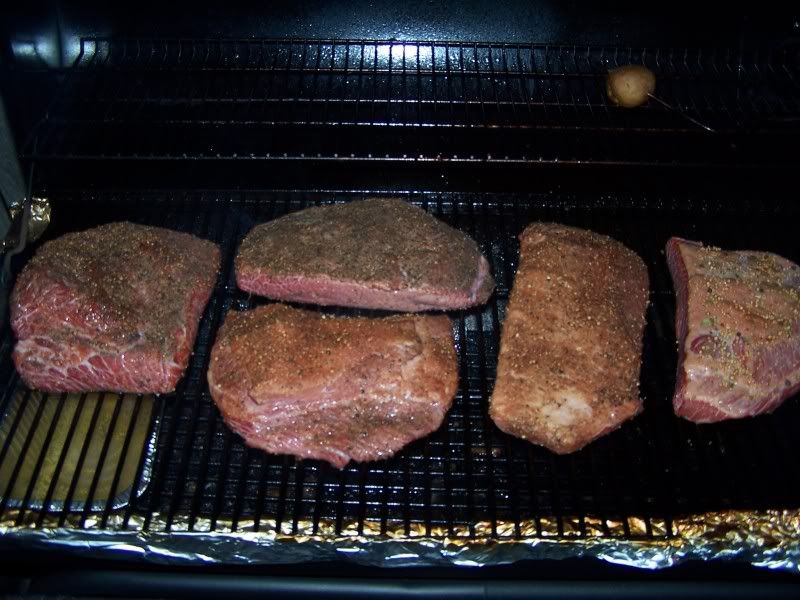 2 hours in.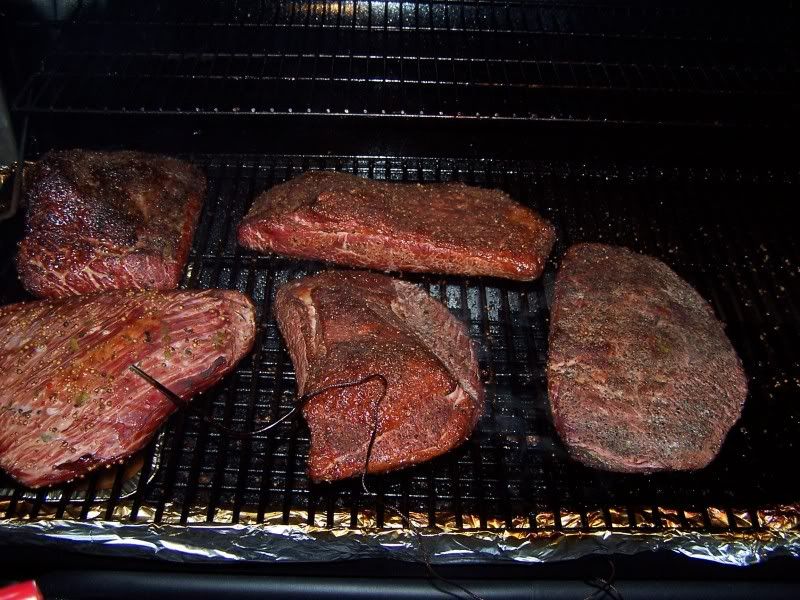 Once they hit 150 I pulled 3 of them off.
The packet spice rubbed one and one each of the others.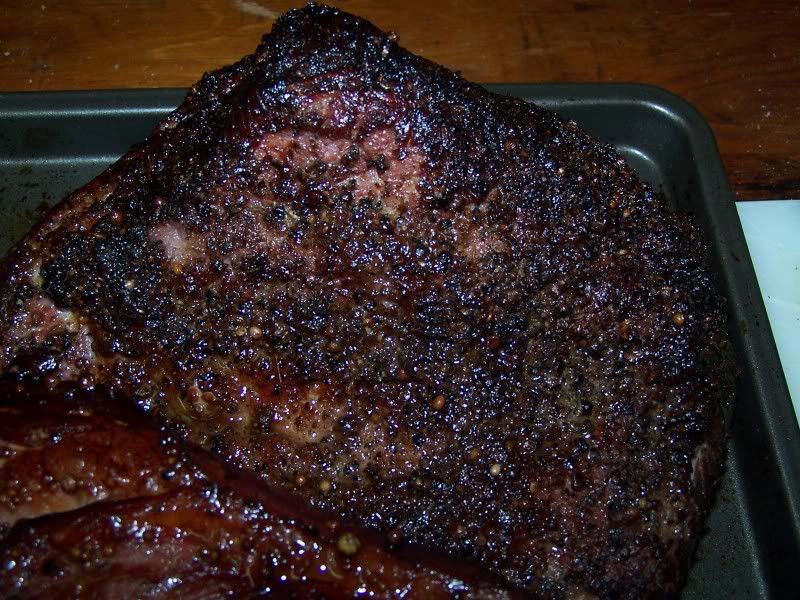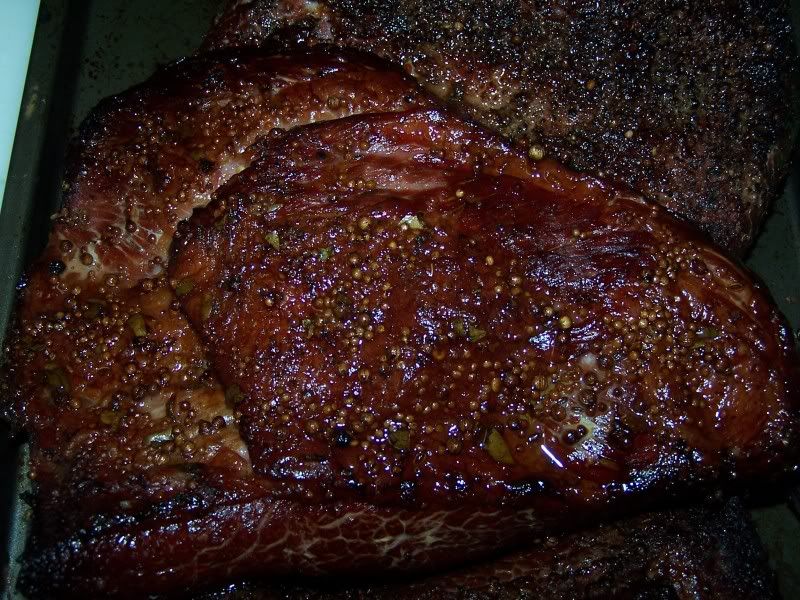 Steamed the packet rubbed for 3 hours and cooled and wrapped the other 2 and into the fridge till tomorrow.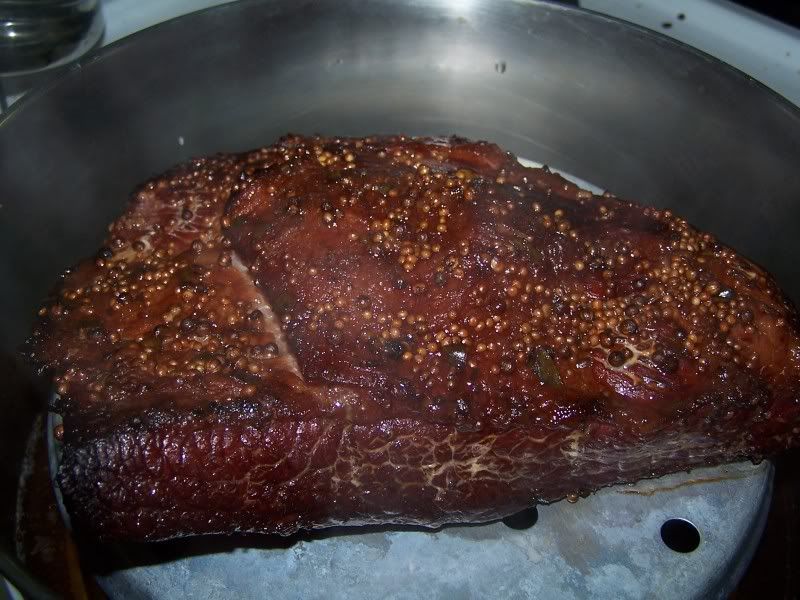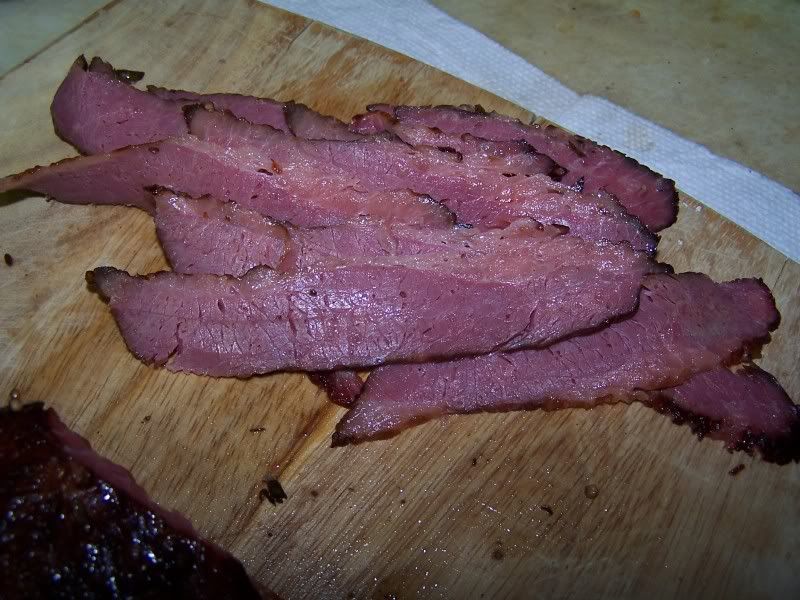 It was alright but still a bit tough for my liking.
Almost forgot to mention, the other 2 on the smoker were brought to 180, cooled and into the fridge for a day.
So the next day I grabbed the 2 that were brought to 150 and pulled, steamed them for a good 2-2 1/2 hours
(sorry about the few bad pics)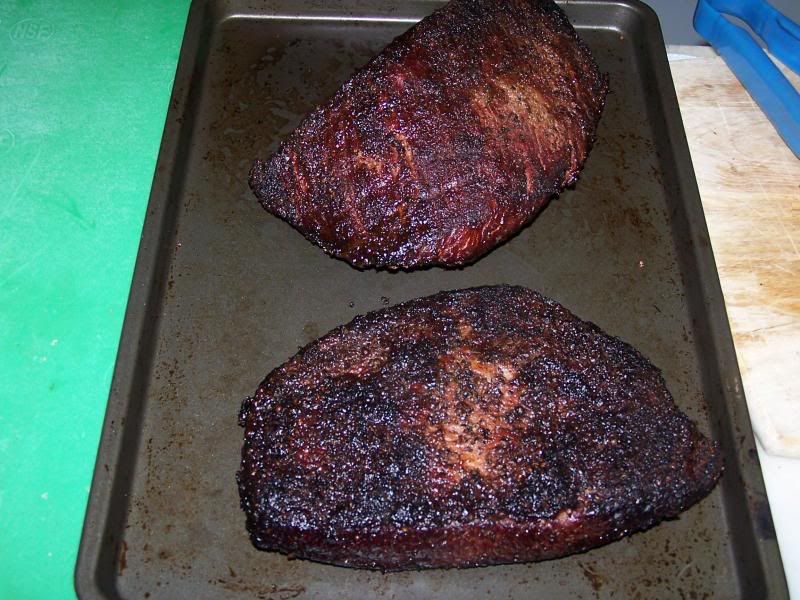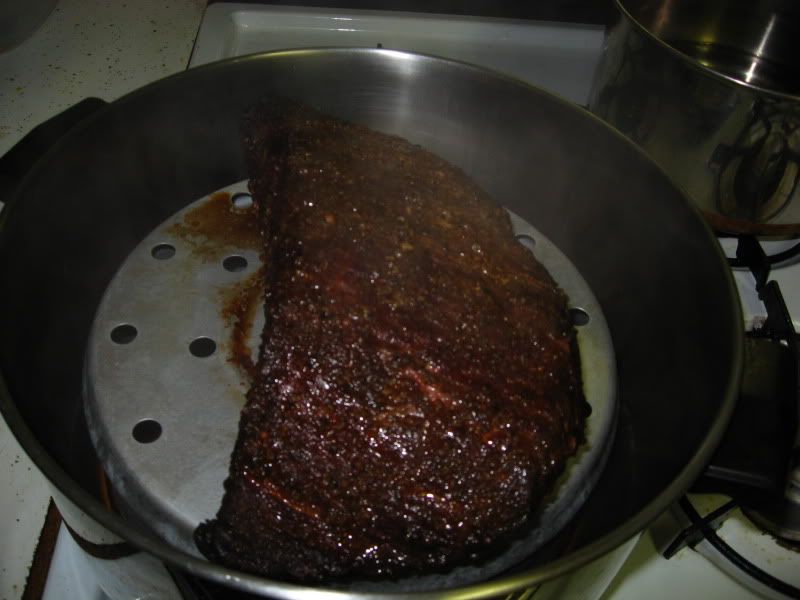 It was juicy and delicious, not fall apart tender but thin sliced would have been excellent.
So the next day I take the remaining 2 that I brought up to 180, steamed them for 2-2 1/2 hours and sliced up.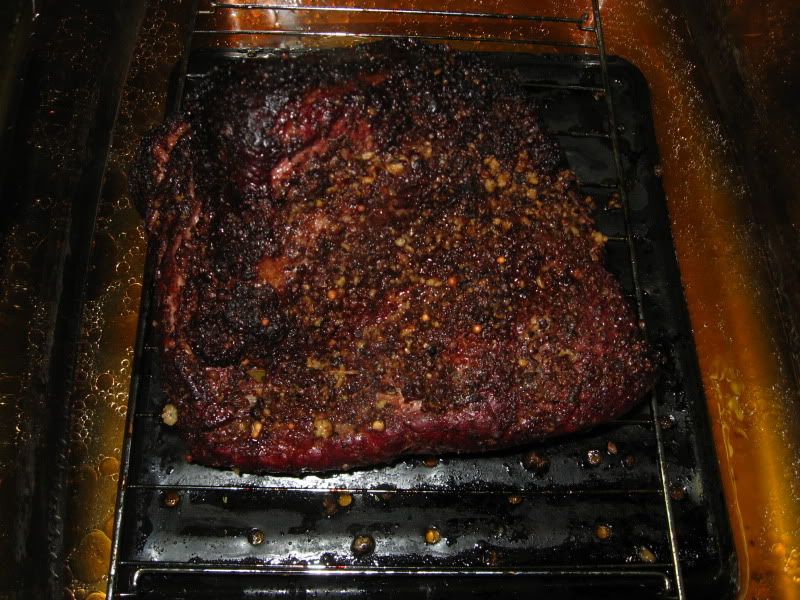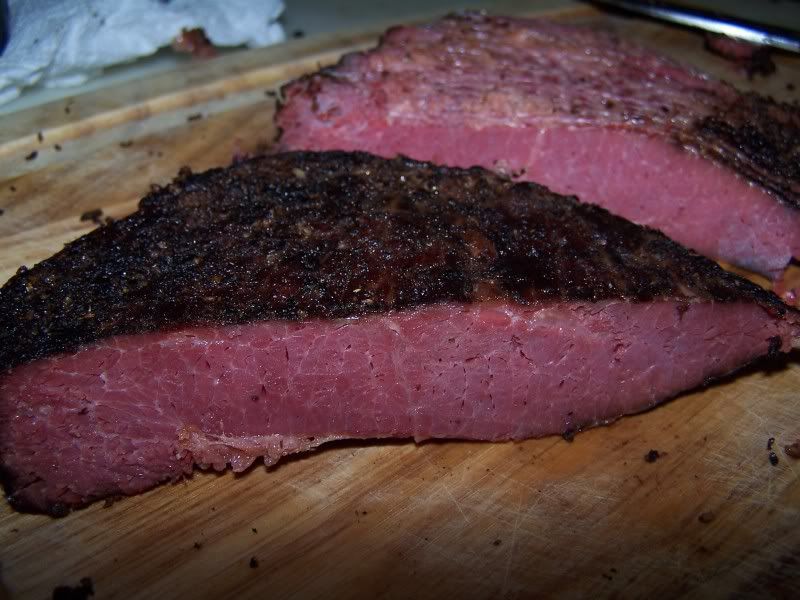 It just fell apart, melt in your mouth pastrami goodness.
It was a good experiment and I couldn't tell you which I liked the most, the 2 at 150 pull or the 2 at 180, guess it all depends on your preference on pastrami texture but they were both great.
Once it gets cold I am going to try a method I read about where you cold smoke a corned beef for 5 hours, hot smoke it for 5 more hours and then wrap and smoke another 5 hours. Best to do it when it is cold outside since you want the cold temp to be around 60 degrees.
Had plenty of pastrami so I gave some away to family members, some trimmed a bit because some people think even black pepper is a bit too spicy...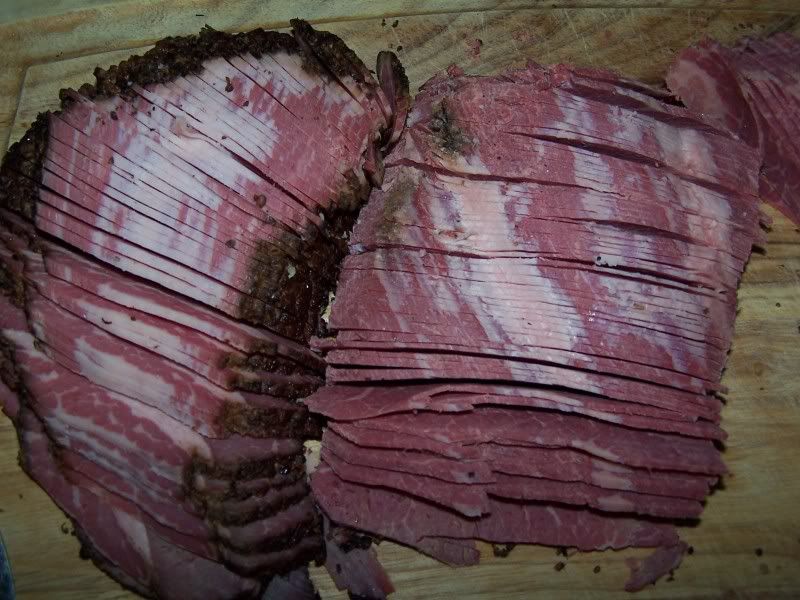 Thanks for checking out my long post, hope you enjoyed reading it as much as I did smoking and eating it.