Using a variation of Rytek Kutas recipe for for cooked salami I replaced the water with cream stout beer and added some paprika and chipotle peppers in adobo sauce.
Recipe for the 12 lb batch is
6lb beef chuck/cubed
6lbs pork butt/cubed
6 Tbls Tender quick curing salt
8 cloves of garlic
2 Tbls CBP
2 cups dry milk
2 Tbls corn syrup solids
12oz beer
3 chipolte peppers in adobo sauce
2 Tbls paprika
Here is the meat cubed up.
Ingredients measured out.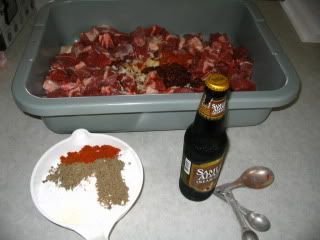 Mixed together.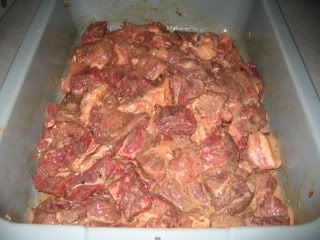 Ground and ready to be stuffed.
Stuffed and ready for the smoker.
Let them go at about 100o in the GOSM with no smoke for an hour to dry and then kick it up to 150o for about 6 hours with apple wood smoke. Then up to 175o until 155o internal temp was achieved.
I cooled em down in ice water and sliced into one and saw a problem. Meat still looked raw. Checked out the dial probe thermometer and is was about 20o off! Salami went into the oven at 170o and recalibrated the thermometer. They finally got up to temp about the time the hockey game ended last night. Cooled them down again in ice water and hung them up.
Sliced into one again and much better. Very tasty salami with just the right about of kick from the chipotle peppers.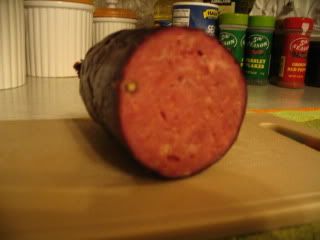 And just to make this post a little longer I did up some country style ribs before the game. Fired up the off set.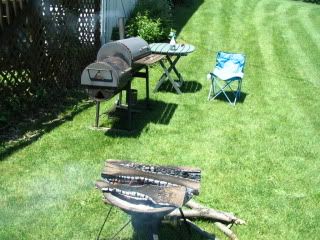 Was a beautiful day to work outside and do some smoking!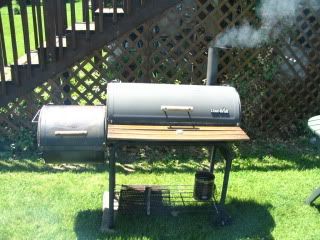 Meats on!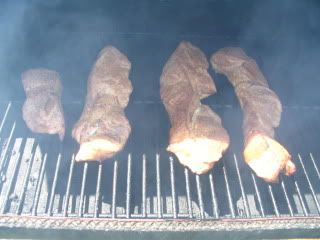 Smoked them for about 4 hours mopped with apple juice, bourbon, and Dales seasoning. Foiled for another 2 hours with more mop and served with finishing sauce.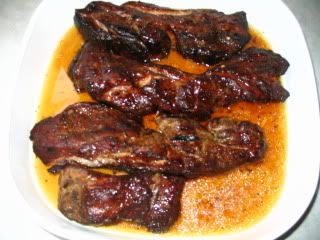 Made for a nice dinner before the game. Thanx for checking it out!
Lou