So my grandma turned 80 this weekend and we decided that on Saturday night everyone was going to come down to my mom and dads house for supper and a get together. Well what a perfect opportunity to smoke something right, and my grandpa had asked us a couple of weekends ago if my dad or I had ever smoked a brisket before so we took that as a subliminal hint that we needed to do a brisket this weekend along with some fatties.
Unfortunately my dad had to work this weekend and I have never used his smoker nor have I ever done a brisket but we were going to give it a shot. We got the brisket started at about 6:00 on Saturday morning and I kept it on a mix of mulberry and hickory smoke till about 11:00 when it got to about 163. Then it got wrapped in foil and back on the smoker, about 2:30-3:00 it was above 200 which really worried me. It felt like it was going way to quickly and I was so worried that it was going to be tough and terrible and since it was the first one I have ever done and all of my family was going to be there I was getting very very nervous. But I pulled it off and put it in the cooler to sit until we were ready to eat at about 7. It actually turned out way better than what I expected and it was nice and tender and had awesome flavor.
Here is the brisket after getting all rubbed down.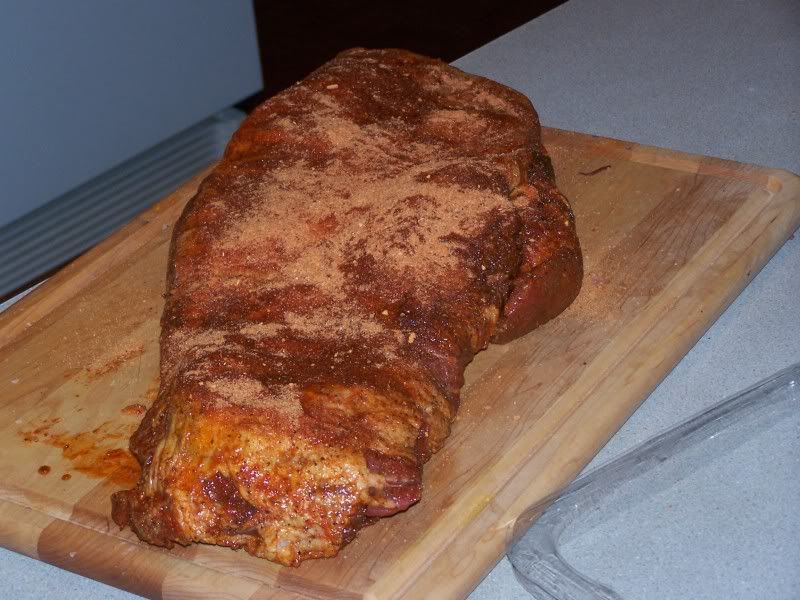 Here it is before slicing. I wasn't overly impressed with the bark that formed, but it tasted very very good.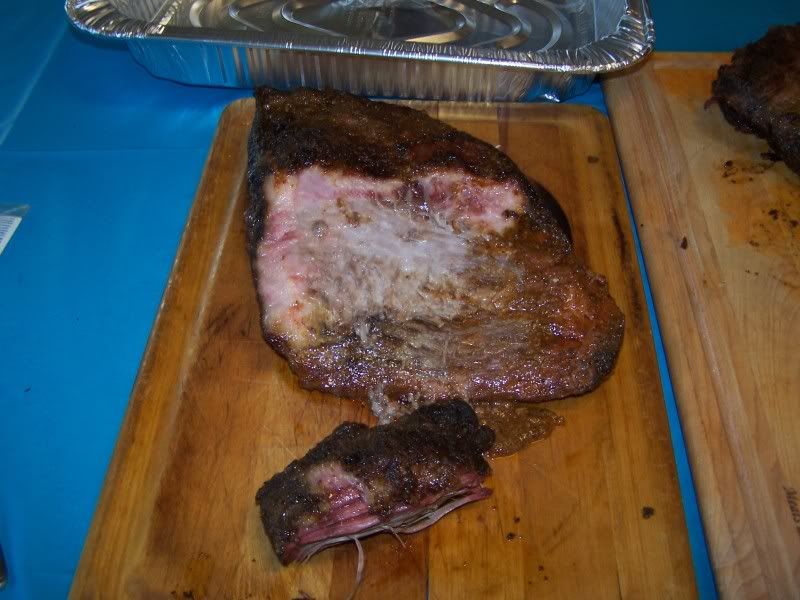 I thought we got pictures of it all sliced up but i cannot find them.
Now my family has never heard of let alone know what a fatty is, so we made three of them. We tried to keep this on a pretty even keel so it didn't scare them to bad. We decided that we would make a pizza fatty, a spaghetti and meatball fatty, and then one that was alittle more risque with a jambalaya. These were alot bigger hit than I really expected them to be.
Here is the three fatties taking alittle rest before slicing. The spaghetti is the one with no bacon. When I put these together I was slightly worried about that one because it never seemed to firm up even thought it spent all day in the fridge, but after being on the smoker it turned out very nice.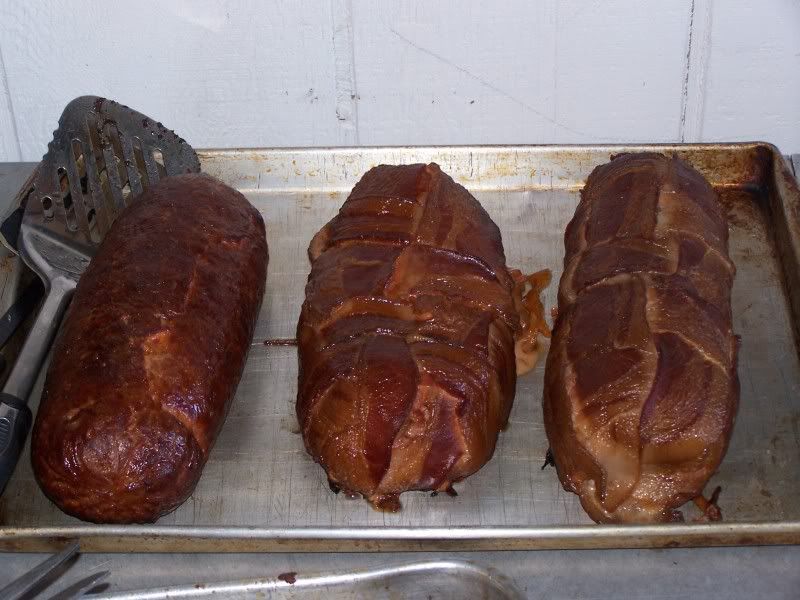 Spaghetti and Meatballs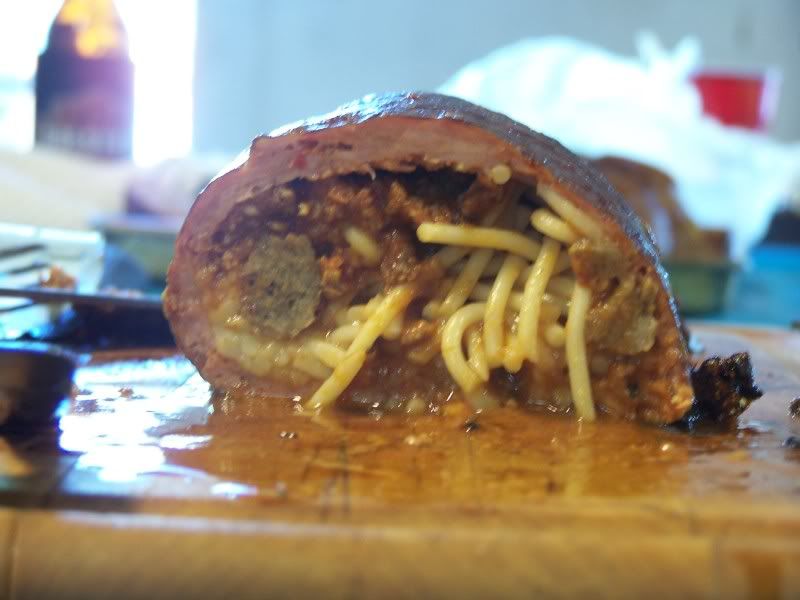 Pizza. This one got alittle full on me and we had a small blow out.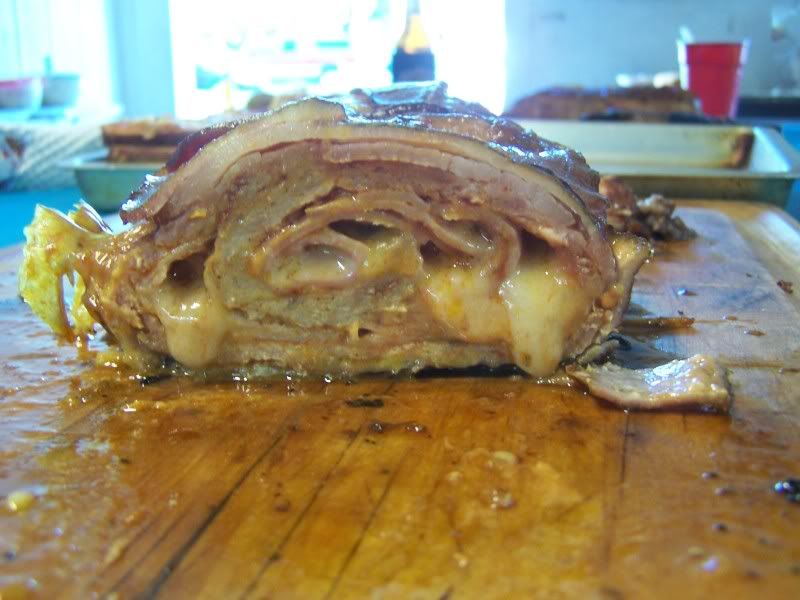 Jambalya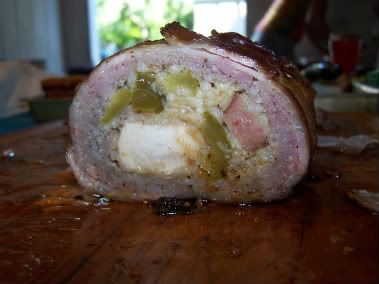 All in all we had a very sucessful smoke this weekend and every one seemed to be impressed and very full when it was all said and done.