Reposting some of my Q-view that got lost in the crash. These spareribs were from the first cook on my then newly-built UDS.
I used a rub recipe from Steven Raichlen (4-3-2-1) which included paprika, salt, garlic powder, and black pepper, in those proportions. It came out OK, but I lowered the salt content in subsequent rub preps, and started adding cayenne pepper for a little more heat.
Here's one of the slabs after applying the rub: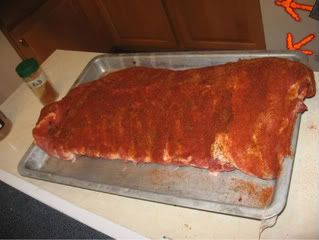 I smoked the ribs for six hours at 220-230 degrees using the 3-2-1 method. I added an apple juice and bourbon mixture by spritzing when the ribs were foiled. Fuel was briquettes with a few hickory chunks for smoke.
Here is some of the finished product: