We combined Mother's Day with my daughters graduation. My son in law and I said we'd take care of the meat end of things. We hauled both of our smokers to my mom's house and did everything there.
Didn't have time to take pictures while making everything, but did get one just before we served. Sorry no pics of the ABTs, they were already gone by the time we took pictures.
We made 4 pork loins. The first one was stuffed with apple, pecans, brown sugar and cinnamon. It was rubbed with brown sugar and cinnamon. The second was stuffed with sausage, mushrooms, onions, and mozzarella cheese. We applied a dry rub, and later basted on some Mahagony sauce. Number three was stuffed with fresh sage, dressing, and rubbed with sage. Number four was not stuffed, but had a dry rub and was covered with mustard before smoking. We also provided homemade BBQ sauce and a mustard sauce.
We also made 2 fatties. The first was a Mexican fattie with refried beans and Spanish rice inside. We rubbed the 2 pounds of hamburger with taco seasoning, and provided taco shells, sour cream, and shredded cheese in case someone wanted to make a taco. The second fattie was a pizza fattie. Two pounds of hamburger stuffed with pizza sauce, pepperoni, mushrooms, peppers, onions, and Italian cheese. This fattie was wrapped in bacon.
There was also two slabs of spare ribs that were started the day before and finished off the day of the party. These had a homemade dry rub, and our homemade BBQ sauce.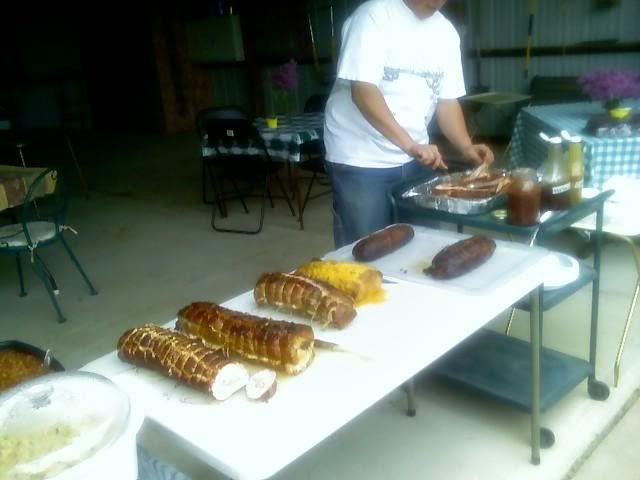 Seemed like everyone had a good time, and liked the food. The fun part was having so many different things for people to choose from. They'd take from one or two loins the first time, and try a different one when they came back for seconds.