Well I got it done. My first brisket. A little over 8 hours. Took it out at 189 degrees, foiled it and let it sit for about 30 minutes. It was a bit spicey, will reduce the Cayenne by half next time, but other than that, it was very good. Tender and juicy. I almost gave up about 3 hours into it, this stick burning is for sure a learned craft. But I managed to get the fire going and maintained between 220-255 degrees. 240 was about the average. This started out as a full brisket, I trimmed it down, and decided to cut the thinner end off, thats why it looks square. I took the thinner end and sliced it in half lengthwise, unrolled it and layered it with fresh spinich, sun dried tomatoes and blue cheese along with some garlic and black pepper. Rolled it back up, tied it with bakers string and threw it in along with the brisket. Came out pretty good, but most of the cheese melted out of it :( Overall, everything was great as we just finished dinner with brisket, asparagus from the garden, and taters. It dont get better then this LOL. Thanks for checking out my qview.
Todd
Unwrapped and ready to cut.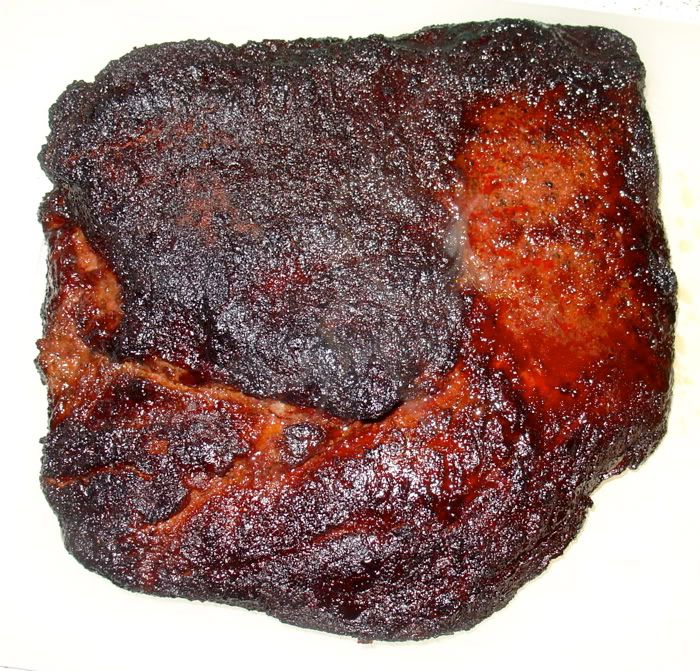 Gotta good smoker ring...

The end of the brisket that I cut and rolled up with veggies and cheese.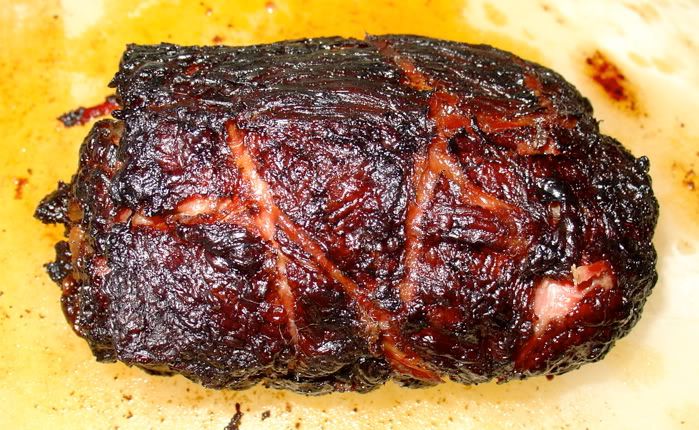 Looks pretty good, but will work on this for next time. Gotta figure out a way to keep that cheese in there LOL.