So many people have been making pastrami lately I felt left out so I thawed out the last couple .99lb ones I had in the freezer.
I was short on time so I only soaked them for a little over an hour, big mistake as they were really salty but still good.
Decided to give Travcoman45's rub a try. (Thanks Tip)
http://www.smokingmeatforums.com/for...d.php?p=300981
All rubbed up and ready to go.
You may notice there is a big chunk missing from the top. That's what happens when trimming the fat while I was watching an episode of Star Trek on the computer. Oops!
Smokin 'em up with a piece of chicken I was smoking for a salad.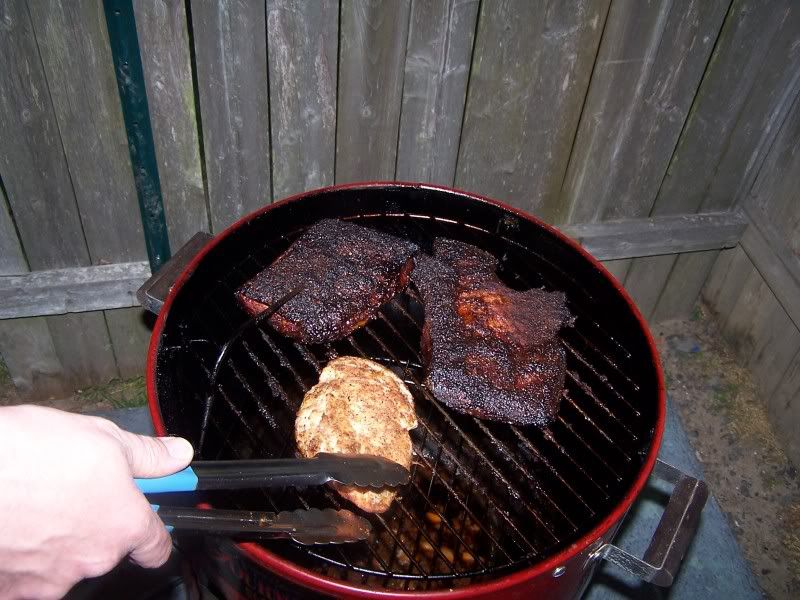 You may notice the fence in the background, my parents were throwing out some old fencing they had and so I took it and use it as a easy to set up removable wind block. Pound a few poles into the ground to hold the pieces up. That day the wind was 30 something and gusted up to the 40s. If you sat next to the smoker there was no breeze but if you raised your hand it was windy as hell.
Salad-smoked chicken, mushrooms, tomatoes, garlic, feta with Italian dressing and balsamic vinegar.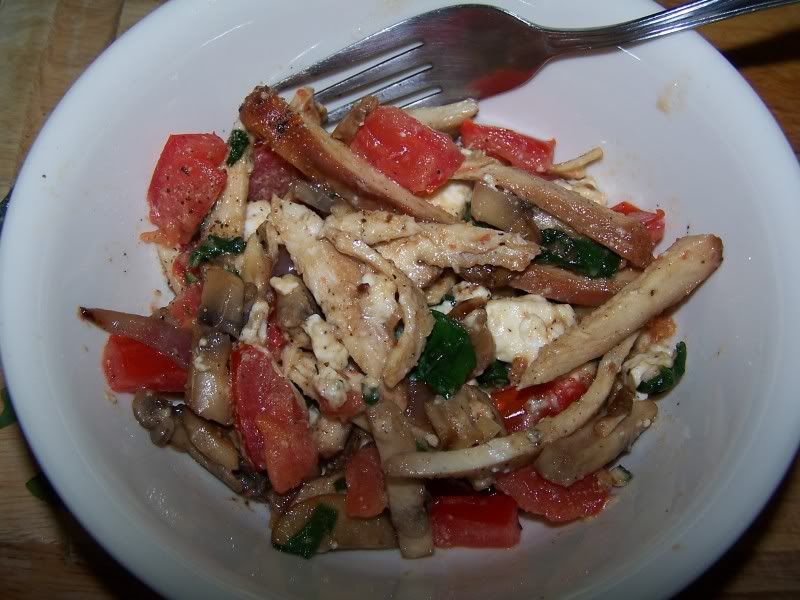 Spritzed every 45 minutes-an hour with apple juice. Brought up to 180 pulled off and cooled. Didn't wrap in foil to finish this time and it worked out fine.
After they cooled I wrapped them up and threw in the fridge till the next day when I steamed in a pot with fresh garlic cloves.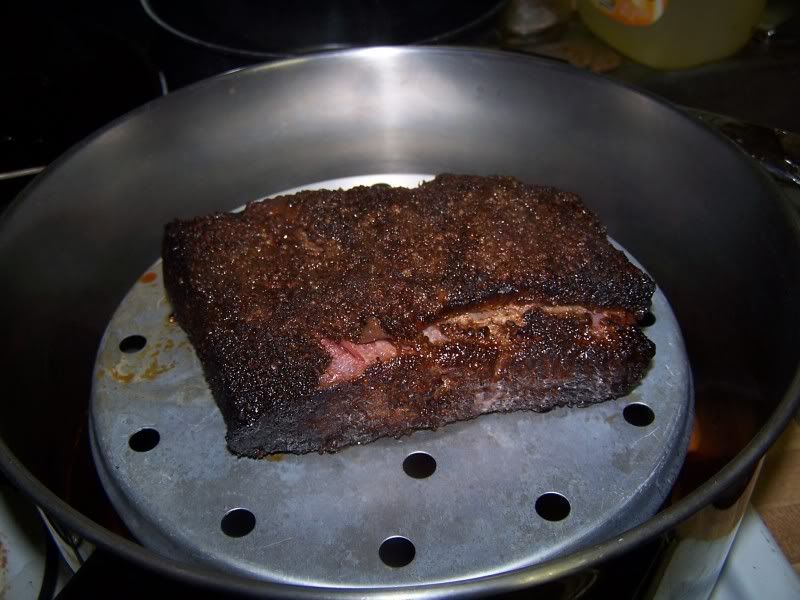 Sliced sort of thin, I really need to get a slicer...
Grilled rye bread and spicy brown mustard. I put lettuce, tomato and onion on mine but no pic of that cause, well, we all know what L,T,O look like...
Tips rub was really good and I will use it again but the pastrami was very salty due to me rushing. Next time I will make sure to soak it properly and try out the frying pan test. After steaming for a bit that drew a good amount of the salt out and then it was really good.
Thanks for checking my pastrami out. If you've never made one I would highly recommend it, well as long as you can get them on a good deal and not $4.99lb or so.
If I ever find a good deal on brisket I am going to try corning that myself so it will truly be homemade.