Last night my roommate and I decided that it was a nice night to smoke a fatty so we commenced to coming up with an idea. We decided that a breakfast fatty would be a good idea but we wanted to take it up a notch so we started racking our brains on how. We decided that since biscuits and gravy might be the greatest meal on the planet and a fatty is becoming one of our favorite meals that putting them together only made sense.
For our filling we settled on eggs, sauteed onions green peppers and japolenos and charizo sausage.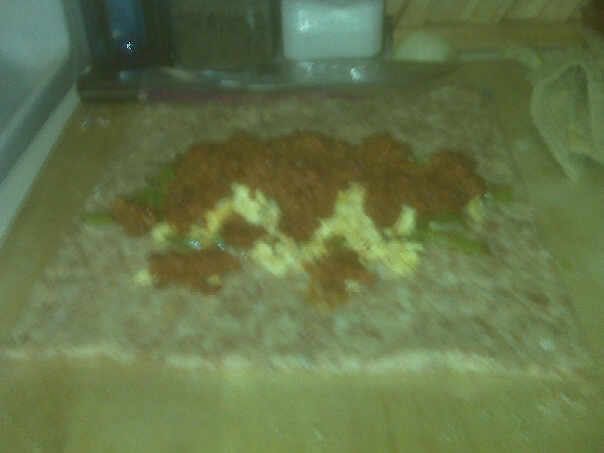 I had some problems with keeping the smoker temp up....once it started to drop a bit it really plumated quick so it took me alittle longer to get the fatty done, it came off about 11:30 so it was about a 3 hour smoke instead of 2 but it wasn't a big deal. Since it was so late and since we had been drinking we decided to let it cool off in the fridge and finish it in the morning.
This morning when I woke up I fired up the oven to get the fatty back to temp and rolled out some biscuits. *Sidenote* Do not use biscuits in a can for this they are very hard to roll out. Once the fatty was up to temp I pulled her out and let it rest and drain for just a bit and turned the heat up on the oven. About 15 min of rest time and I rolled it up in the biscuits, the roll isn't very pretty but I struggled pretty hard with getting it rolled out evenly. Once it was rolled up it went into the oven for about 15 min to cook the biscuits.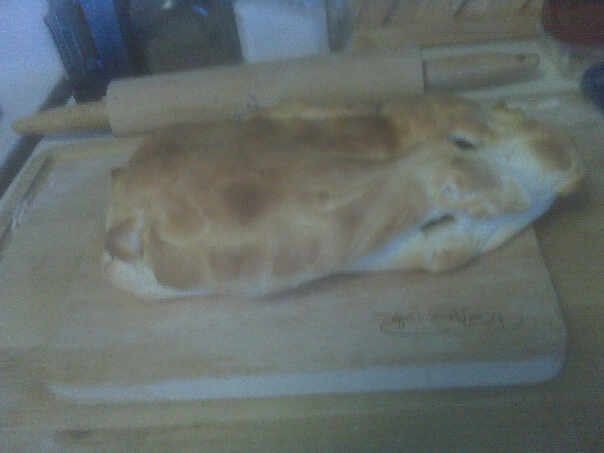 A nice cross cut sectional.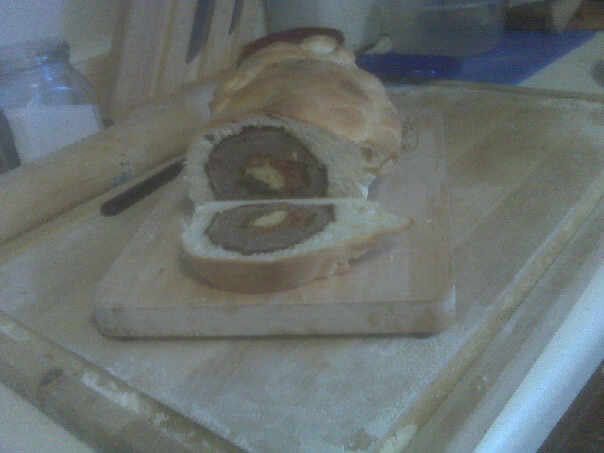 Slathered in gravy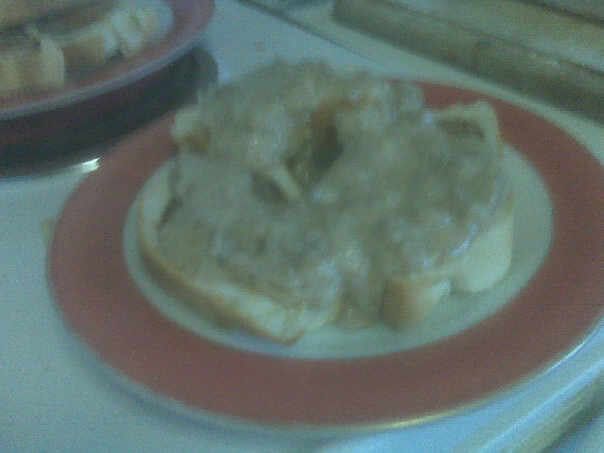 It was AMAZING. This is my second fatty and they just keep getting better. Sorry for the crummy pictures we only had my roommates blackberry.