We were getting together with some friends this Saturday so I made some ribs.
Here they are before I opened them up and removed the membrane.
Here they are slathered with a light mustard coat and sprinkled with my rub.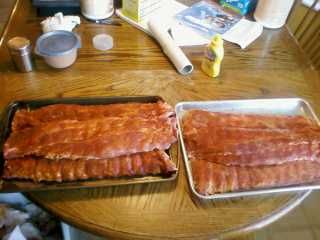 And here is the final product.
I smoked them for about 4 1/2 hours and then held them in the cooler to stay hot till the party. There was also 3 lbs of keilbasa that I threw on the smoker too, but I forgot to take a picture of that.
12 people 6 slabs, 3 lbs of sausage. all gone!