I've done two cooks on her now! I am very, very pleased. I'll try not to get too long winded here, as this is more about letting you see her than it is me describing her. I guess you can judge the value and performance, once I start posting some que view again!
First off, her name is "The Mistress". My wife actually came up with that. I had another name in mind, but hell - how could I argue with my wife on THAT name?!? God love a spouse with tolerance and a good sense of humor.
This is a Bell Fabrications custom offset, or Bell Fab; Craig Bell of Tulsa, ok is the owner/builder. She is 1/4" steel plate with super-heavy-duty expanded metal grates/ She's a 24" pipe, 36" long plus SFB. The SFB is a 20" pipe - and that is 5/16" thick steel plate. She weighs in at 550 lbs...
The first pic is for perspective...that there is the biggest cooler I own. (40 quart Coleman)
A little closer up...quick story: someone told me if I sprayed the outside of the SFB only, I wouldn't lose the paint. After a 7 hour burn for the seasoning...holding 400° for about an hour of that time...I'd say it works! Course, it makes it look kinda crappy - but I'm going to clean her tomorrow night
One more from here:
Closer look at cooking chamber:
SFB w/ nice warming plate. Notice the intake looks a little small for a rig this size...it's not, trust me - more on that later.
Inside the fire box: CHECK OUT the fuel grate. Super thick metal grid, about 2" thick bars that make it up. Burning wood only, that will out live me...
Inside:
Good look at the two grates. Top grate is 12" x 36", bottom grate is 24 x 36"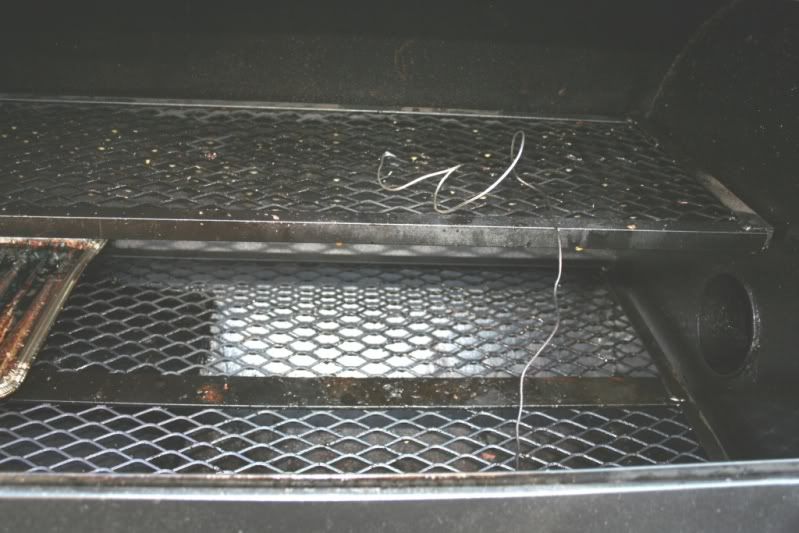 More to come, next post!