So the other day I was browsing the meat department and found this...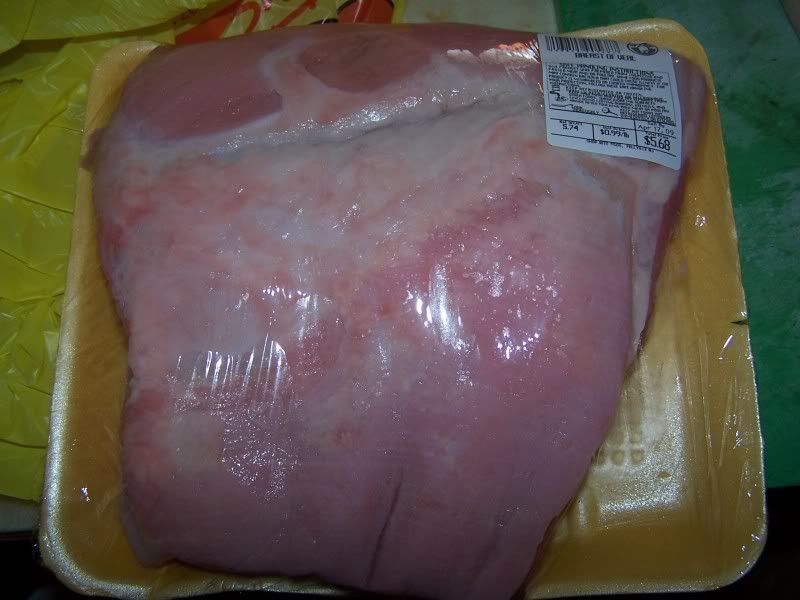 Unsure what to do with it, besides smoking, I removed the breast from bone and trimmed some of the fat...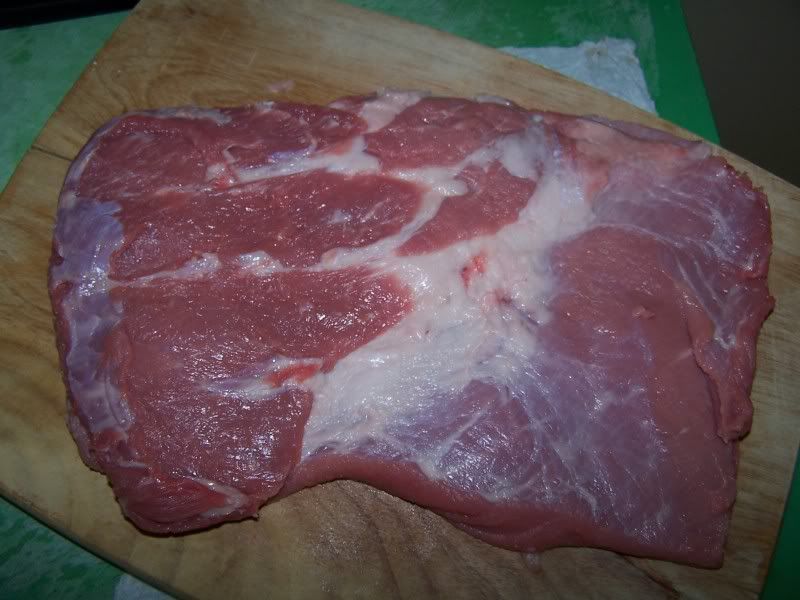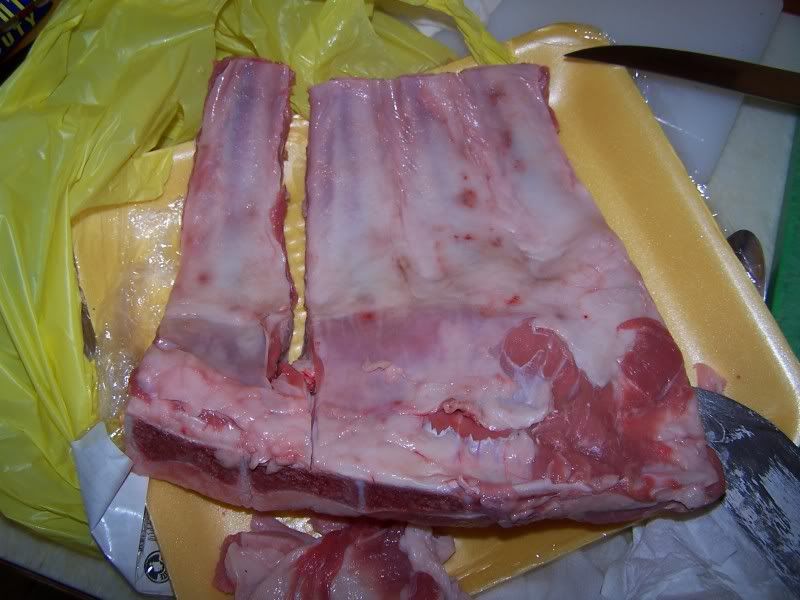 more on the rib bones later
Seasoned it with some CBP, store bought steak seasoning and red pepper, wrapped and in the fridge...
Only sat for a few hours because it was spur of the moment, would have preferred overnight.
No pictures from in the smoker, it was on the bottom rack of the red bullet so no good ones came out.
I figured I would take it to 140, wrap and bring to 180.
Added a little Snapple to the top of it. It is made from the best stuff on Earth...
Out of the smoker...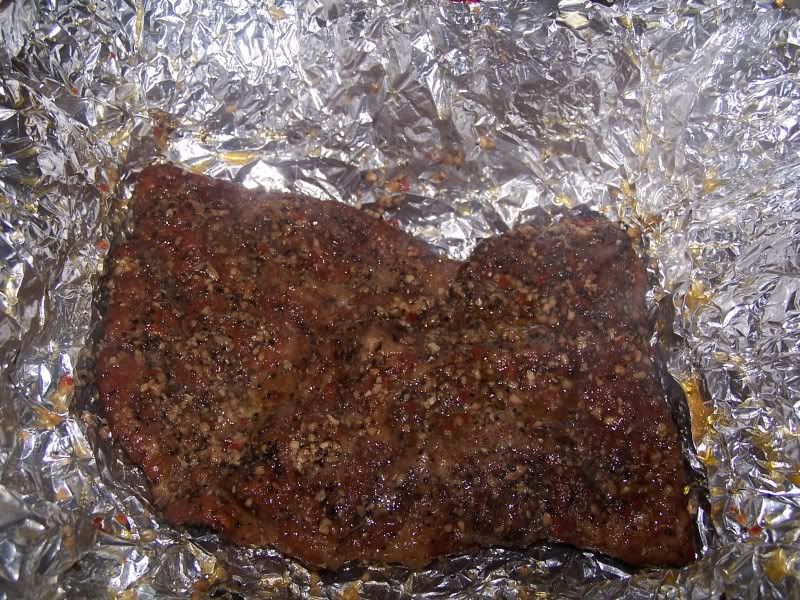 Seems a bit dry, so I cooled it fully and threw in the fridge, reheat to come...
The veal breast was ok, but what about the bones?
Waste not want not...I put the bones in a foil pan and threw them in the smoker along with some onions and garlic in my little cast iron... (Gonna make a smoky veal stock)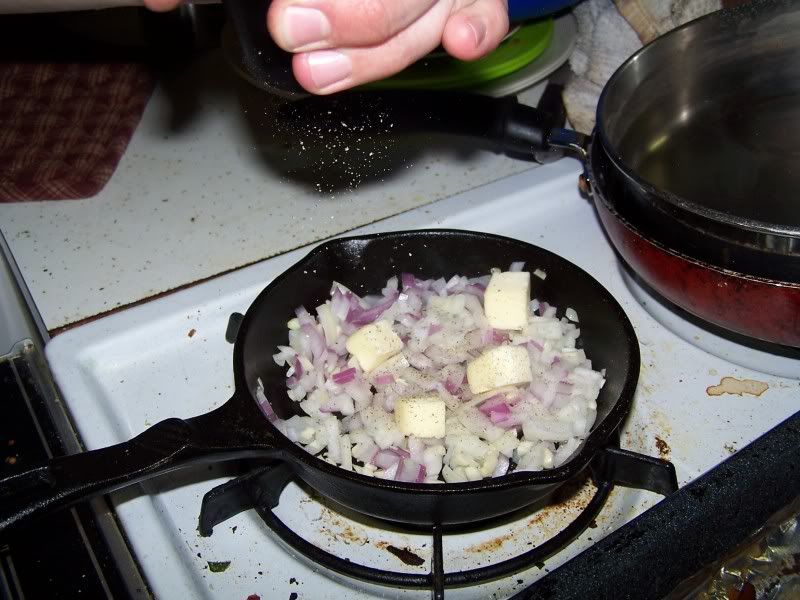 They were smoking nicely until...
The things we have to do for some smoky goodness...
When I couldn't take any more rain I pulled them off. The onions and garlic were meant for something else but it wasn't until I dumped them on the bones did I realize it, so oh well, even more smoke flavor...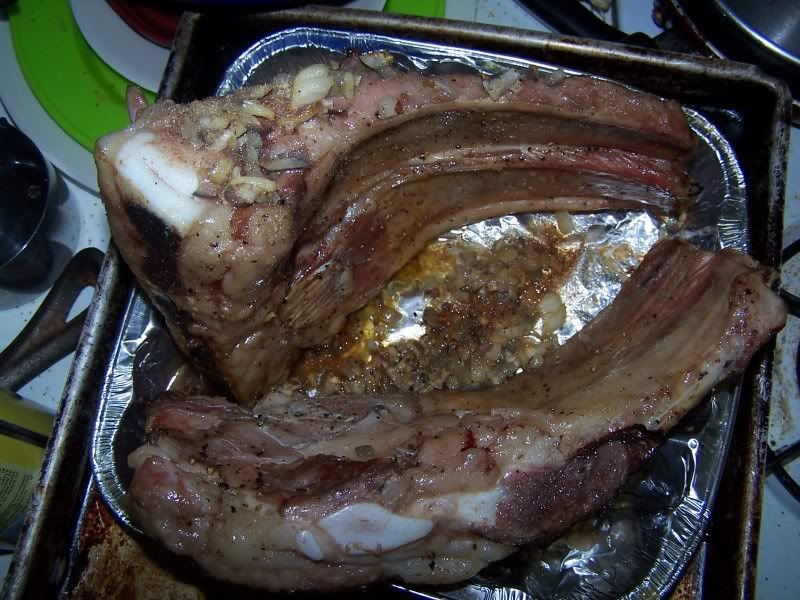 Into the oven at 425-450 for around an hour then cool and into the fridge overnight...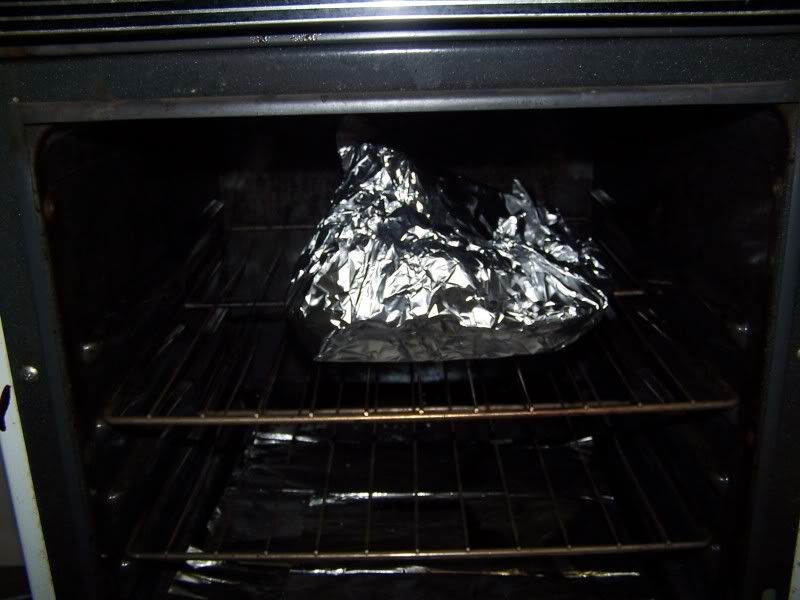 The next day out of the fridge, I scrapped the fat off of the top and reserved 2Tbsp.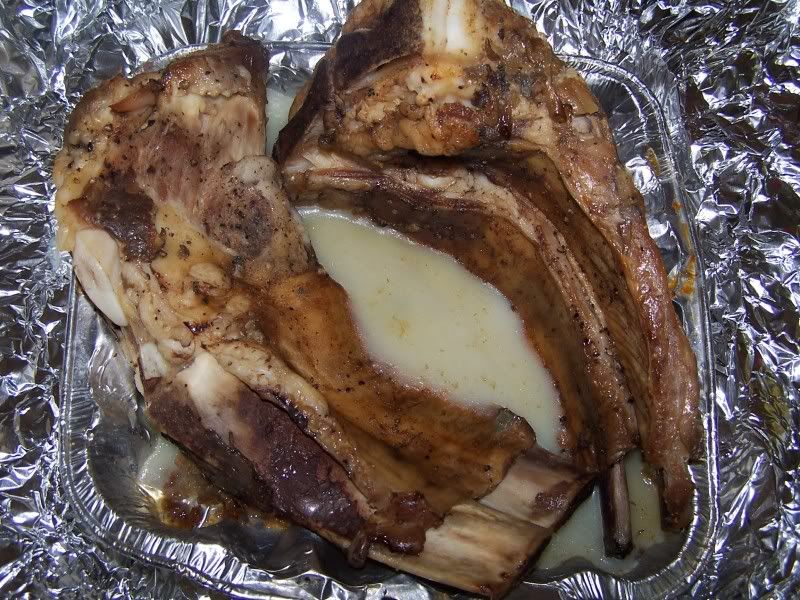 Rough chopped 1 large onion, 5-6 garlic cloves, 2 carrots, and 2 stalks of celery.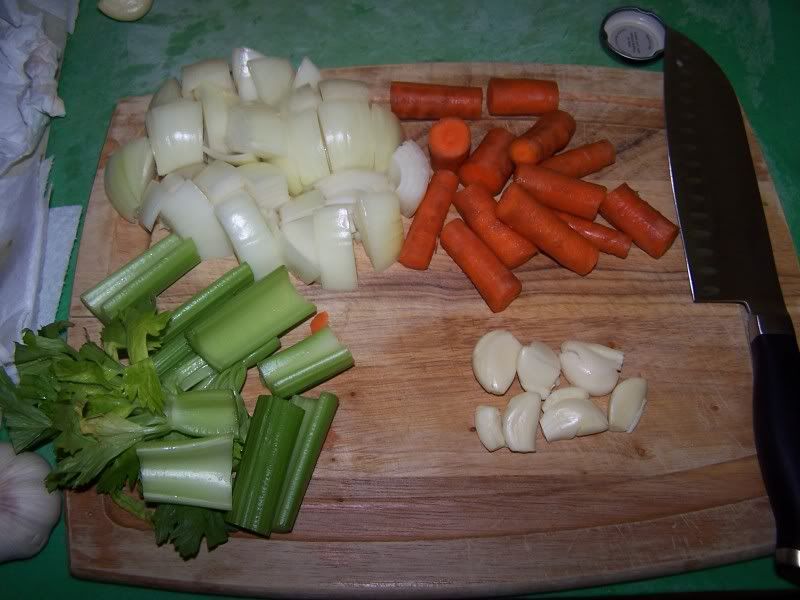 I must mention that the carrots may look dirty, but they aren't, just the way they looked after the pic was taken.
Slightly heated the ribs and reserved the juice...
Put the reserved fat in a stock pot over medium heat and threw in the veggies and cooked for 10 minutes, stirring frequently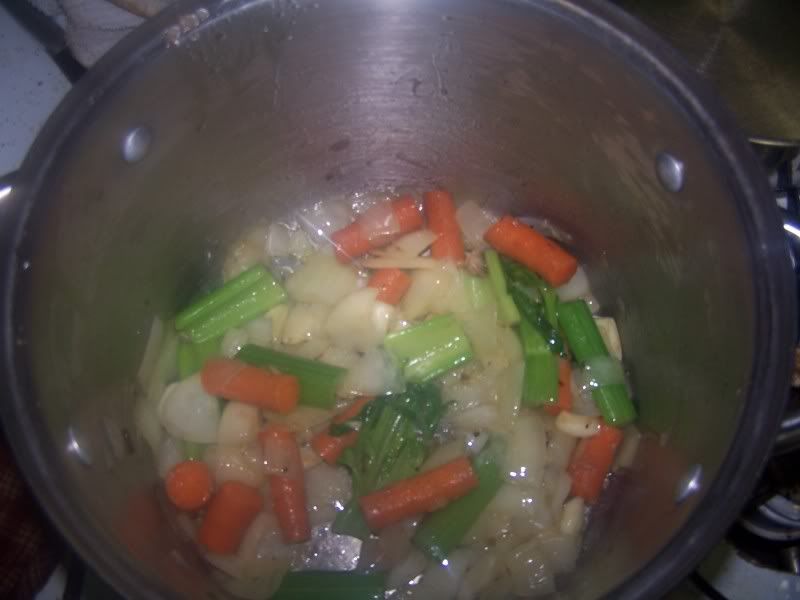 Added about 1 cup of chopped tomatoes (I used canned) and the ribs and cook for another 10 minutes...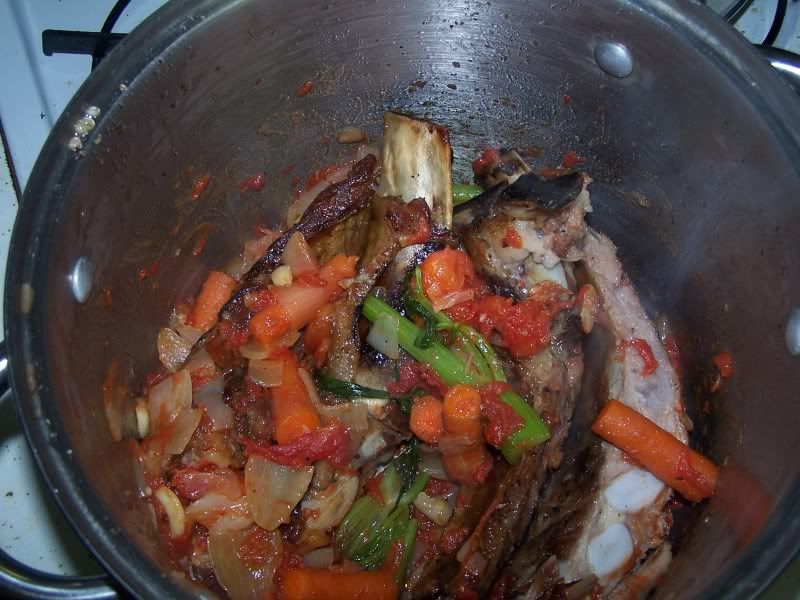 Added enough water to cover by a few inches, 2tsp whole peppercorns, about 1tsp thyme one bay leaf some kosher salt for good measure and the reserved juice and brought to a boil...
Reduced to a simmer stirring occasionally for 6-8 hours (I did 6)
Ok, now a snack. I took the veal breast out of the fridge and decided to try steaming it like a pastrami reheat. Have pics but I'm reaching the limit as it is. Put a little water and some liquid smoke in a large pot, put an inverted pan with holes into the pot, breast on that and covered, steamed for about 30 minutes and sliced...
Was very good, not enough smoke flavor though
6 hours later...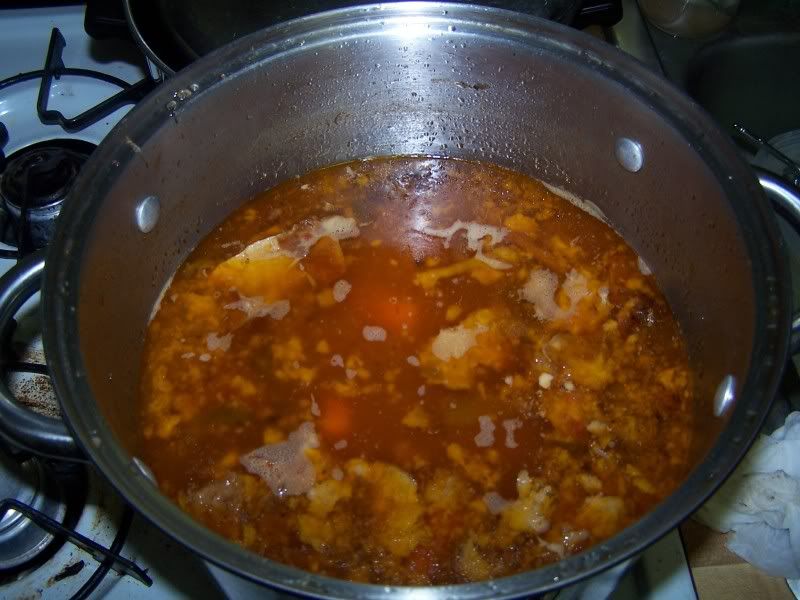 Removed the bones and strained everything. Use a spoon to push down and squeeze out all of the goodness...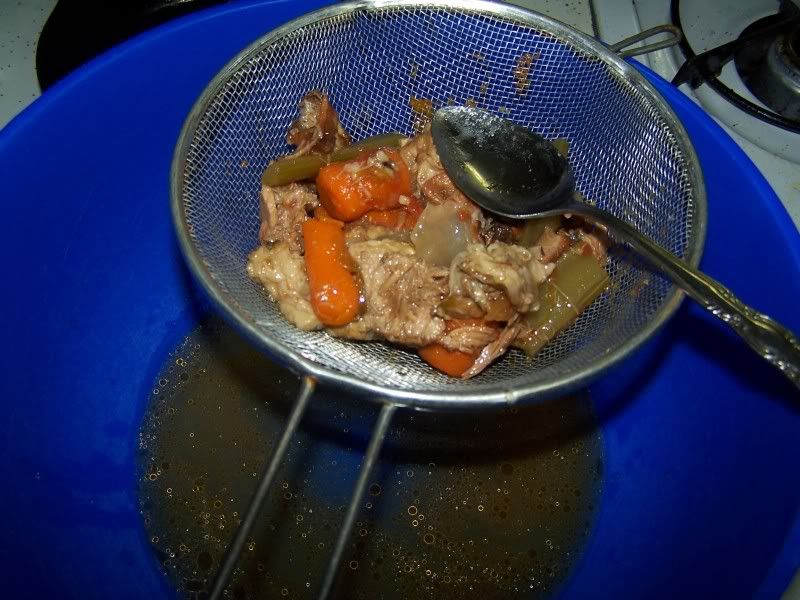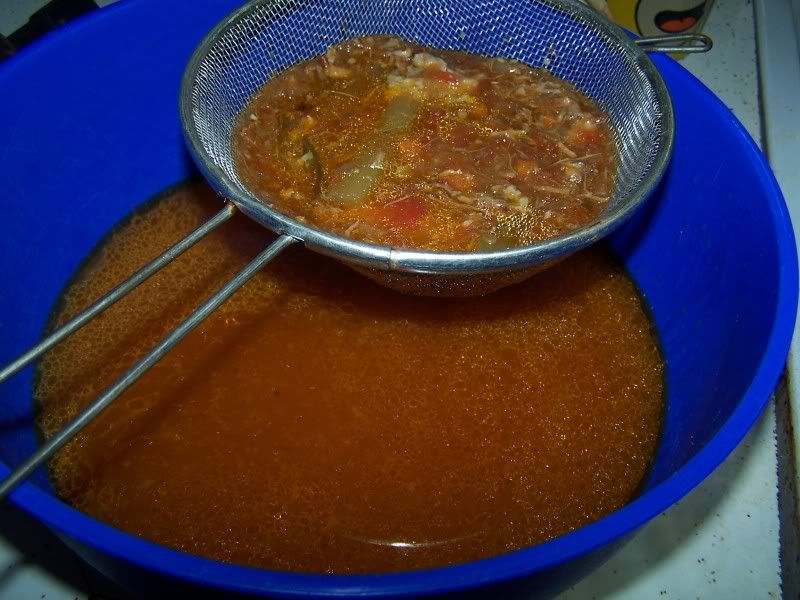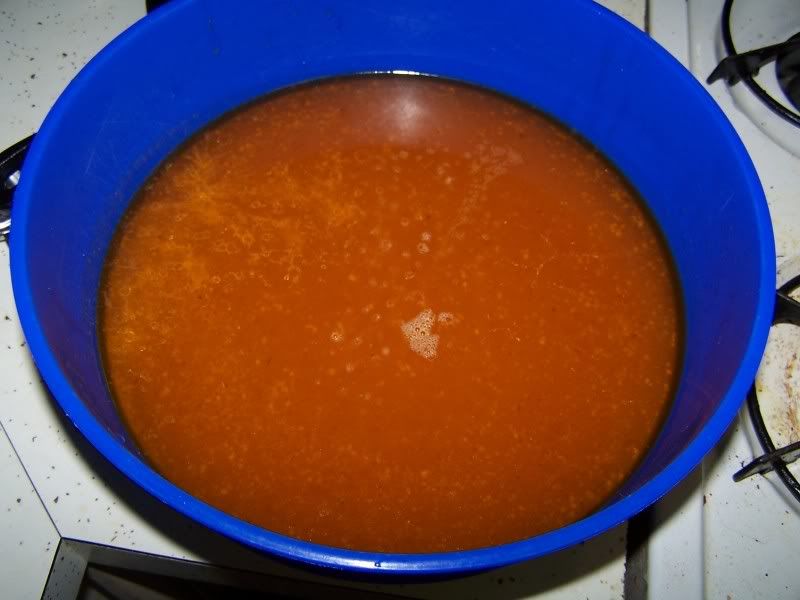 Cover and in the fridge to cool. A few hours later I removed it and skimmed the fat off and gave it a taste test.
Tasted very watered down (this is normal when doing stocks) so I threw it in a pan on the stove over low heat until reduced by half.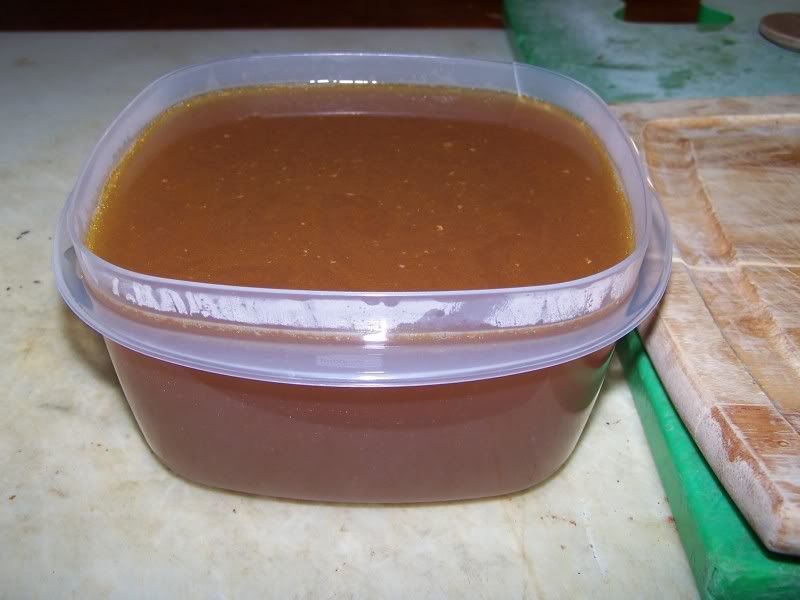 It was good stuff, but now what do I do with a smoky veal stock? Use it with some smoked chicken and smoked kielbasa and make a smoked jambalaya!
And that is another post...
Thanks for checking it all out.