This was the first brisket I've done in quite some time, but I figured I'd go all out for Easter weekend. Picked up a 10lb packers cut, gave it a good dry rub(I promise I'll remember to write down the ingredients next time), and plugged the fat cap with halved garlic cloves and basil paste. Wrapped it in plastic and threw in the fridge overnight. It wasn't until the next morning that I decided to check the weather, pretty smart huh? There was a good ol' Texas shower headed our way and it was supposed to rain from midnight to noon:( So I've never considered putting a brisket in the oven, but didn't have many choices. Decided to fire up the smoker around 8pm and stay up with the brisket till it started raining, bake it in foil overnight, and put it back in the smoker as soon as the weather cleared up. Luckily it didn't rain till 3am, and I was able to start smoking again by 10 the next morning. I left it in till 2 in the afternoon before, so all in all, it had about 16 hours of cook time at 225, leaving the fatty side up the whole time.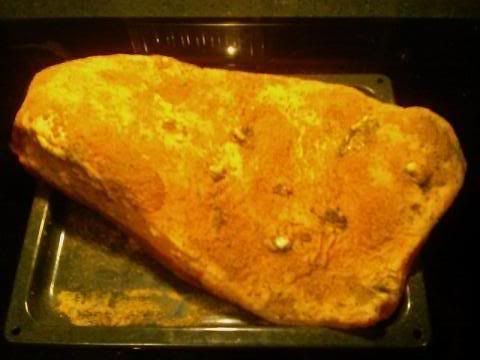 Out of the oven, back to the smoker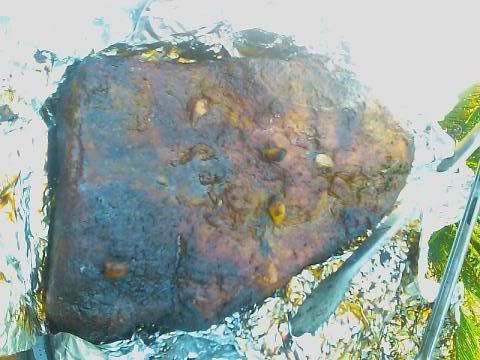 Luckily remembered to take a pic before it was all gone.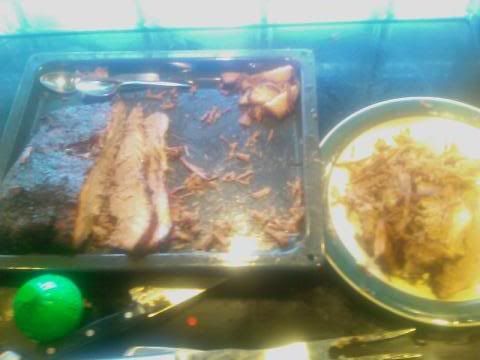 Turned out pretty darn tasty, but I did learn a few things
A) always check the weather before buying a brisket.
B) If you don't and it rains...use the oven, it wont ruin the meat.
C) scotch is entirely too strong a beverage to drink while cooking something that takes as long as a brisket.