Made my first batch of
Pane Siciliano from the Bread Bakers Apprentice (BBA). These loaves were made over a period of 3 days. First day I made the pre -ferement and placed it in the refirdgerator for 24 + hours. This is to retard the dough and allow for flavor build up out of the flour. It will also make the finished bread taste more rustic for lack of a better word. I didn't take pictures of that step but the rest of the steps are below.
Day 2 removed the preferment and mixed with 40% Semolina flour, 60% Bread flour, salt, honey, 1 tsp. yeast, and 1 1/4 cup water. Once done, placed into a bowl and covered for 2 hours into the proofer to double.
After the had doubled in size I formed them into 24 inch lengths, and using the baguette method ( I really need to work on uniformity of the strands.) from there I formed them into the traditional Pane Siciliano shape.
From here they were sprayed with vegetable oil covered with plastic wrap and placed back in the fridge to retard and build flavor for another night.
Day Three
After a night in the fridge, I let them come to room temp and rise again while I brought the oven up to 500 degrees. I also let a heavy pan come to temp in the oven to be used to introduce steam in the first few minutes of baking. Once the oven was to temp, I placed the bread into the oven. Added a cup of water to the steam pan and closed the door, after 30 seconds I opened and with a spray bottle sprayed down the sides of the oven to help create more steam. I repeated this step two more times and then turned the oven down to 450 degrees. Baked the loaves for 15 minutes and then rotated the pans 180 degrees and removed the steam pan. Back into the oven for 10 more minutes. The recipe says they are finished when the bread reaches 200 - 205 degrees. They were well over 205 according to my thermapen so I pulled them and let them cool off.
And a close up of the crumb. I was somewhat dissapointed in the crumb as it was fairly moist and did not have a lot of structure. I am thinking that thsi was caused by two things. 1. I had just baked a loaf of semolina flour sandwich bread that came out really dry and so when I add the 1 1/14 cup to this 40% semolina loaf I #2 ocer hydrated the bread. I should have started with a cup of water and then added the 1/4 - 1/2 cup called for in the recipe.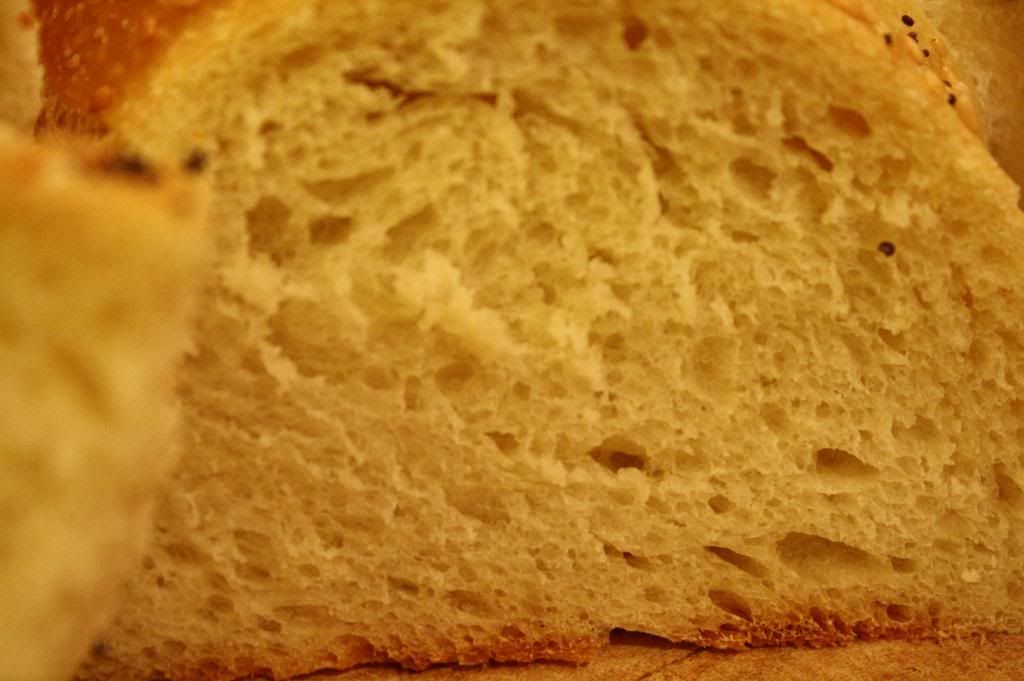 However the crust was crunchy and the flavor was bold. Worth trying again.
Thanks for looking.