Grilled the burgers on Sunday. One was a glazed burger. Pork was mixed with bread crumbs, eggs, S,P&G, etc. The glaze was a currant jelly with other spices. The other was more exotic, with fish sauce, ginger, peaut butter and a few other things. They both turned out great. Everyone ate more than their share.
Even grilling, I couldn't resist the better weather, so I threw on a brisket. Cooked it in my Backwoods - one of the best I've cooked so far! Hope I can replicate it - only 2 weeks to Commerce cookoff!
A few pics of burgers and brisket.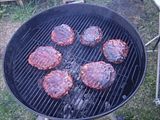 _________________