I gave Abelman...Pete's, grilled leek recipe a try and they were wonderful!
Thank you again Pete!!
I split the leeks and brushed them with bacon drippings and seasoned with kosher salt...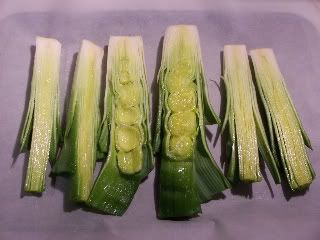 Onto the grilll....
I wrapped the leeks in foil and continued cooking for about 15 minutes...
Then topped the leeks with a splash of balsamic vinegar, some smoked cheese (all I had on hand) and some crumbled bacon.
They were tasty and my company loved them too. :)
Thank you again for sharing your recipe Pete, I will be making these again soon.
Thanks for checking out my GrillView.