This is a repost from "BC" inspired by one Bubba did. Hope you like it now as well as I did eating it then.
Started with a 9.80 lb ham that was $1.79/lb so totaled $17.54 (now I can come back and look at these 5 years from now and say "Boy that was cheap!"). It was labeled Shank Portion Ham, hickory smoked and super trimmed and came from Sam's.
I followed the Bubba method for the most part...here's the thread on that.(
http://smokingmeatforums.com/forums/...ad.php?t=15267
)
You can find the rub I used here, and the glaze, but no mop for me except that in the last 45 minutes I used the glaze 4 times.
ETA: Here are the amounts I used:
Rub:
4 T Brn sugar
2 T paprika
2 T Pepper
2 T Sugar
2 T Salt
2 t garlic powder
2 t mustard powder
1 t ground cloves
Cayenne to taste
the glaze was.....
1 cup of honey
1/2 cup pineapple juice
1 tsp dry mustard
ground cloves
Smoked at 225 till about 145*, about 6 hours.
Here it is, just rubbed. Now I let it sit for a bit.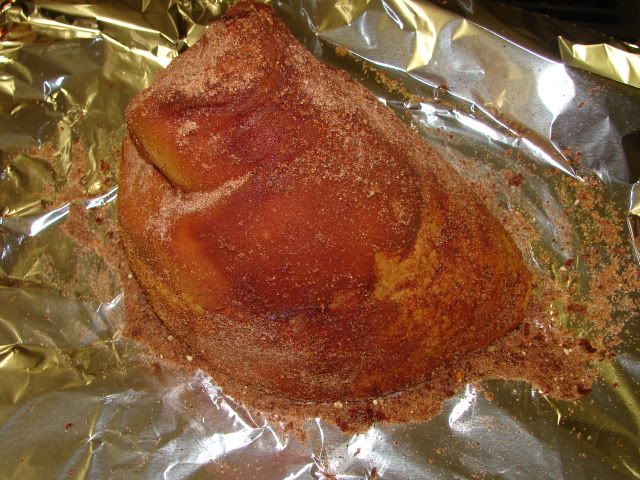 Here's it coming out. I've heard that some people score it before you cook it and there are those that do it after. I sort of forgot to do it when I did the rub (that's how I know people do it after too!) but when I started scoring the juices really started flowing. I wonder now if it might not be better to keep the score until the end to keep those juices in. However, the rub would get into the meat better if you scored at the start, and, it looks better scored at the start I think. I'll have to think about that...
Here's an inside look
And finally here's what it looked like about to be gobbled up. I was afraid it would dry out with the double smoking, but it was juicy moist good!
And a good smoke makes a great smoke when you've got some ABTs and smoked garlic to go along with the meal! These were jalapeno and poblano peppers filled with cream cheese, chives, green onions and garlic powder.