I had been wanting to try this for a while and seeing as St Paddy's day was this week, it was time. With the usual sales, this was a good week to try it out without breaking the bank.
I picked up a couple extra corned brisket flats on Sunday and made plans to make the Pastrami on Wednesday.
Instructions I followed more or less cobbled from various posts here....
Get Corned Beef on sale...we got the brisket flats. Bigger the better.
Trim fat to 1/4" or less.
If the package says sodium content of ~1000mg or higher, soak in water overnight in the fridge.
If package says ~400 mg sodium, you should just have to rinse them off.
Drip dry or paper towel a bit after rinsing.
Make up spice coating, per brisket:
1/3 cup black pepper
1/3 cup crushed coriander seeds
1/3 cup mustard seed or dry mustard
Tablespoon or more garlic powder
Coat the meat with the spice mix. Can go heavy as you can scrape some off after cooking if desired.
Smoke at 225-250 degrees until thermometer says meat is at 160 or so. Wrap in foil and put back in smoker until internal temp is at least 180, and preferably 190 or 200.
We used apple wood for the smoke this time. Added more chips twice during the smoke. I have a GOSM.
Let rest on counter 30-60 minutes and then refrigerate. Slice thin across grain.
Ok, get ready to salivate.....
Here's the corned beef drip drying after being soaked in water overnight to leach some of the salt out: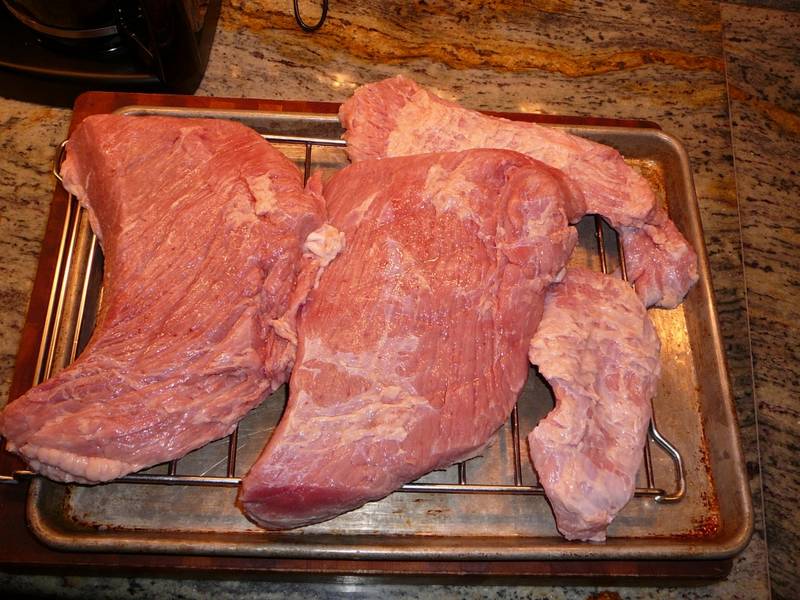 After rubbing the pepper/coriander mix on them: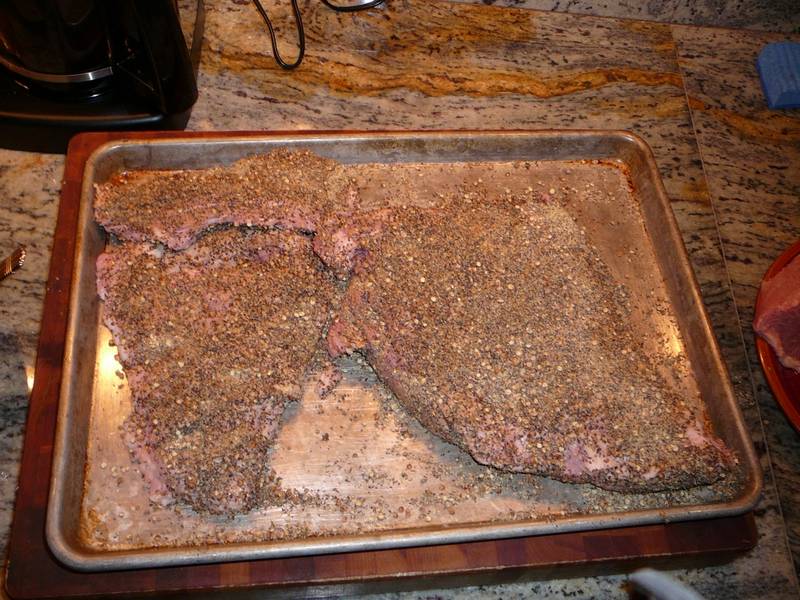 After smoking and refrigerating to firm it up for slicing: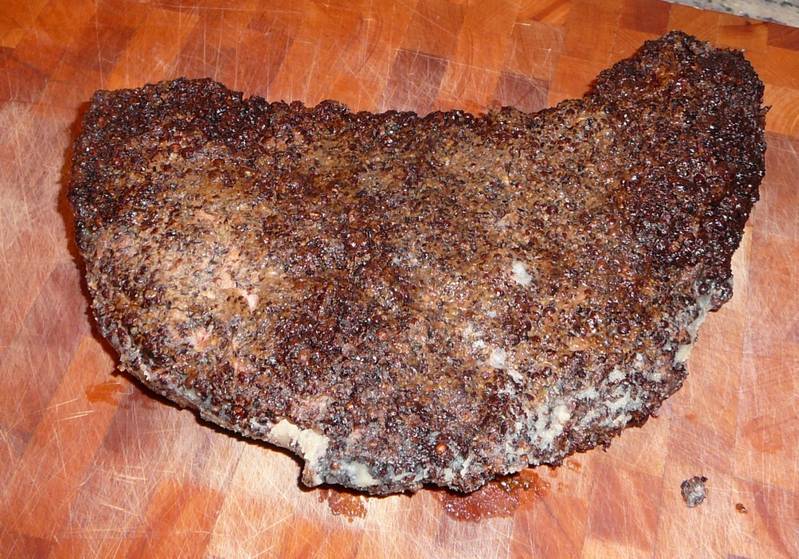 Cutaway view:

Sliced up and ready for the sandwiches: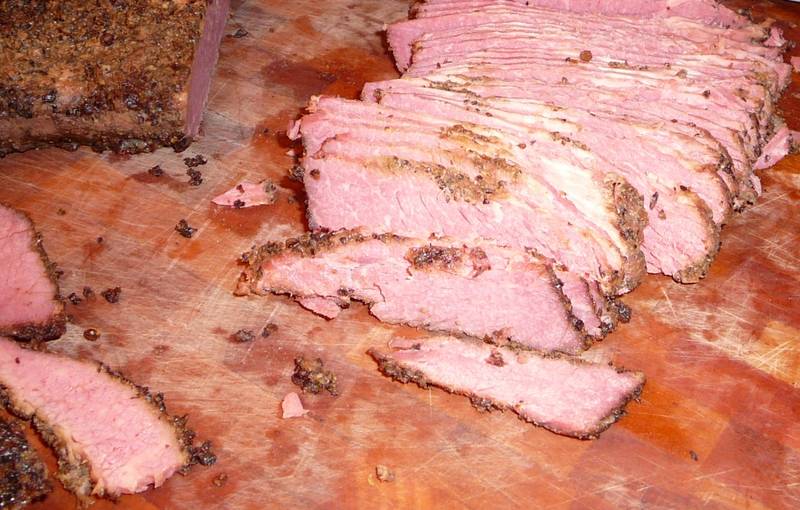 Fixings: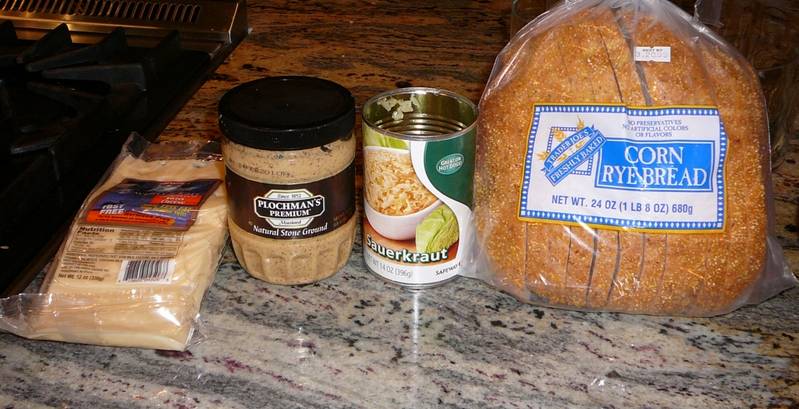 Grilling: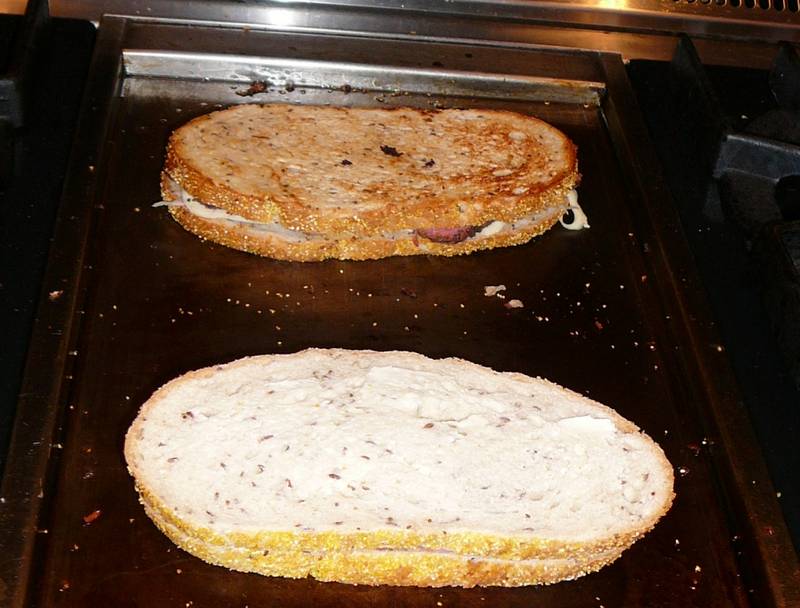 Chowtime: