I'm the king of simple recipes, so this aint much, but really high in flavor.
I guess to spite mother nature throwing us these freezing temps tonight after being in the high 60's yesterday, I thought I should fire up the drum.
I started with 3 lbs of boneless skinless chicken breast. Thawed and trimmed. Then I took a bowl and mixed a couple large spoons of Mayo, and about 4 times that in yellow mustard. Added about 2 tbl of EVOO to thin it up, and salt and garlic powder to flavor (eyeballed, and didn't measure....I'm a hillbilly). Added about 1/3-1/2 cup of brown sugar. Then I chopped up about 1/2 cup of jalapeños. Whisked it all up and dumped it in a pan. Rolled the chicken around until well coated and dropped the coated birds in the smoker for about an hour (or so). I didn't watch the temp of the drum, but I'm guessing it was about 250. The valve was wide open and one nipple was removed. I laid the chicken around the edges, away from the hot spot. Smoked using RO lump and some peach wood from last year's stash.
Here's the mess before smoking: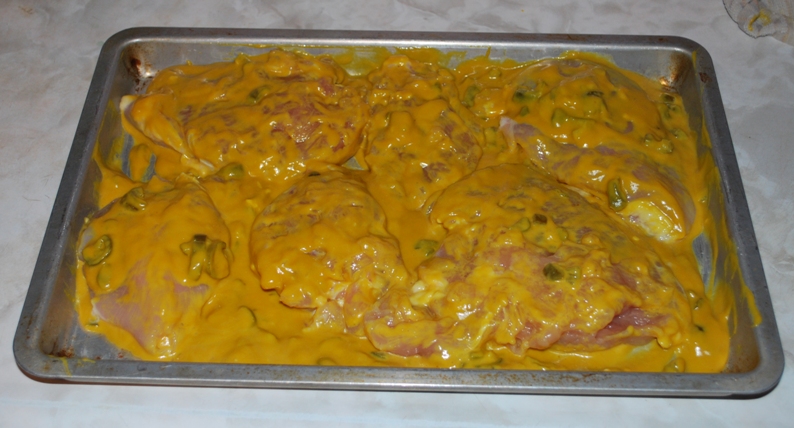 Here are the results: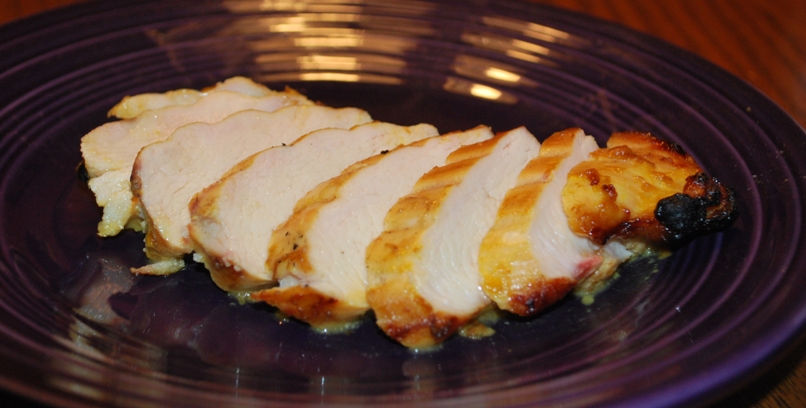 Good sweet flavor from the brown sugar. The mustard flavor was there, but not overpowering. The jalapeños cooked up soft and really added a nice zing. As I said, simple, but very good stuff. Enjoy (and sorry about the hillbilly measurements)