This was from before the crash, but I was thinking about making them again so figured I'd repost. Just FYI the frozen ones came out just as good as the fresh ones! We had those with the Green sauce as well as a bunch of fresh tomatoes, onions, and japs on top.
******************
After reading about them and thinking about them it was time to make some enchiladas! They were very tasty with some guacamole on the side. Just the two of us, so I have some leftover and we're going to try it with some green sauce this time to add a bit of a kick to it. The green sauce is coming from Casa Ole'; it's their Casa Verda Green Sauce. (If I had more people you can make it by going to:
http://www.cdkitchen.com/recipes/rec...uce31215.shtml
.
The recipe link allows you to change the recipe amounts, but this is an easy ratio for the rest of the ingredients.)
Since the enchilada recipe made 2 batches, I froze the other one so now I have some to look forward to too! Here's the link to Dutch's recipe I followed:
http://www.smokingmeatforums.com/for...utch+enchilada
Always testing, I used two different chuck types to test the difference in quality vs. price. In this first picture, you can see I made one out of a previously frozen choice Angus chuck roast. Nice marbling and all. Price was $4.39/lb.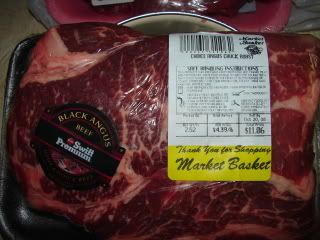 In this shot it's the other piece of meat and we've got a Select chuck shoulder Pot Roast boneless. Still a decent looking piece of meat but not as good as the other one. But still perfect for low and slow I figure. Price was only $3.09/lb on this one.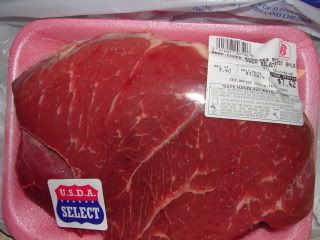 I put them in the
MES
at 8:20 am yesterday at a temp of 222 degrees (my wife's favorite number!) and both of them were at 164-165 at the same time at 1:30. It took them from 11:30 until 1:30 to get from 161 to 165 though. Nice plateau! Here's what they looked like at 165 getting ready to foil. The pot roast version is the top one.
The times went very differently after foiling them. The pot roast version reached 205 and went into the cooler at 4:15. The 2nd one took until 5:45, an hour and a half later for basically the same poundage of meats. I wasn't expecting that. Yes, dinner was late even with the ABTs I had made to fill any time gaps!
Here's the pot roast one coming out of foil and then shredded.
Here's the good piece out of foil and then shredded for a comparison. The pot roast version was tender, but I had to pull on it to pull it if that makes sense. The choice roast literally started falling apart when I picked it up. It was also much moister. Both had a great flavor though.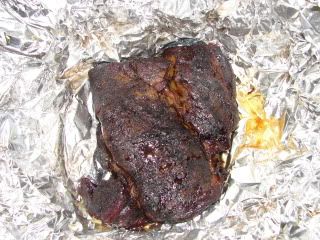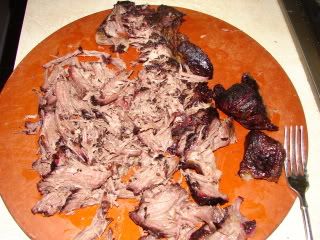 Just to see it side by side, here's that shot. A little more smoke ring on the pot on the left, and a little more bark from the roast on the right.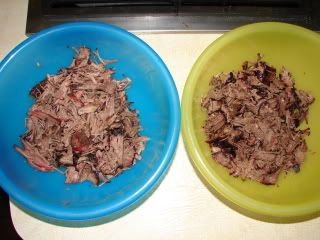 Here's what they looked like before the pot version went into the oven and the roast version went into the freezer (for Christmas week when the family comes?). You can't really see it, but we used whole wheat tortillas instead of flour, and could only fit 9 in the glass pan and ten in the metal pan. Glass pan was 8.25x12 and metal was 9x12.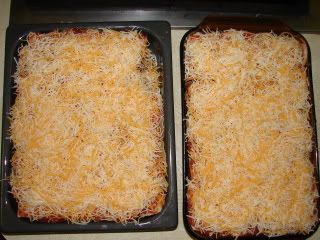 So now into the oven at 350 for 30 minutes but cheese still not quite done. Went another 5 minutes, then 5 more. Note: You want to sort of "tent" the tinfoil over the top of the enchiladas so that they don't grab your cheese off. Or maybe some Pam on the foil would help.
Out they come and they were delicious!