Here's my Sunday dinner, I just converted my Brinkmen SNP to propane for the ease of thngs, it worked out great, I could start my fire and get smoke half hour and be smoking and keep the temps dead on 220.
Okay here it is.
A 2.5 lb piece of trimmed tri tip
Oh yah, check out the fish forum for an awsome smoked seafood chowder recipe qview, as you see the salmon next to the beef. I spread extra virgin olive oil both sides, rubbed in my rub mix of onion powder, garlic powder, chilie powder, brown sugar, lemon pepper, garlic pepper, rubbed it real good.
Got the smoker to 220, put the beef on, took about an hour and half, cooked to 135 for a nice med rare
I put a pan of water over the fire to creat some steam, this kept the tri tip super moist, it was perfect and great flavor.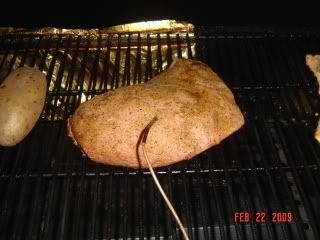 What a great dinner, little green salad, smoked tri tip and salmon