Hey guys, thought I'd share with all of you one of the best chowders you'll ever have. I've been a chef for several years and now do it as a hobby. With this recipe you can add your favorite smoked (or non smoked) seafood, chicken etc to have a hearty chunky "onolicious" (we say in Hawaii) you can eat it with a fork but use a spoon type of chowder that will have you family and guest beggin you for the recipe.
I chose to do a Smoked garlic/dill salmon and potato chowder, as I had the salmon as part of our meal with some smoked tri tip ( will post on beef thread)
Here goes:
Started out with some nice fresh salmon from the market
Took the skin off
Seasoned it real good, first give the salmon a really good coat of virgin olive oil all over, then seasoned with garlic salt, garlic pepper, fresh garlic and fresh dill (chopped fine) on both sides, Oh this smoked garlic just gave it a great taste.
Off to the smoker. Already had some tritip and 2 potatoes (for the chowder) going.
While the salmon was smoking I started my chowder base; started with a cup each of chopped onion, celery and carrots. In the pot I melted a stick of butter (oh yes this is hearty rich style chowder) carefull to not burn the butter, watch the fire and keep on a light saute', sauted the vegies till the carrots was tender about 10 minutes or so.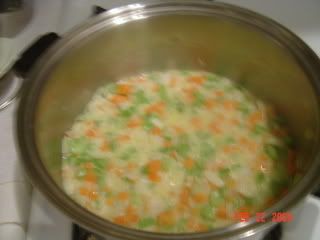 Gotta have some garlic, added tablespoon or so of fresh minced garlic and continued to cook till carrots were tender
Once the carrots are tender add about 1/8cp of olive oil
Then add 1 cup of flour, mix in well watch your heat you don't want any color (browning) at all, at this point you'll be mixing a paste like vegie thingy, cook on low or mid low for about 3 minutes to get that flour taste out and merry everything real nice with the vegies.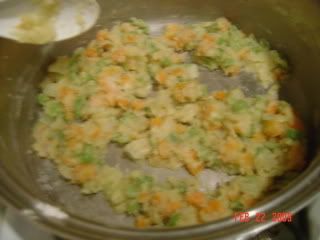 Hit it with a splash of white wine ( about a cup ) stir in quickly, then add about a quart of chicken stock (you can use any vegie, chicken or seafood stock, but not beef stock as it will turn you chowder brown), the stock can be hot or cold, powder, boullion use what you got and using a wisk mix it in real good to get all or any lumps out, then add in a pint of heavy whipping cream or just whipping cream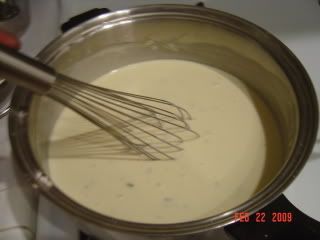 In goes the cream, I used heavy cream, as you can see next to the vegies
Now at this point cook slowly, stirring constantly, being sure not to burn the bottom or sides, you can bring up the heat a little to get it to a boil but you gotta be on it to not let it burn, as this heats up it will get thicker and thicker and at last you'll have a creamy thick chowder base, I season with some chicken base (powder mix) for the little salty edge but the base gives it some back bone we like to say, or you can just add salt, which ever just season to taste, if you like a spicey chowder use some cayene pepper, I like to use white pepper, so that's what I did. Now this is where you can decide if you want real thick chowder or a thinner chowder, just add chicken (or other) broth a little at a time always bringing to boil before you add more until you got the thickness you want
When the 2 potatoe is done, chop it in chunks with the skin on (that's the smoke flavor man), the salmon only took 30 minutes or so to cook at 225, I cut about 2 cups or so add it into your chowder. More than likely you'll have the chowder base done ahead of time which is good, just warm it up before you add the salmon and potatoes.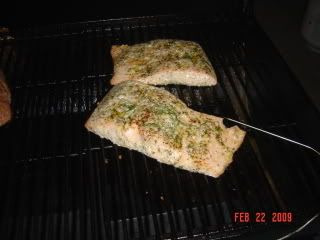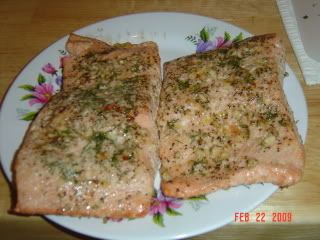 Finally, add some chopped fresh flat leaf parsley and some finely chopped dill, check that you have enough taste, add salt, pepper etc. If you never tried this before try using chicken base powder for your salt and your chowder will be golden, tasty and on top.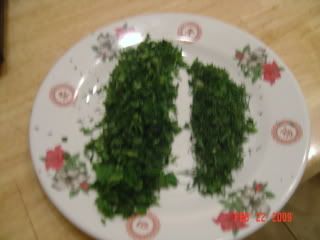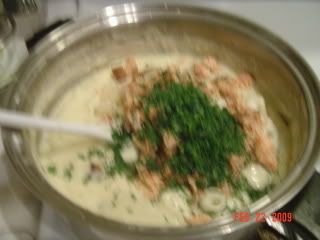 The finale, a great bowl of smoked garlic/dill and potato hearty chowder
Hope you guys like the chowder and give it try. This recipe should make about a half gallon, so double or triple the ingredients to make what you need. Remember you can substitute the fish with smoked clams, oysters, chicken and rice, turkey and rice, or how about a killer Corn chowder, just add to the chowder base some equal parts of kernel corn and cream corn, Maybe a mixed seafood chowder with lobster and shrimp?, Add some smoked bacon for even more bang for the buc. You got the basic base now go make some awsome chowder while it's still cold and will make for some good grub to any dinner.
Aloha,
Billy