I have seen several different stuffed pork loins, so I wanted to try my version.
I wanted to do something different, so I rummaged through the freezer. I came up with some boneless chicken breasts, a smaller pork loin, and I got a couple of thinner sirloin steaks.
I pounded them all flat, and seasoned with SP&G. Some mushrooms and butter in the middle. Roll, tie, and throw in the smoke. It turned out really well. Next time, I'll add sme dfferent seasoning, maybe more butter, olive oil or cheese. BUT, there will be a next tme!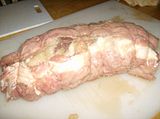 The different textures from the meats made it an interesting meal.