I don't get to smoke a lot , hense the " just starting " by my avitar.
Had some almost green looking stuff where the meat touched the bone on a couple of butts I did yesterday and pulled this am.
The cryopack has been in my freezer for a few months and I seem to recall it had a small leak and not frozen when I got it , but I just stuck it in the freezer. Friday ( 2/06/09 ) I thawed the pack under cold water in the laundry sink. water was in the 38 - 39 F range. All looked good and upon opening there was that "cryovac " smell so they were rinsed , rubbed ,and wrapped in foil and into the fridge overnight. Nice all day smoke in the chargriller between 210 and 250 , avg around 230 . 11 hours smoked , wrapped in foil and into the 250F oven at 170 F meat temp . out of the oven at 205 F, doubled the foil and coollered over night. 153 and 4 when I unfoiled them this am.
That should be enough back ground . On to what the meat looked like around the bone . Heres some pics and also showing some "Stuff?? " on one of the bones.
Is this typical , or not suposed to look like this and out with the trash monday am ?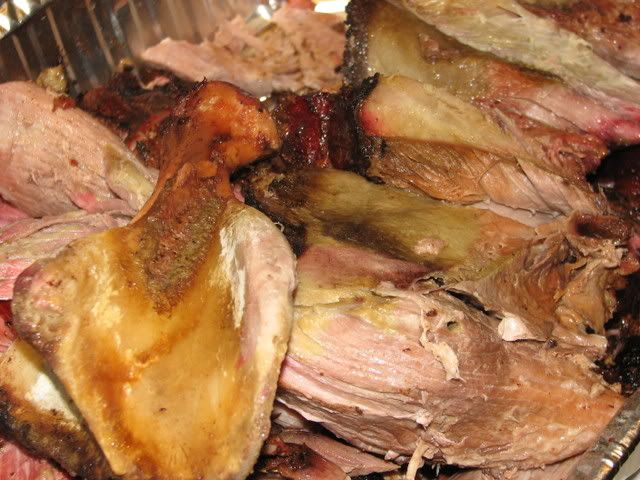 Doesn't taste bad , but before I share it I could use some input.
Ate some 6 hours ago and no ill effects . Just didn't notice this color on the only other butt I cooked.
What think ye ???