This is a repost from threads lost during the crash..

I raise my own pork and recently processed a couple of them.


Here is how I cured this last batch of bacon....

I am known for experimenting with my bacon flavors. If you get the Tenderquick cure down, you can add just about anything to suit your taste...just keep in mind that the TQ already has salt.

Start with one of these.. :)




This is the side and one loin from one pig...and a ham.






The first slab is getting a dry cure.
I used...
1 TBS of Tenderquick PER pound of bacon mixed with
1 tsp of the sugar PER pound of bacon..
1 1/2 tsp of cayenne
1 TBS of garlic powder
1 TBS of onion powder
1 TBS of cracked black pepper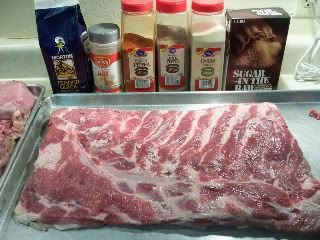 I mix the spices well.....






Rub the cure into the meat on both sides...making sure I get the edges too. Then I pick up the bacon slab and shake off any excess.....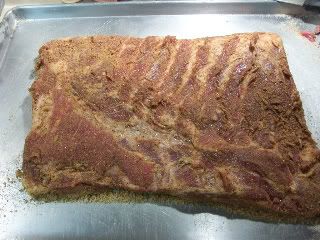 This second slab of bacon is getting a simple cure of Tenderquick, turbinado sugar and black pepper.... I use..
1 TBS of tenderquick PER pound of bacon
1 tsp of sugar PER pound of bacon and
1 single TBS of cracked black pepper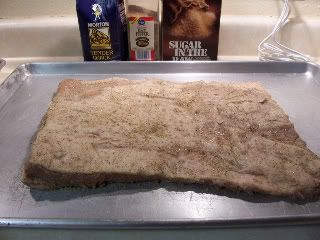 After rubbing the slabs with cure and shaking off any excess, I tightly wrap each one separately in plastic wrap...removing any air bubbles. I place the bacon in a container to catch any drips. Then set into my fridge for the next 6 to 7 days to cure.






For my loin or canadian bacon, I am using a brine cure...
I am using tenderquick/water brine with...
10 cloves of garlic
1 medium onion, sliced
1 TBS of red pepper flakes
1 TBS of black peppercorns
and 1TBS of dried basil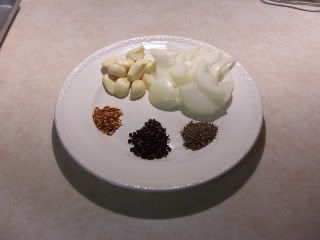 I disolve the tenderquick into the water and add the remaining ingredients...and the loins
Make sure they will stay submerged... then cover and place them into my fridge to cure for about 6 to 7 days.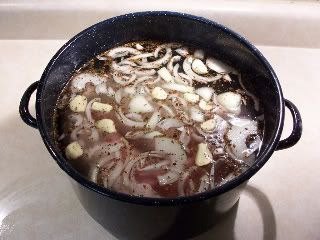 After curing, wash the dry cure off of the slabs, scrubbing it off of the sides too...
Soak the loins in fresh water for at least 2 hours.
Make sure they are dry before smoking.
Edited by cowgirl - 6/25/10 at 8:40am