Hi there,
I live near Washington DC and I love going to the Smithsonian.
well somehow, they think I am some famouse Cheese expert and they invite me with different beer experts to put on Beer and Cheese Seminars.
This next one coming up is all Heavy Beers and cheeses. a heavy beer usually comes around 8% to 12% alcohol by volume and they have big complex flavors.
I have to match 4 cheeses to there beer list and speak of each one. I decided to get funky and I gave them the list with only 3 cheeses and a note. "the 4th cheese is a special surprize grand finale and I am sure it is a cheese you have never tasted befor...."
Here the 4th cheese.
It is called Chimay met Bier
It is made by the trapist monks of Belgium and washed in ther great beers.
It is a stinky creamy cheese that goes well with Heavy beers.
The last set of beers at the tasting are Big inky smokey stouts. SMOKEY STOUTS!!!!
well wouldn't smoked cheese go with smokey stouts?
so I am smoking these great cheese over cherry and apple with a hint of Jack daniels chips.
they are about the size of a birthday cake before you stack it up.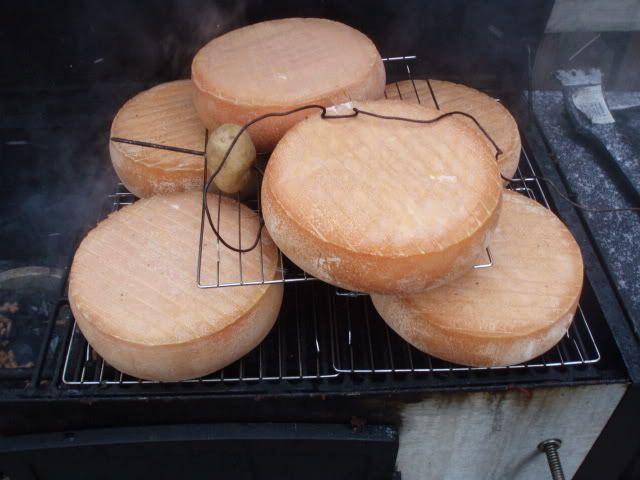 I will let them go 3 hours or so and then I will put them in the aging room at work for a week or so.
I will try to remember to bring my camera to the speech so you can see that.
cheers