hey there, I have today off day 3 of 3 days off, I am fully recovered from Saturdays Oktoberfest and got my taste for beer back, never realy lost it.
So I decided to get off my rump and finish a couple of beers that have been ready for a few weeks.
1'st let's make sure everything is clean and sanitary. The suds are not soap bubbles, soap is actually bad for beer. this is a acid sanitizer called 5 star, I would recomend it for you Sausage guys and cured meat guys, this is a no rinse food safe sanitizer, no germs are surviving this stuff. WEAR GLOVES OR IT WILL MESS UP YOUR SKIN!!!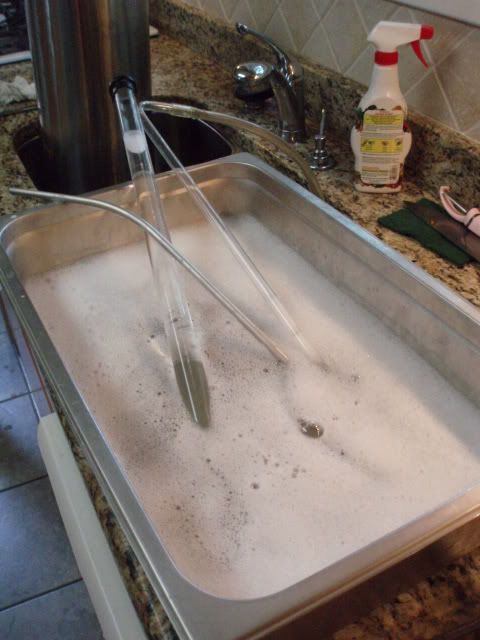 If you look real hard out of the window you can see some TBS coming from the smoker.....hmmmmm what could it be?
I also am cleaning one of my taps I just finished using the other day, I bet you never knew this much maechanics went into the machine that brings you happiness in a glass.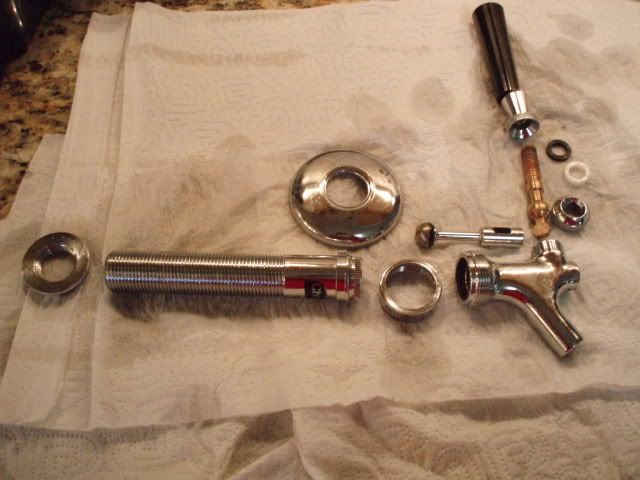 Lets get ready to transfer beer no.1. remember science class about siphons? me neither, that is why I use an auto siphon.
This is my first Lager beer,This is a very difficult style to brew. This would be like pulling off the perfect brisket without foil, just staight smoking baby!
This is the Oktoberfest that I brewed way back in March. it has been Lagering until now at 33 f. chilly. Nice and clear good color.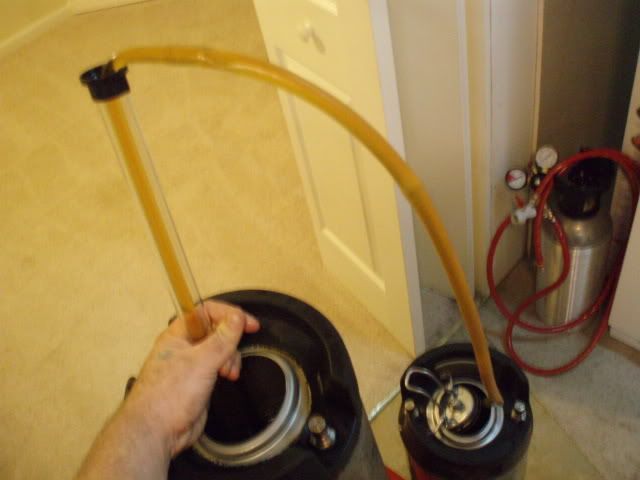 This is beer no.2 This is a Roasted Barley IPA, not quite a barley wine. more of a red ale
Nice deep ruby color, awesome aroma!!! very excited about this one.
I have been brewing IPA's better than I can buy for about 2 years now, I have been brewing 8 years total.
Well here they are......aren't they perty'
Let's see how thay taste, hmmmmm it is after 12:00pm and Katie wont be home for a while...... The beer on the left is the Roasted Barley IPA, wow it is really good, the beer on the right is the oktoberfest. It is very good too. I think it may be a tad under fermented, but That just means you can drink more.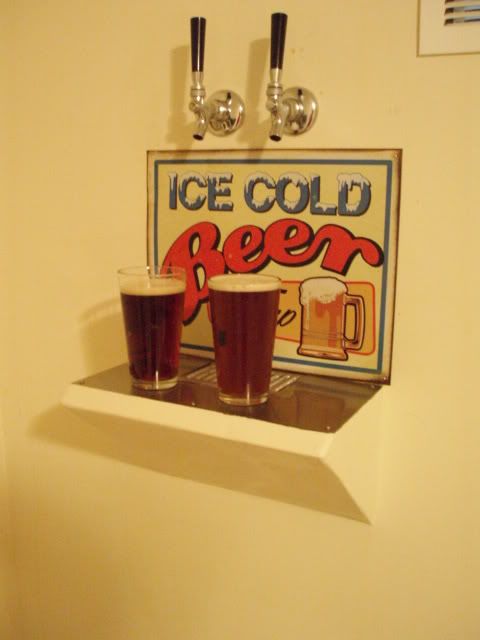 oh and here is the mystery smoke...
It is a nice big fat chicken. MMMMMMMMM