OK, I'm keeping this one simple because it's more about futzing with the smoker than it is about the meat. Enjoy the Q-VIEW!
So here's what it was. It started life as a cryovac rack of spares... (folded over on itself to fit in the dish).
I rinsed it down, dry it off and oiled it up with a little extra virgin. Then I sprinkled it with the McCormack brand rubs - right out of the store....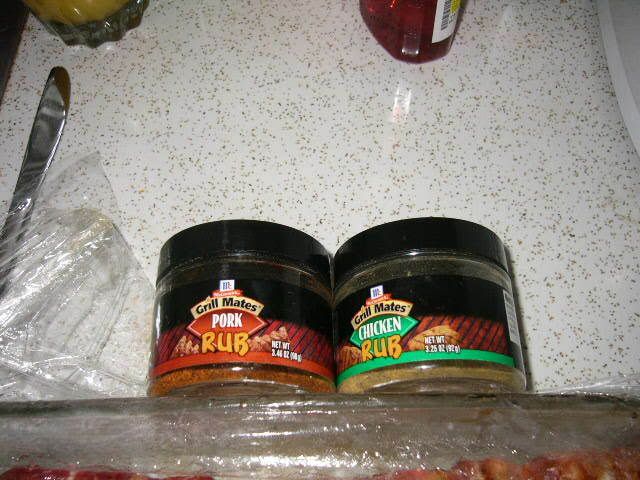 No fuss, no muss, no trimming. I don't go heavy on the rubs yet. I'll start experimenting more on those as I get better with other things...
The charcoal's a burnin', but it's a small basket in a small el cheapo off-set...
Meat and taters for 6 hours...
Temps on the left... hard to read (sorry), but it says 200 - eventually 225.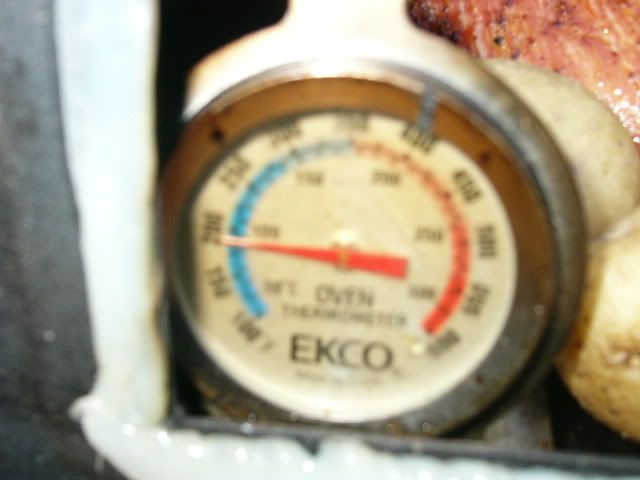 Temps on the right... 150 and up to 175.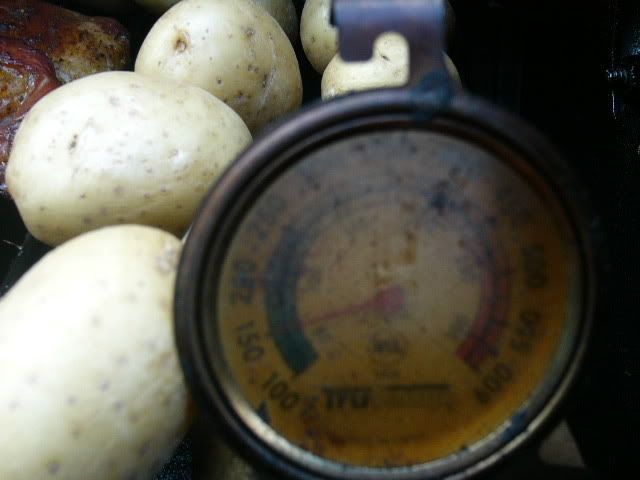 Temps on the door... hmmm, we gotta work on that one.
It did eventually get up to 150-ish.
Finally, I did have to pull them off because dinner hour had arrived. I never got the whole rack past 160 at once. Temp control has a long way to go with this little smoker. So, I foil it and rest it for 30 minutes and wallah... Good on this side...
Good on that side...
...and cooked well enough in between...though I would have preferred to cook longer if not hotter.
Just me, the wife and the 6 yr old, so there will be some leftovers to heat in the ov*n tomorrow or maybe to throw in a crockpot. Often I will get the temps way up at the start by doing a small wood fire, but there was an unexpected rain today so... my wood got wet. Don't let it happen to you kids.
I'll continue to work on the draft issues on this smoker. The ribs are OK, but a little more fatty than I like. The fat didn't get cooked down to where I like it best - not with low temps on a limited amount of time.