Hey folks,
The Char-broil American Gourmet was my first foray into the off-sets, much less a pure smoker of any kind. Before that I was all about grilling on Weber kettles. The CBAG can do a successful smoke, but now I understand only too well about its limitations. Here is a pic of my little corner of the yard. You can see that this CBAG is pretty small sitting next to the Weber.
With the chambers being only 11" wide there is not a lot of room for mod work. I have recently added a baffle and a tuning plate, but now I am having difficulty getting the temps up to 225. Below is a shot of the baffle and the dirty tuning plate... baffle is 16 ga. and tuning plate is 18 or 22 ga. I think.
...and a shot without the tuning plate...
You'll notice that I bent the baffle to act as a ledge for the tuning plate. The tuning plate plate is bowed down in the middle to direct the grease down to the drip can. Well, at least that was the intent. Some scrap cement and brick were put in the bottom to try to stabilize temps a bit.
Looking at the two photos below, you get the idea that I could shorten the baffle by an inch or two maybe....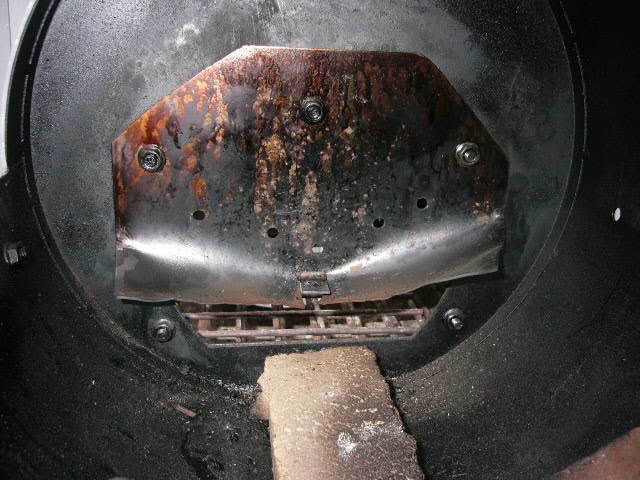 What d'ya guys think? Here's another view from the firebox side...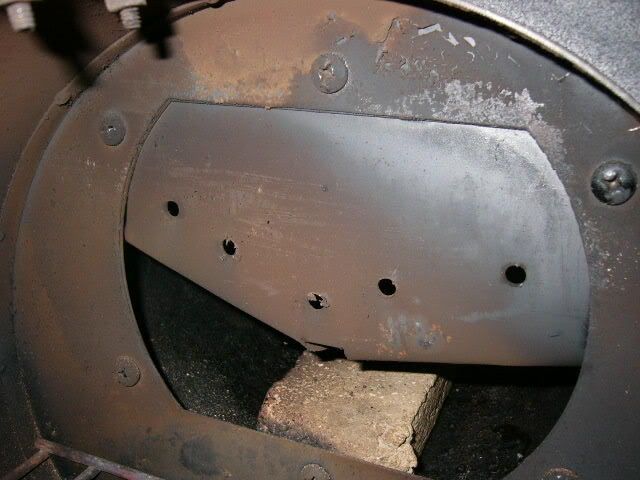 I could take some off by cutting straight across the two middle holes. I just bought 3 new 12 ga. plates that I was thinking to cut to the right size and use a tuning plate sections. That would be easier to adjust that the one peice plate that I had above. I was trying to approximate the Horizon tuning plate but it involves too much guess work when it comes to drilling the holes.
What do you guys think?