As a kid growing up in the Chicago area known as the Lawndale area specificaly Ogden and Washtenaw I would walk past this huge Hollenbacs factory that made sausage, MMM, you could smell it for blocks. I lived about 1/2 mile from it. My favorite was hard salami, yummo.
So I got this recipe from mortonsalt.com and thought I would try it.
Here goes.
Beef Salami
View Printer-Friendly Version
Add to Recipe Box
More recipes
with Morton® Tender Quick® Product
More recipes
with Morton® Sugar Cure® Product (Plain and Smoke Flavored)
Prep Time:
20 minutes; refrigerate overnight
Servings:
1 pound
Ingredients
1 pound of ground beef
1 1/2 level teaspoons
Morton® Tender Quick® mix
or
Morton® Sugar Cure® (Plain) mix
1 teaspoon Morton® Table Salt
1/2 teaspoon mustard seeds
1/2 teaspoon freshly ground black pepper
1/2 teaspoon garlic powder
1/8 teaspoon nutmeg
Few drops liquid smoke, if desired
Directions
Combine all ingredients mixing until thoroughly blended. Divide in half. Shape
each half into slender rolls about 1 1/2 inches in diameter. Wrap in plastic or
foil. Refrigerate overnight. Unwrap.
Bake on broiler pan at 325 degrees F
until a meat thermometer inserted in the center of a roll reads 160 degrees F,
50 to 60 minutes. Store wrapped in refrigerator. Use within 3 to 5 days or
freeze for later use. Spicy Beef Salami: Substitute 1 1/2 teaspoons Morton® Sausage and Meat Loaf
seasoning mix for 1 teaspoon Morton® Table Salt.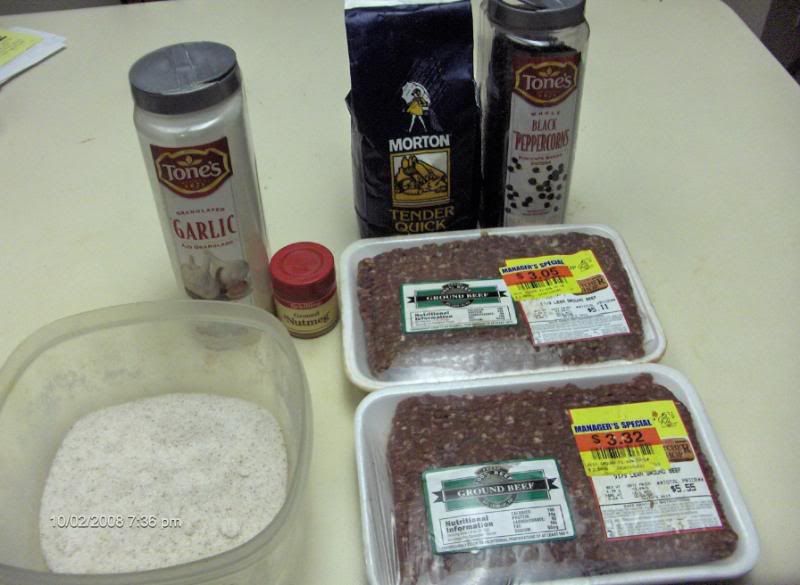 Ingredients minus the peppercorns.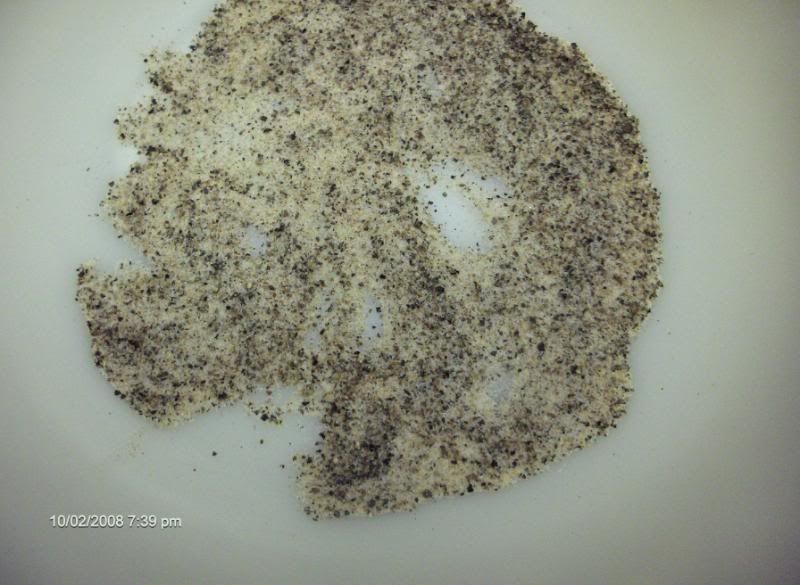 Mixed together. I couldn't find mustard seed so I left it out.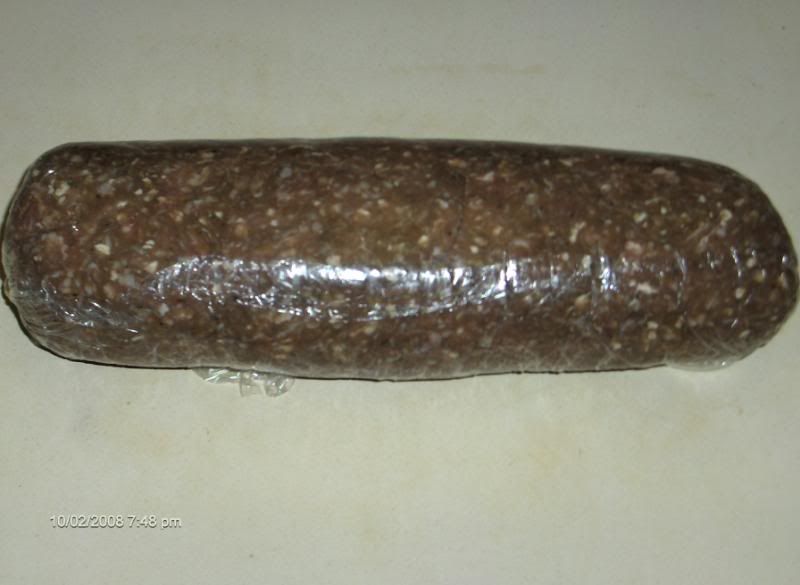 We added some water to disolve and mix easier. All rolled up as tight as I could get it. I also doubled the recipe. I wanted to put some whole peppercorns but forgot until it was too late.
On the smoker tomorrow night. I don't even think it will come close, but it is a cheap experiment.
Wish me luck, and thanks for watching,
Ron