Well folks, I have been smokin Fatties right and left the last few weeks and the family is kinda tired of sausage. Today, while I was at work, my beautiful bride decided to surprise me with her own Fattie for dinner tonight. My favorite dish in the world (other than BBQ) is a German dish passed down from my grandmother called Kraut Strudel. There are variations on this dish called Bierock. These little jewels are pastry or bread balls filled with meat and veggies of varing types. The German style Kraut Strudel are a bread outer with a pre cooked mixture of browned ground beef, onions and sauerkraut for filling. These are done in the oven until the bread is baked. This dish is very time consuming, normally taking up the better part of an afternoon to prepare. Unfortunately, she was half done when I got home so I only have pics of post smoker production.
First she rolled out 2 pounds of ground beef in a couple of zip lock bags, a pound in each. next she minced a medium onion and sauteed in butter until translucent. She then added a large can of Franks Kraut and warmed through. She says this takes a little bite out of the Kraut. Next to spoon kraut and onions into the center of the ground beef and roll as you would any Fattie. The wife uses plastic wrap to roll them and sprinkles salt and pepper in the wrap before rolling to push into the beef while rolling. Into the smoker at 250 until 170. The fresly smoked Fattie!
Next, she uses Pilsbury Hot Roll mix and rolls out 2 rounds of dough about the thickness of a pizza crust.
Rolls the bread dough around the beef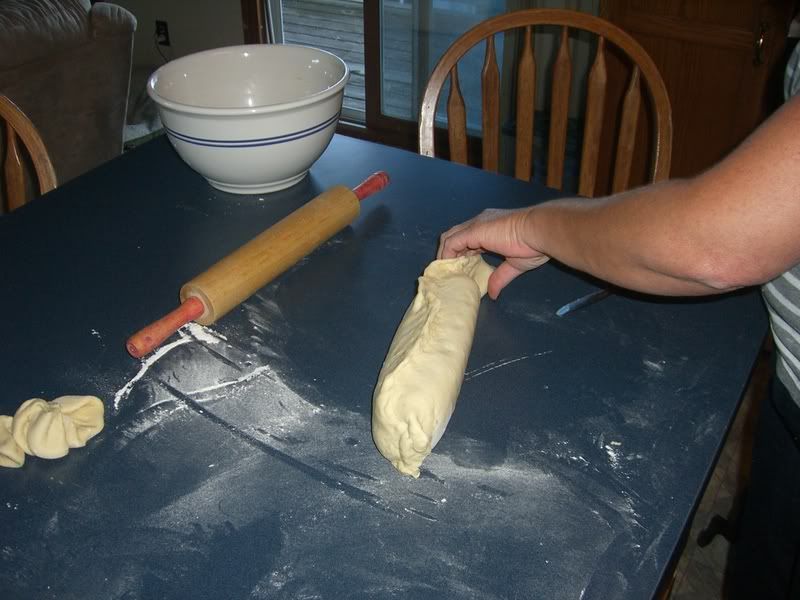 Just out of the oven after 15 minutes at 350
And right before they were devoured.
I thought they were delicious! Now she has combined both of my favorites, smoked meat and Kraut Strudel! Think I might just keep her around another 25 years!